Awards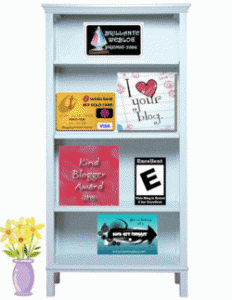 The super generous Tina gave me this whole bookcase of awards!!!
(and a small pot of beautiful yellow flowers) *laugh*
*Muack*
(hmmm…she paid for the freight cost, too! *laugh*)
I'm the 50/50 generous kind of person…I am giving it to ALL OF YOU who laid your beautiful eyes on it but YOU ARE PAYING FOR THE transportation cost….*laugh*
Copyright © 2007-2016 All About Your Child. The contents on this blog are the sole property of the author, Angeline Foong, and may not be used or reproduced in any manner without consent. All Rights Reserved.
2 Comments »