Special Moments
Christmas 2014 was very special for us.
Will elaborate as we go along.
However, before I get to what we did or did not do this year, let us turned back the clock and go back to Christmas 2013.
Kitkit and Binbin were so eager to put up the Christmas Tree, they requested to do it ALL BY THEMSELVES!
And they did it Sooooooooo WELL!!!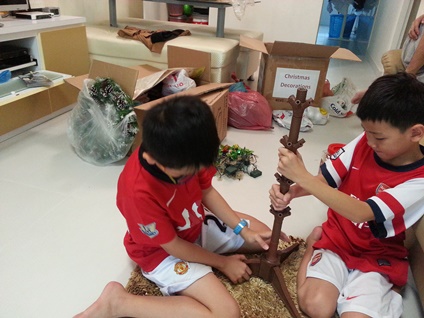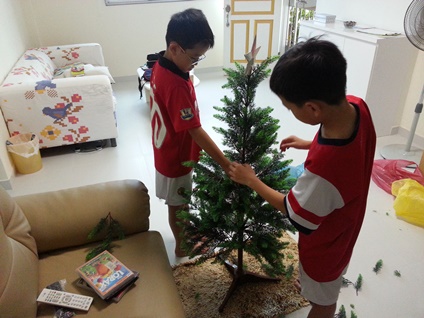 Their effort was a Perfect Score, but not the Christmas Tree.
This Christmas Tree had been with me for a Very Long Time!
Its been so long that I cannot even remember whether it was purchased by my mother or my father.
I was still in my Teens when this Christmas Tree became our must-have on every Christmas Day.
As my boys put up the branches, the plastic twigs and the plastic leaves started to break.
It has served us well.
Its time came for it to say Goodbye…
The boys did not want to stop fixing it, even though many parts were incomplete.
(I'm a great camera woman aren't I, you can't tell from the photos, right? *laugh*)
They persevered and their efforts paid off!
The Christmas Tree was Thrown, right after the 12th Day of Christmas in 2013 ended.
So, Christmas this year was very special for us, no Christmas Tree at all.
Did we plan to buy?
We did.
But somehow, no tree came into our house this year.
Hhhhmmmmmm……..
Alright, enough about that non-living thing.
Let's talk about the living humans!
*giggle*
This year, Christmas celebration began on 21st December with my in-law's at Sakura @ Tampines. We reached there at about 6.30pm and left the place at around 9.15pm!!! Can you imagine how many rounds we had that night?! Tummies were Full to the Max!
From a restaurant full of people, to a restaurant that was almost empty! We sat there for so long!
Kids had no problem digesting the food with the after-meal games. As for the adults, we just sat and chatted at the long table. Me? I had no problem releasing in the Ladies and came back for more rounds at the buffet! *huge laugh* Which is why, I do have a mini-nickname : "Buffet Queen" *bleh*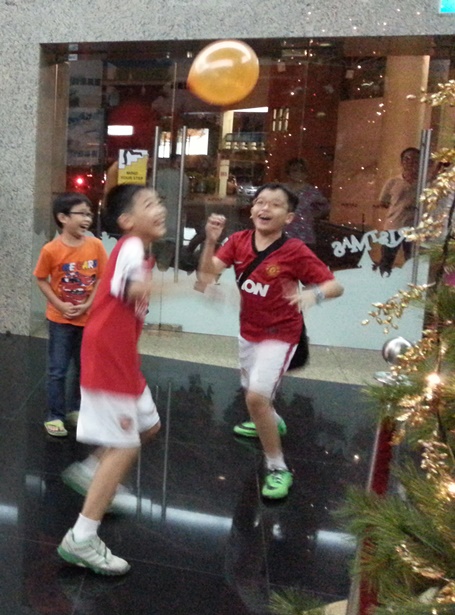 Christmas 2014 morning was spent in Church. This was the first time the kids get to watch a drama put up by the church. Another thing to add on to their first-time list. *smile*
Kitkit's reaction to the whole Christmas service was beyond my expectation. He actually tried to sing along and he paid attention to practically everything that went on during the 2 hour service. Well Done boy! So proud of you!
Christmas 2014 afternoon was a simple 'Roasted Lunch' at a very famous Roasted Meat Stall at Serangoon. The queue was so long, its pretty incredible for a stall to have such crowd when it is almost out of sight when you drive pass it. Christmas is about new beginnings and it was cool to try out new yummies on this day.
Believe it or not, the rest of the afternoon, Allan and I were busy cleaning up our house.
We even sanitized the air in our house!
*laugh* Who does that on Christmas Day?!
Well, We Did!
All because we were looking forward to see our cutie niece!
Its the First Time she is celebrating Christmas with us; Wait A Minute! Or should it be, its our first time celebrating Christmas with her……errrr… Whatever! :P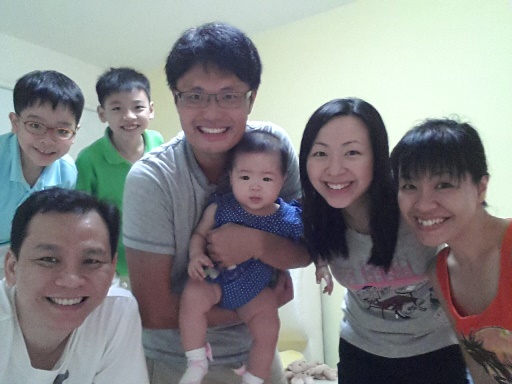 Allan and I were so eager to carry her, but she needed time to be familiar with the 4 new faces in the house first.
Thus, I was waiting patiently, but Allan was going all out with tricks and toys to coax her.
BUT…….
The moment Binbin appeared, my niece LIKED him immediately and held Binbin's index finger for a very long time!!!
Awwwww……..Allan and I were sooooo jealous!!!
*sob sob*
Oh well, patience paid off for the 2 'older folks', just before she left our house, both of us get to carry her!
YEAHHHHHHHHHHH!
As usual, my boys' Christmas Wishes came true. Thank you Uncles and Aunties for fulfilling their requests.
Such a HUGE Contrast between the wishes of my two boys, right?
This year, I received a surprise present from Allan.
Nope, its NOT Tangible!
It was so sweet of him to watsapp me my favourite Little Twins Stars Christmas Greeting.
*laugh*
Ain't I an 'easily-coaxable' wifey?
*huge laugh*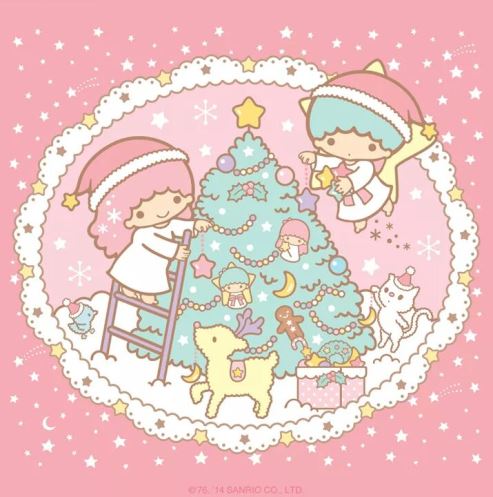 MERRY CHRISTMAS EVERYONE!!!
Copyright © 2007-2016 All About Your Child. The contents on this blog are the sole property of the author, Angeline Foong, and may not be used or reproduced in any manner without consent. All Rights Reserved.
No Comments »