Special Moments
October 22nd, 2009
1st Blogoversary showed me a whole new world. A world of possibilities, where true friendships can blossom from this virtual world.
2nd Blogoversary brought me to another dimension. A world of excitement. A world of opportunities. A world which used to be a dream… came true for me. I had a shot at fame through public speaking, invited for special launches and events and not forgetting the upgrade to the title of 'Platinum Expert Author' with Ezine Articles.
This 2nd year was also a year of new-borns:- my Personal Blog, my weekly Meme known as 'Song Sharing Sunday'.
At 2 years old, this Blog has proven its worth to its poor-memory creator. I had to refer to my blog for so many things now. Its like picking up remedies from a squarish box….weird but definitely effective. *laugh*
Those were the upside…
The downside is definitely the countless posts on sickness which had befallen on every member in my family throughout the year, including myself. From the most absurd to the most heartbreaking ones…. Hence I would say my 2nd Blogging Year was a roller coaster ride, the EXTREME kind.
But throughout these 2 years I have 2 groups of readers.
Group 1 could see this when they land on my site:- (2 sidebars on the right)
AND…….
Group 2 sees this instead:- (1 sidebar on the extreme right and they would need to scroll ALL THE WAY DOWN before they could see the other (centre) sidebar. Where I have sections like 'Most Commented Posts' and 'My Personal Blog')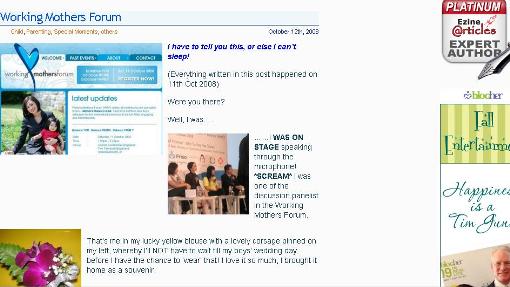 Group 2 (con't) : The 'MISSING SIDEBAR' is seen ONLY AFTER SCROLLING ALL THE WAY DOWN:-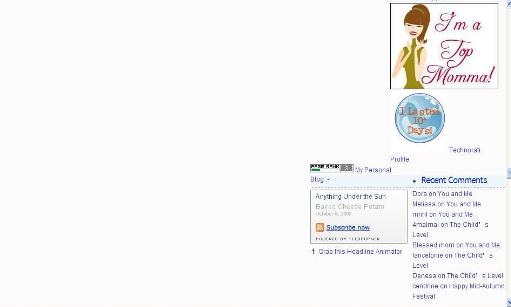 Which group do you belong to?
Or
do you NOT see any sidebars at all? *faint*

32 Responses to "2nd Blogoversary"
Leave a Reply