Child, Parenting, Special Moments
March 6th, 2008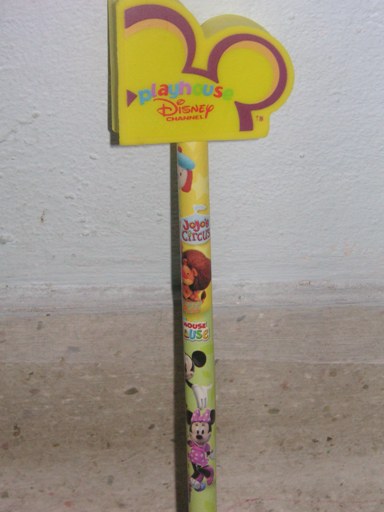 Early in the morning, Binbin was greeted "Good Morning" by a special mailer from Playhouse Disney Channel. He received his very first Birthday Present!
A pencil full of his favourite cartoon characters, Minnie, being his most favourite and a big Playhouse Disney Channel eraser sitting nicely on top of it.
Binbin's photo was selected to be on the Playhouse Disney's Birthday Book. They rotate 80 photos of kids around the world whose parents are subscribers of the Playhouse Disney Channel and have sent the photos of their child to them 2 months before the child's birthday.
Binbin is a big fan of the Playhouse Disney Channel. He has seen the birthday book featured quite often throughout the day while he watched his favourite cartoons like Little Einsteins, Handy Mandy, Mickey Mouse Clubhouse, Johnny and the Sprites, JoJo Circus and many more on that Channel.
It was Binbin's wish to see his photo up on TV. I don't see why not and so I sent his smiley photo. The big problem was, Playhouse Disney's is unable to provide the date when Binbin's photo would be telecast, due to the large number of entries received by them. The consolation part? There are fixed timing for the Playhouse Disney's Birthday Book to come on the Channel. Singapore time 11.25am, 3.25pm, 6.25pm and 10.55pm.
So now, at these 4 time-slots, we make sure that we are right in front of the TV and tuned into Playhouse Disney Channel. We even had an alarm set for these times, in case we were too busy with other things and missed it. That would be a grave mistake.
Our endurance paid off at 6.25pm today! We saw Binbin's face on the Playhouse Disney's Birthday Book. Yeah!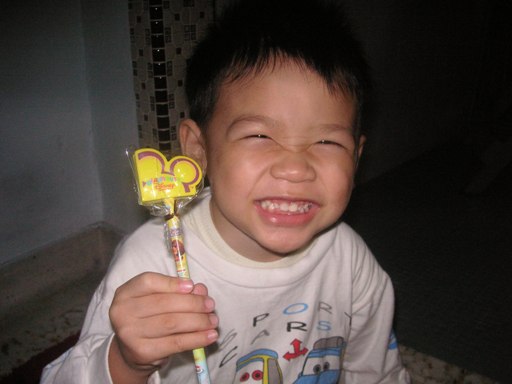 Kids are so easily contented. Ain't they? When you see them smile, even a thousand worries is gone.
47 Responses to "Cheer me up"
Leave a Reply