Development Stages, Parenting
End of Co-Sleeping Days
When it comes to kids, "Go With The Flow" is my motto. When kids are not ready for the next step in their lives, parents should not force.
Its the same for weaning. Do it gradually. Do it when your child shows signs that he or she is ready for the change. If not, never force for convenience sake. Unless circumstances do not allow excess time for procrastination.
One year ago, my boys have been asking, "Mummy, when can I have my own bed?"
They had been sleeping on the floor all these years. Not literally of 'cos!
They do not have their own beds, just mattresses on the floor. When their mattresses are placed on the floor beside our queen size bed, that is exactly the length of my room. So there are no inches left for any bed frames to fit into my room.
Thus I often reply, "Wait till Ah Yee gets married and moves out, then the two of you can put your beds in her big room."
And so they waited.
Waited for the marriage proposal…
Waited for the confirmation of the wedding date…
Waited for the preparation days…
Waited for the final day…
Their many waits were over by 6th December 2011.
Keatkeat wanted to sleep in my sister's room that very night she got married, but everyone was too tired to shift the furniture in her room when we reached home at 1:00am plus after the wedding dinner; so Keatkeat had to wait for another day.
7th December morning, we started to shift the furniture in my sis's ex-room, but there was little we could do because most of her things were still intact. We just managed to shift enough for Keatkeat to move his mattress over to sleep on the floor.
The boys and I had a pact.
When they have their own room, I will stop sitting beside them and watch them enter into dreamland every night. Instead, I will hug and kiss them, tuck them in bed, say "Good Night" and leave them alone in the room.
Binbin was not as ready as his elder brother, so he continued to sleep in my room, while Keatkeat slept in his new room, which is big enough to fit almost 4 queen size beds, all by himself. *Grin*
Binbin still prefers to have me beside him, watching him falls asleep slowly… One hand and one leg on me, hugging me like a bolster….
So how was Keatkeat first night?
A little afraid.
So I took out my Little Twin Stars night light from my Little Twin Stars collectible box and 'lend' it to him.
After that, he fell asleep on his own without any issue. *Thumbs Up*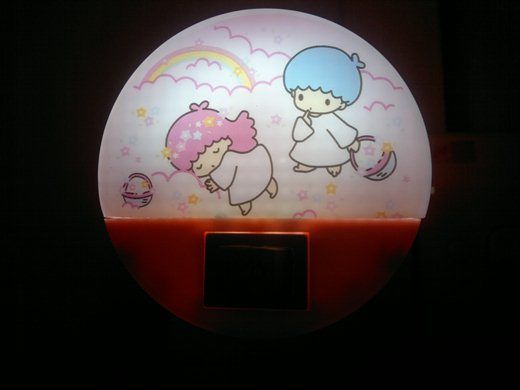 8th December morning, Keatkeat told me that he had good dreams throughout the night. One of it was with his Ah Yee. Guessed he misses her dearly… Then he said to his younger brother, "Binbin, you should sleep in this room if you want to have good dreams. This room gives  you good dreams."
Oh man! It worked!
Binbin made a decision there and then to sleep in their playroom cum bedroom that night.
So how was Binbin's first night? PERFECT with the night light switched on.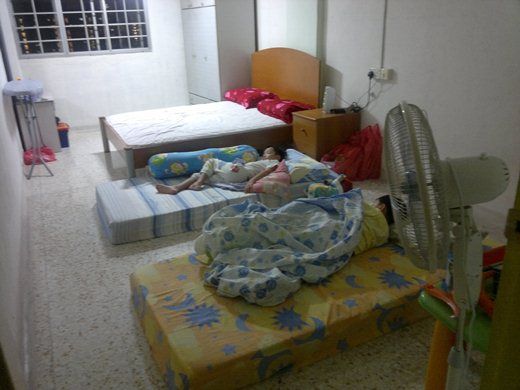 9th December night.
Binbin refused to sleep and said he wanted me to lie beside him in the new room. I reminded him of our agreement. Expecting him to rebut me with his usual lengthy reasoning, instead he walked back into the room and fell asleep in less than 10mins. *Thumbs Up* Aaawww… my boy has really grown up….
There after, my 6 year old and 8 year old had been enjoying their room. They play there, sleep there, quarrel there, make up there… it IS their all in one room.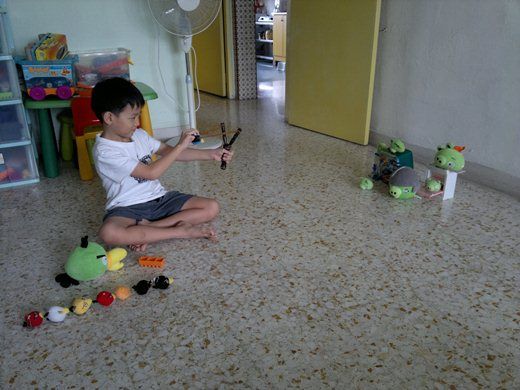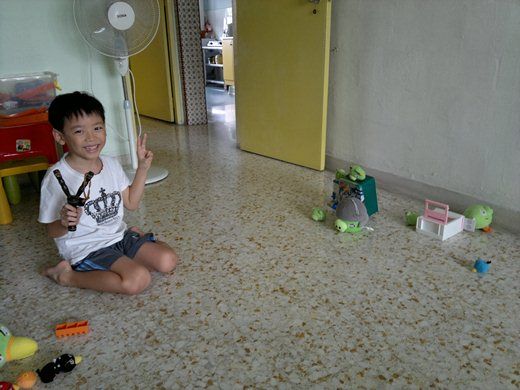 Though my Little Twin Stars night light is still needed to give Binbin that extra sense of security, I am happy that they are finally able to fall asleep without the need for me to be beside them.
*Thumbs Up*
Now, the next challenge would be the beds, which are coming this Saturday. Will they wake up in the middle of the night with their faces flat on the floor? *Shrugged*
We will find out after Saturday…
*fingers crossed*
End of Co-Sleeping Days
Copyright © 2007-2016 All About Your Child. The contents on this blog are the sole property of the author, Angeline Foong, and may not be used or reproduced in any manner without consent. All Rights Reserved.
2 Comments »