Health
Being parents, we are often thinking of what is best for our children. Yet, at the same time, it is important to know what our children's thoughts are. I am so glad that Kitkit and I were able to come to an agreement when choosing his new pair of spectacles. As mentioned in the previous post, the eye doctor advised Kitkit to wear Photochromic lenses when he is on Atropine eyedrops, for these 2 years.
When I think of Photochromic lenses or UV lenses, the first name that came to my mind was Crizal UV Lenses by Essilor or more commonly known as Crizal Transitions Lenses. Thanks to their TV advertisements for leaving such deep impressions after watching them. *smile*
Everyday our vision is affected by:
GLARE, which causes eye fatigue and reduces vision clarity.
UV RAYS that are present all year long and have a cumulative harmful effect on the eye that can lead to eye aging and serious eye diseases.
CHANGING LIGHT CONDITIONS that cause discomfort or squinting in the sun.
DIRTY or SCRATCHED LENSES, which reduces our vision acuity.
With Crizal Transitions Lenses, we would be able to:
SEE BETTER because Crizal Transitions lenses offers the most complete resistance against enemies of clear vision like glare, scratches, smudges, dust and water. Thus we could enjoy the maximum visual clarity in any light.
FEEL BETTER as Crizal Transitions lenses adapt automatically to changing light conditions. Always the right tint for comfortable vision at any time of the day, indoors or outdoors.
LOOK BETTER with reflection-free lenses.
LIVE BETTER because it provides UV protection for our eyes with the best E-SPF** value of 25.
[**Best UV protection for Crizal Forte UV Transitions over standard clear and photochromic lenses with AR, measured with E-SPF, the new index developed by Essilor, endorsed by an independent 3rd party, certifying the global UV protection of a lens. More information can be found on http://www.crizalusa.com]
Crizal Transitions Lenses are clear indoors and quickly turn very dark when outdoors for perfect vision in any light situation.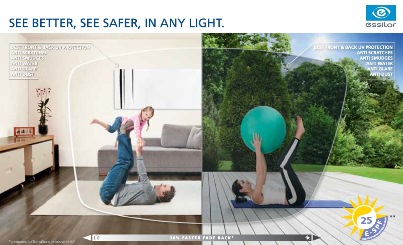 Kitkit was very excited and TRULY looking forward to have his very own Crizal Transitions Lenses on his new Eyelet Junior Frame!!! He cannot wait to see how the Crizal Transitions Lenses would change to darker tone when he is wearing them outdoor, under the sun.
Thus, we went back to the same Nanyang Optical shop because we enjoyed the good experience we had last year when Kitkit made his first Eyelet Junior spectacles. This time, Kitkit insisted on having the Eyelet Junior frames again because he loved the way it stays on his nose and does not slide down no matter what he does. I did a very long review on his experience with the Eyelet Junior frame last year over at this post , you can watch him in the video, hanging upside down, without having to push up or adjust his Eyelet Junior frames at all!
We handed the prescription issued by the eye doctor at SNEC to the helpful staff at Nanyang Optical. Then we moved on to select the new Eyelet Junior Frame for Kitkit. As usual, my 10 year old likes bright colours and he went for the ORANGE frame!!! Super cheerful-looking colour for my active son. *smile*
=========
In less than a week, Kitkit collected his NEW Eyelet Junior with Crizal UV Lenses.
The staff at Nanyang Optical put Kitkit's new pair of spectacles under an UV-transmitting machine to show us the darkest tone the Crizal UV Lenses would change to.
See the difference below: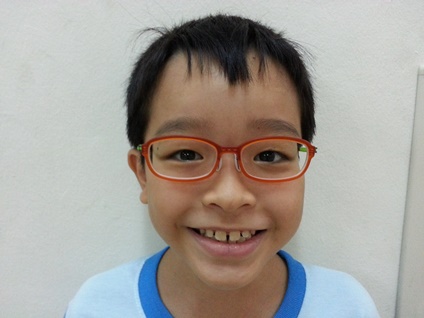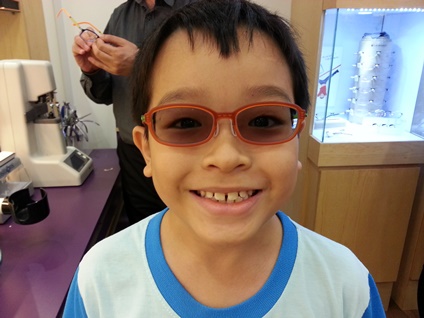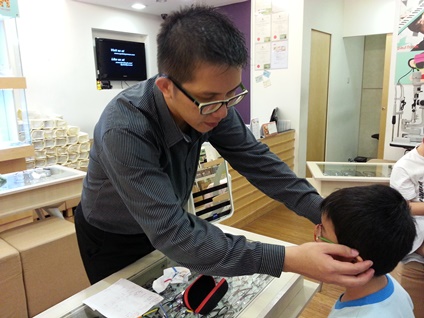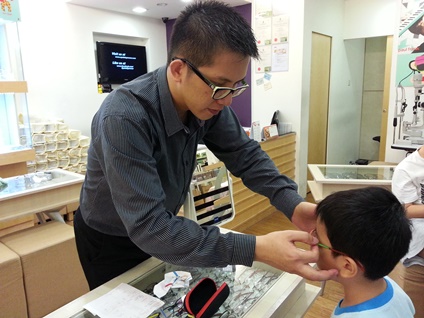 After a few adjustments on the Eyelet Junior Frame, to make sure that it was a comfortable fit for my son, we left Nanyang Optical shop with smiles on our faces once again. Kitkit thinks that the technology, which Crizal Lens uses, is REALLY COOL! He kept going under and away from the sunlight to 'Play' with his new spectacles! *laugh* He was TOTALLY in love with them!
Kitkit preferred yellow strips to the original green strips on the side of his new Orange Eyelet Junior Frame. So we went home to change it on our own. Easy Peasy!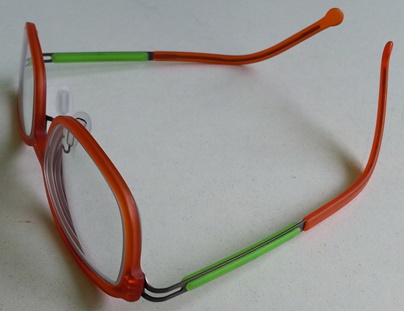 So it was Bye-Bye to Blue and Hello to Orange!
Thank you Nanyang Optical, Eyelet and Crizal for sponsoring my son's eyewear and creating that big grin on his face!
Thank you….. *hugs*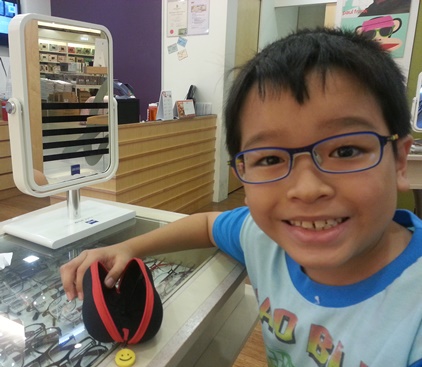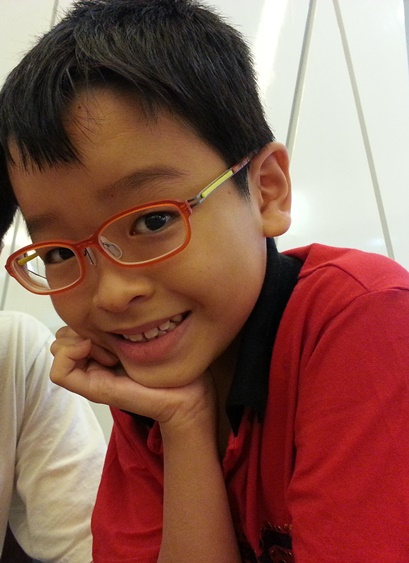 The durability of Crizal lens benefited my clumsy Kitkit tremendously, especially when my boy tends to smudge his lenses with his finger prints or scratches them accidentally. Crizal lens is really easy to take care because of all the great features it possesses. Watch the video below:
Want a pair of Eyelet Junior Frame and Crizal lens (normal single-vision) for your child?
Tell us in not more than 50 words why you think Eyelet Junior and Crizal lens can help your kid. 
Contest starts tomorrow and ends on 14 Jan 2014, so make sure your submission reaches us before that!
Submit your entries to:
info@nanyang.com.sg
Subject title:
"EYELET JUNIOR & CRIZAL CONTEST"
The Best Written write-up will be selected by Nanyang Optical and Essilor. This lucky winner will be notified one week after the end of the contest.
GOOD LUCK, everyone!
Copyright © 2007-2016 All About Your Child. The contents on this blog are the sole property of the author, Angeline Foong, and may not be used or reproduced in any manner without consent. All Rights Reserved.
No Comments »