Health, others
The Frown: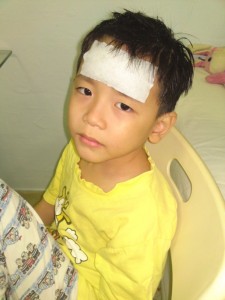 Binbin is still feverish. Allan and I were digging into our memory and realised that the last time he was so sick was when the whole family, EXCEPT ME, was down with H1N1.
So Binbin skipped school for another day.
3 days ago, Allan and I was still joking about letting the boys skip school for this week, since its only 3 school days.
OOops!
Guess such things are not good to joke about either……
————————————————————-
The Grin:
Recently, the number of spams hitting this blog's spam box has increased tremendously.
From the usual 5-10 spam comments a day to the current 20-50 spam comments a day!
I often console myself whenever I run through the spam box to double confirm that the comments are really 'fake'; there are incidents that your comments (genuine readers) were dumped there by mistake.
So, I would chant to myself "The more spammers like my blog, the more it shows that its valuable." *laugh*
Today, after clearing 38 spammy comments, I thought, "Hhhmmm….Why not find out how much this blog is worth!?"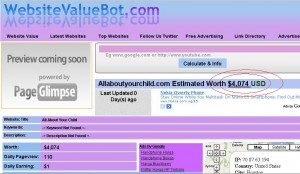 MY OH MY!!!!
$4,074 USD!!!!
This definitely put a Grin on my face after looking at the many frowns for so many days on my boys' sick faces!
Maybe this site should worth more when considering its age…. but I am someone who is happy with every little success… so I'm still delighted to see this result. *smile*
Go find out how much your site is worth! You might be pleasantly surprised too.
***Note: if yours is blogspot, then the worth is ONLY based on blogspot's value, not your individual site.***
Copyright © 2007-2016 All About Your Child. The contents on this blog are the sole property of the author, Angeline Foong, and may not be used or reproduced in any manner without consent. All Rights Reserved.
8 Comments »