Child, Handicraft for kids, Preschool
Today marks the end of another school term and the boys will be having 9 days (including weekends) of wake-up-late-and-play-all-day. Ok, there goes my usual routine and my 3-6hours of me-time: 3hours when they are in school, another 3 hours when they are napping.
Anyhow, I foresee this would be a predictable sight for the entire week: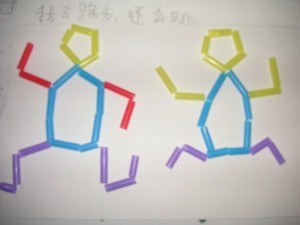 *the chinese words read: I will RUN and will JUMP.
An art piece done by Keatkeat using (cut-up) straws when he was battling with his Chicken Pox last month.
Happy ONE-week-holiday to all kids in Singapore!

Copyright © 2007-2016 All About Your Child. The contents on this blog are the sole property of the author, Angeline Foong, and may not be used or reproduced in any manner without consent. All Rights Reserved.
8 Comments »