Child, Preschool
That was what every child wore for school today, for the 'early' National Day Celebration.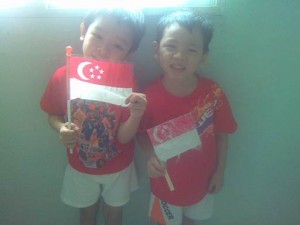 For the first time, one of Binbin's classmate's Mommy suggested to take a photo of her boy and mine.
Y.J. is also the ONLY classmate whom Binbin talks about after school too. *wink* Remember I had mentioned before that every of his classmates know his name, but he can hardly remember theirs. *laugh*
So I guess Y.J. has a special place in my boy's heart….. *smile*
Copyright © 2007-2016 All About Your Child. The contents on this blog are the sole property of the author, Angeline Foong, and may not be used or reproduced in any manner without consent. All Rights Reserved.
5 Comments »