Crocs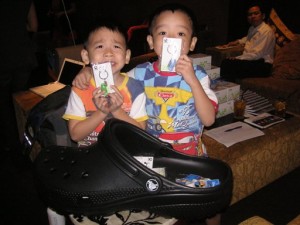 I was invited to a special Crocs event on 2nd July 2009.
Back then Crocs were about to launch their latest Fall collections, which are in their colourful outlets world wide now.
My whole family was greeted with utmost enthusiasm by the team from Crocs and the fun organisers of the event.
My boys were so fascinated by the HUGE Black Crocs, they find it hard to 'leave' it alone. *laugh*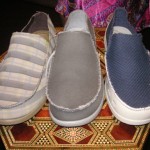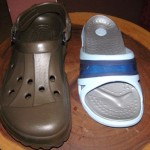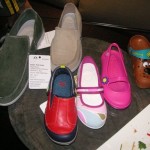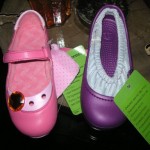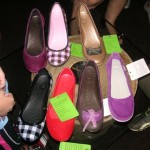 We were the first to arrive and Allan already had his eyes on ONE! *giggle* He was nudging me "That's really nice! I like that!" If the 'big' boy had such a reaction, imagine my younger one?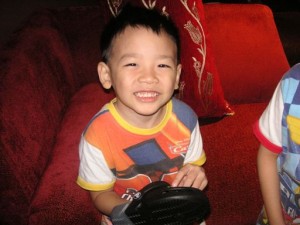 Binbin REFUSED to put down his choice! He held it the moment he saw it, till we assured him countless times that we WILL get the 'correct' size for him.
Seriously, we are Crocs fans in a way, but not the price. When Crocs first came to this world, we were attracted to the vibrant colours and the concept but we were just unwilling to pay. We bought imitations. Allan did and so did the boys. After they had the imitations, they find it hard to switch to other kinds of sandles/slippers.
It IS Crocs at work behind the 'addiction'.
I was the only one who didn't get myself hooked. I didn't like the holes and the look of it. But my heart took a 180 degrees turn when I saw their latest Fall collection.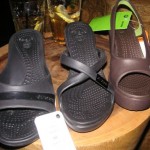 I had my eyes fixed on the high heels! *laugh* So now, Crocs maintain its soft, comfortable, lightweight, superior-gripping, non-marking and odor-resistant shoes with the elegant style which I LIKE! *Yippee*
During the event we learned about their new website http://crocsideas.force.com
A website where you can contribute your ideas. A website where you can comment about a particular style. A website where you can promote or demote what others had said. A website for exploration of future products.
If you have a great idea in which you would love Crocs to look into, you can voice it out over there. Who knows, your idea may just be adopted and put into action and hey hey hey, you MIGHT just get the very first pair of your innovation on your own feet and others too…. *wink*
So go! Go check out http://crocsideas.force.com and let your ideas be heard….
At the event, bloggers who were invited voiced out their views. Some were die-hard Crocs fans, some were die-hard anti Crocs fans and others were like myself, unwilling to pay for the price even though we love the ideas behind this big creative company.
The place was so comfortable, my boys had no trouble fitting in. *giggle* Before we left, the boys had their hands full of goodies. Cute Jibits, Useful notebook, Practical keychains and Big mug.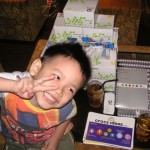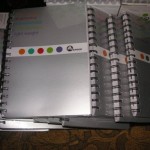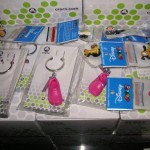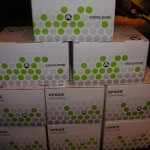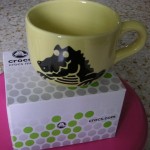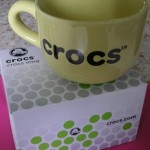 The boys continued to bug me every single day after we left the event. "Mommy, can we collect our Crocs now?" Notice how they asked the question? They did not say 'shoes or slippers', they said Crocs! Wow! That's the subconscious power of Crocs eh!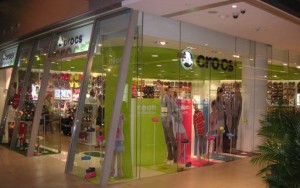 Finally, after waiting for 2 months, the Fall collection was in the outlets.
The experience in the shop was wonderful. I realised that Crocs is an 'earth-friendly' company.
Recycling is the theme. The packaging they use and the messages they bring across to their customers is all about being environmental friendly. I like. *Smile*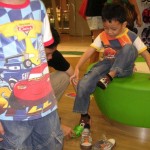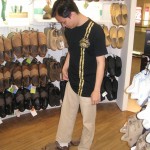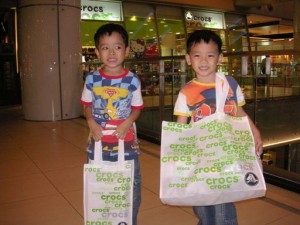 Here's a closer look at our choices:-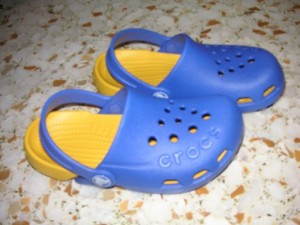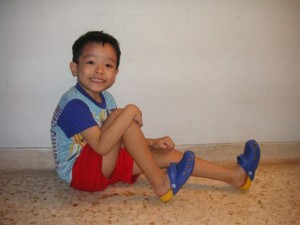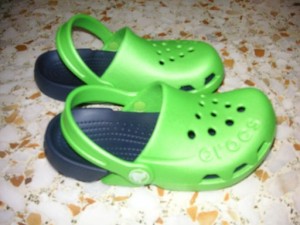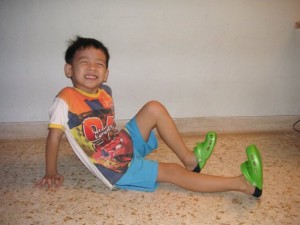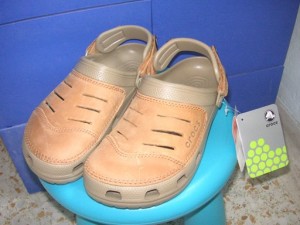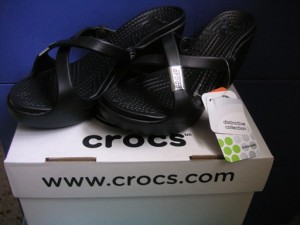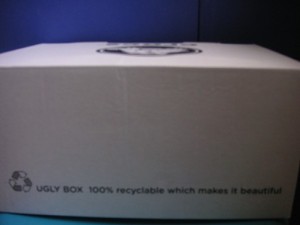 *In case you can't read the sentence on the shoe box, it said "UGLY BOX 100% recyclable which makes it beautiful"
And before I got my feet burnt walking on fire, I had my boys' feet protected with Crocs. *wink* They came just in time as perfect coax-ers since the boys will not be having Mommy for 4 full days. So Thank You Crocs! Thank you! *smile*