Books for Your Child
November 15th, 2011
My son is NOT a reader by nature and I think it has a lot to do with me. Most parents would grab a story book or two before bedtime and start to read the words printed on the book.
Whereas I, do NOT.
I will tell them stories from my brain, my heart, my soul during their toddlers-time. My stories evolves around principles of life, ethics and morals. Sometimes humans are the main characters in my stories and sometimes animals and insects become the lead actors and actresses.
Please don't ask me how can I could come up with a story without preparation.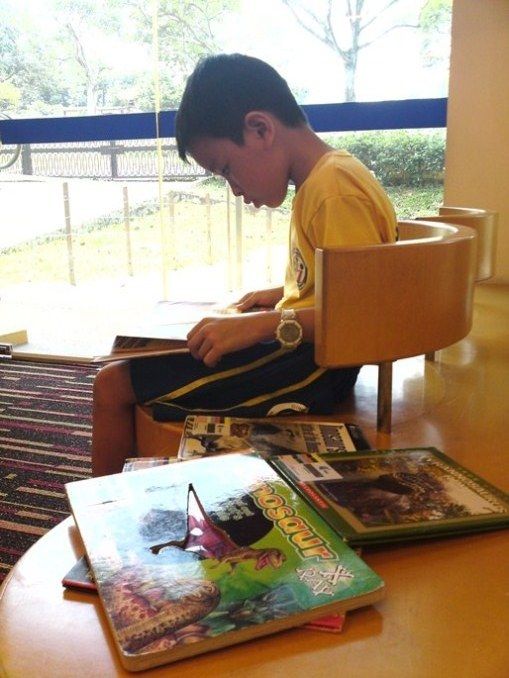 I do not know. It just happens.
In fact, this ability has been in me since young, I can start telling a story from no where. That was why I became the story telling cum play teacher in the child care centre which I worked at in my younger days. *wink*
Since Keatkeat is not much of a reader, you can hardly see him sit still with any books except for Dinosaur books. All he does is look at the pictures and say, "Mummy Look! This dinosaur have 'this' and 'that' on its body!"
But ever since two years ago when my nephew wanted a latest release of Geronimo Stilton hardcover book, my son got hooked onto the mouse.
Only one thing caught my attention in Geronimo Stilton books: Adjectives were printed in a different colour and in different font. This greatly helps the subconscious mind to recognise and remember.
So now he reads Geronimo Stilton books:
When he is waiting for something or someone
When he is attending a Wedding

When he just bought it from the bookshop with the empty plastic bag still hanging on his arm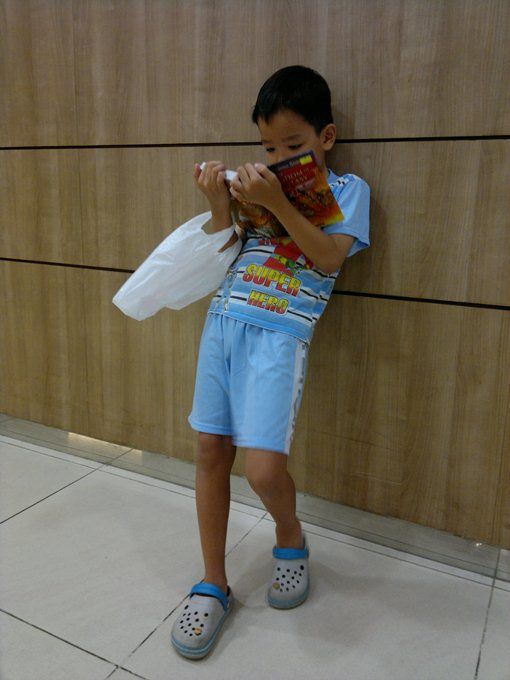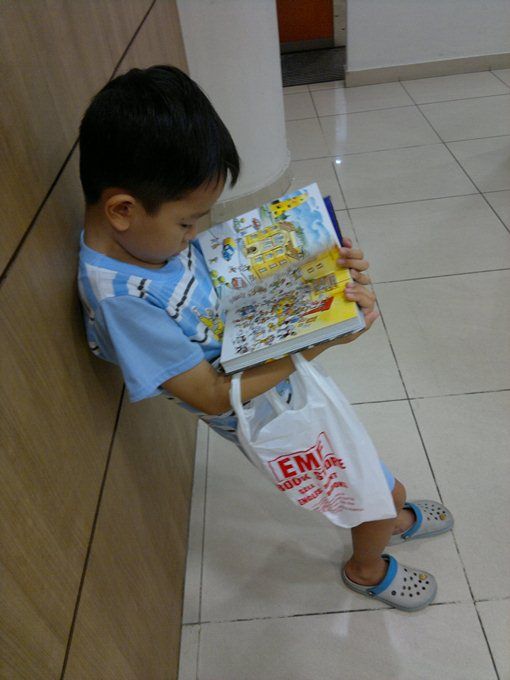 Fortunately, my 2nd niece also has a number of Geronimo Stilton books, so we bought those which she does not have and borrow her collection to read.
It is amazing how Geronimo Stilton books could 'wake this sleepy head' up and get him reading and be INTERESTED in reading. With this new addiction, his speed of reading has improved tremendously!
It used to be One-Second-One-Word kind of reading, now he could complete the 315 pages of the hardcover copy of Geronimo Stilton book in 5 days! Hooray! *clap clap clap*
Does your child likes Geronimo Stilton Books too?
Geronimo Stilton Books
4 Responses to "Geronimo Stilton Books"
Leave a Reply