Child
Kitkit ever asked in the past: "Mummy can I use the stove without you around?"
Me: "No. Not when you are at this age. If I'm still asleep, wake me up. I want to be around when you are cooking."
And that was exactly what he did this morning……
Kitkit [tippity-tapping my arm]: "Mummy, I'm a little hungry. I want to cook scrambled eggs."
Me: "Ok."
I reached for my glasses and we went into the kitchen.
Knowing that Gorgor is having scrambled eggs for breakfast, Binbin joined in.
Watching my 8 year old and 9 year old preparing their own breakfast….how can I not capture this moment?!
*Snapped*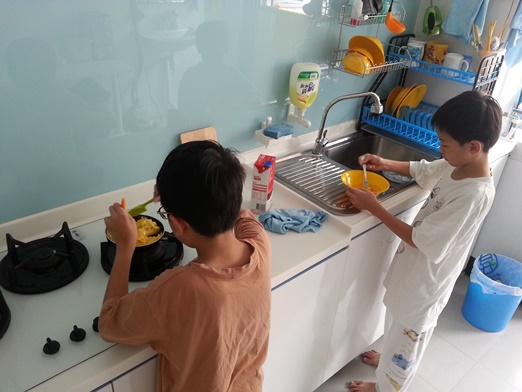 Copyright © 2007-2016 All About Your Child. The contents on this blog are the sole property of the author, Angeline Foong, and may not be used or reproduced in any manner without consent. All Rights Reserved.
No Comments »