Places Kids Love, Videos
Backdated post : 29th -30th March
8 years ago, I was afraid that my 2nd child would have the same birthday as my niece. Birthdays are special dates. Of 'cos I understand that there are thousands, even millions out there who will share the same birth date as my child or children. But they are strangers or friends….not family members or relative.
Well, maybe its just me, I wanted my children to NOT share their birthdays with anyone else in the family. I want to have a day that belongs to them within the family/relative scope.
On 29th March 2005, mild contractions hit me and I was nervous.
Praying that my 2nd baby would hang in there just for a few more hours, let the clock past 12midnight….please…
My boy sure hung tight!!!
*giggle*
One day after his cousin's. They are not of the same year of 'cos. I'm referring to the date; my niece was born on 29th March and my dear Binbin popped out on 30th.
Nice!
 29 March 2013 : 2nd Niece's Birthday!
This is the first time, the two decided to have a Mega Birthday Celebration at Chalet: Coasta Sands Resort. I called it 'Mega' because both families spent more than $1000 to make this 3 days 2 nights birthday celebration a success. The birthday kids' parents rented one unit each, which were joined with a connecting door.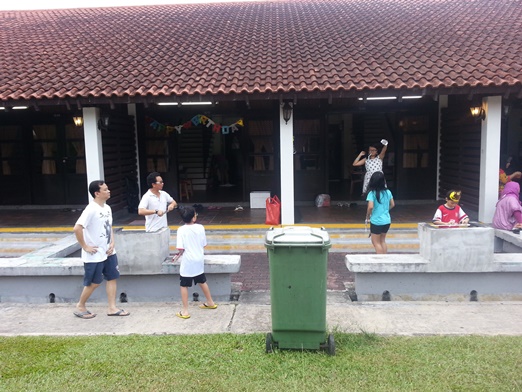 To make this birthday celebration sweeter, it was a long weekend break for the adults and the kids.
No school nor work on Friday, 29th March 2013, because its Good Friday.
Yeah! *clap clap clap*
So the 14 of us arrived there in the afternoon.
While the other 5 kids soaked in the pool, I was with my 2nd niece pumping balloons.
She used her own money to buy all these decorations and prizes for the games which she had planned.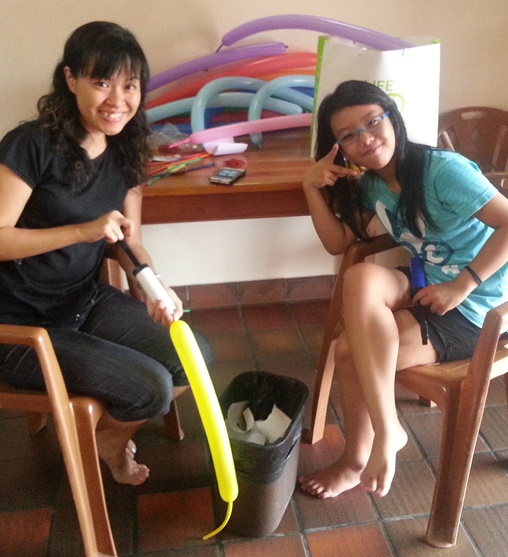 Shortly after the 5 kids had cooled down from their swim, everyone was getting warmed up for BBQ time!
We had BBQ for both nights.
As my boys already learned how to start the fire for the BBQ pit last year during Binbin's birthday, read "Binbin's Chalet Birthday Celebration", this round is revision time. Allan gave the kids a 'refreshment lesson' just in case they have forgotten all that were taught a year ago.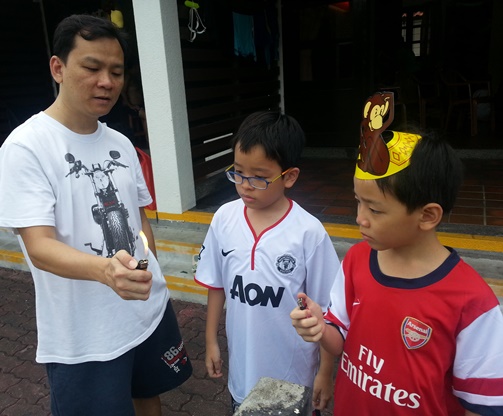 Kitkit managed to get the lighter fired-up in less than 3 tries. *thumbs up*
But Binbin continued to struggle…
So Kitkit was the 'fire-starter' while Binbin helped out with the charcoal placing.
Both were eager for the big challenge TOMORROW: One BBQ pit to each!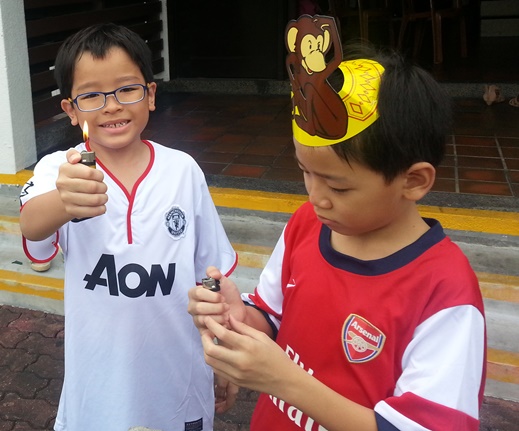 Watch them in action in the video below:
Thus today, 29th March, it was kids against the adults in getting the fire going for the BBQ pit.
With 6 active kids around, its so easy to let time slip by.
It was already past 9pm when my MIL shouted: "Still don't cut cake ah?!"
*giggle*

As the old lady and her hubby will not be staying overnight with my eldest niece's family in the chalet, they were just waiting for the cake-cutting and present-unwrapping moment so that they can go home. *Ooops!*
Only the 2 birthday kiddos' family members stayed for 2 nights at the chalet: 5 kids 4 adults.
Her choice this year was Oreo Chocolate cake.
Once again, we asked for a birthday wishlist from the birthday girl, that list truly made our present hunting experience so much easier!
Allan drew Z.Y. and himself on the wrapper. I think its a pretty nice drawing of my 2nd niece. Sweet looking.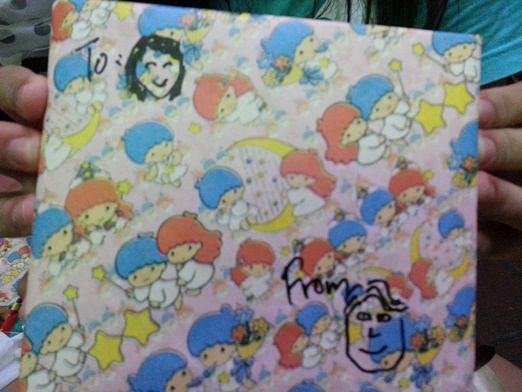 We got everything from SMIGGLE for her.
Well, that was what she wanted. *wink*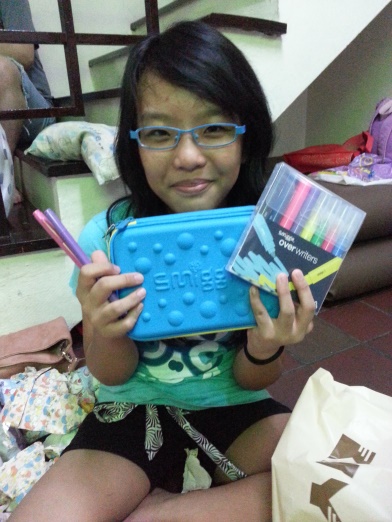 While the birthday girl do the unwrapping, my cheeky Kitkit did the wrapping! He WRAPPED his head with the torn wrapping paper and started circling the two chalet units through the connecting-door like a bandit! *laugh*
The kids had fun with Allan and I till around 2am plus before they head for their pillows…..
=========================
=========================
 30 March 2014 : Binbin's Birthday!
Allan bought McDonald's for the kids' breakfast. A rare treat for my nieces and nephew, who hardly got chance to go to fast food restaurant.
Then with the free bowling vouchers given by Coasta Sands Resort, we went BOWLING!!!!
The last time my 2nd niece had her hand on the bowling ball was also with us at this exact same place in 2008!!!! Go check out their CUTIE FACES in this post "Mini Bowling For Kids". And back then, my boys and my 2nd niece were too young for the 'adults' lane.
So this is the FIRST TIME they are ON the normal lane. Aaawww…..how time flies!
As we had booked two chalet units, we were given 2 bowling games for free! Yeah! One for the kids and one for the adults! To my surprise, it was my SIL's first time bowling!
To make it memoriable for my SIL, I took this photo of her and the kids (+1 other bigger kid).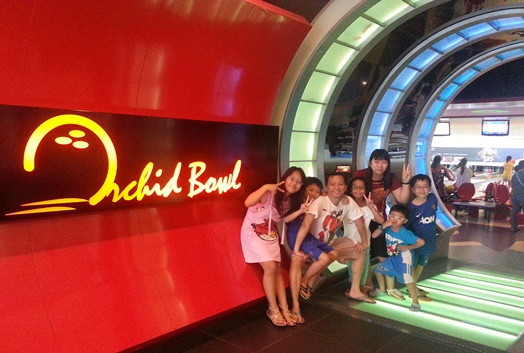 BIL went to the mini-bowling alley with W.D., so we waited for him to return before the adults had our share of fun. W.D.'s daddy cheered him on when W.D. was throwing the ball down the lane, this time, its his turn to cheer his daddy on!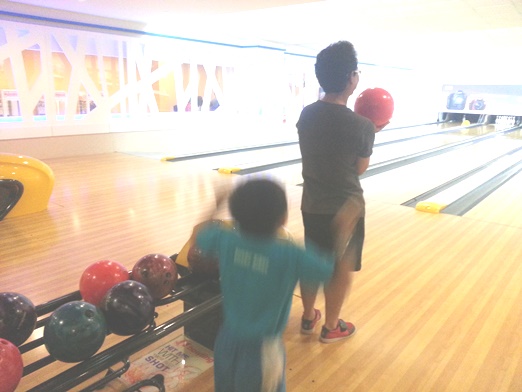 The 7 of us had lots of fun!!!
See slideshow below:
After that, the kids, except Z.Y., followed my BIL and SIL back to the chalet.
Allan, Z.Y. and I went to collect Binbin's birthday cake.
I took this opportunity to fulfill another 2 wishes of Z.Y.
The sweet girl told me many months ago that she had been hoping to try drinks from Starbucks and have a taste of Sushi, but NONE of the adults whom she is staying with was willing to fulfill those tiny wishes of hers.
So, I, her ShenShen, did just the opposite : Gave her the Starbucks and Sushi experience!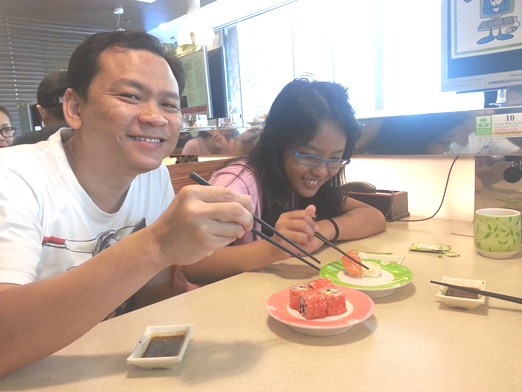 Wishes came true……Birthdays are supposed to be this way, isn't?!
I did not manage to take a photo of her slurping the Starbucks Chocolate Chip Crème Frappuccino®, because we were in such a rush to jump back into the car as Allan was waiting for us in it.
I thought I could be able to take a shot of her and her cuppa after we alighted at the chalet carpark, but she was so afraid that her family members, especially her granny, would scold her.
So before I could shout "STOP!" She finished her last sip of the drink and threw it into the dustbin the moment she hopped out of the car.
*sigh*
=======
With yesterday's revision session, my boys were geared up for today's challenge : Starting fire for BBQ on their own, One pit each to themselves.
And the did SOOOOOO WELL!!!!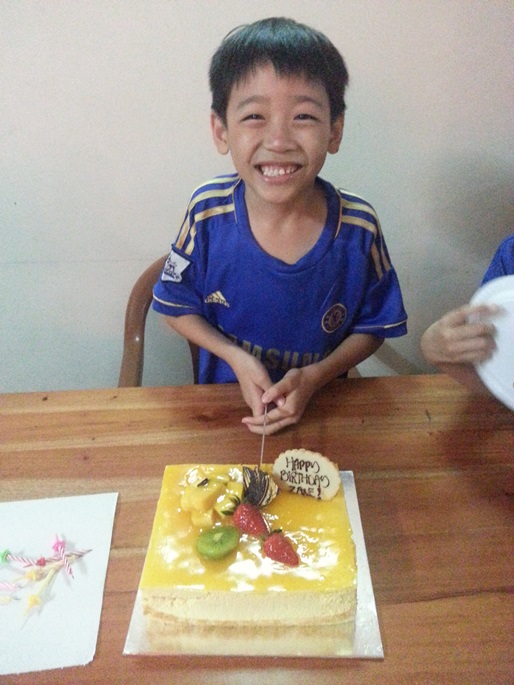 Alright, this year, Binbin chose Mango Cake and like always, most of the other kids were not interested in even taking a bite at all. They only eat Chocolate Cake!
However, its the birthday boy's wish to have this flavour instead.
Hhhmmm…..So long as birthday boy is happy, I am happy even though the cake was not well-liked by the other kiddos.
Binbin's birthday wish list this year were leaning towards ONE THING and ONE THING ONLY : Xbox! *faint*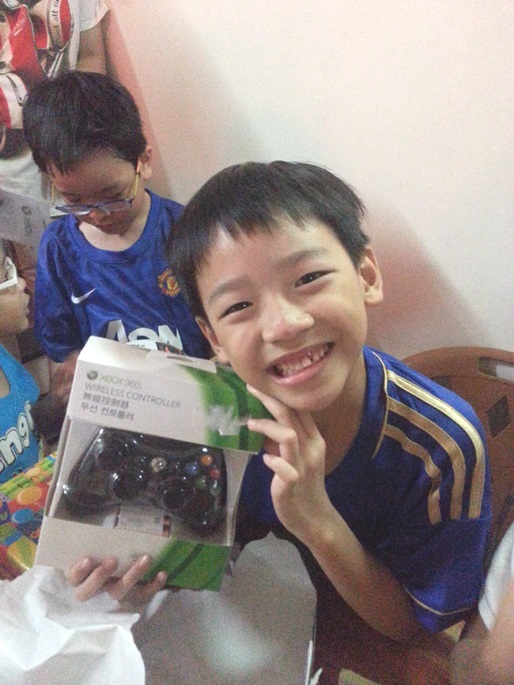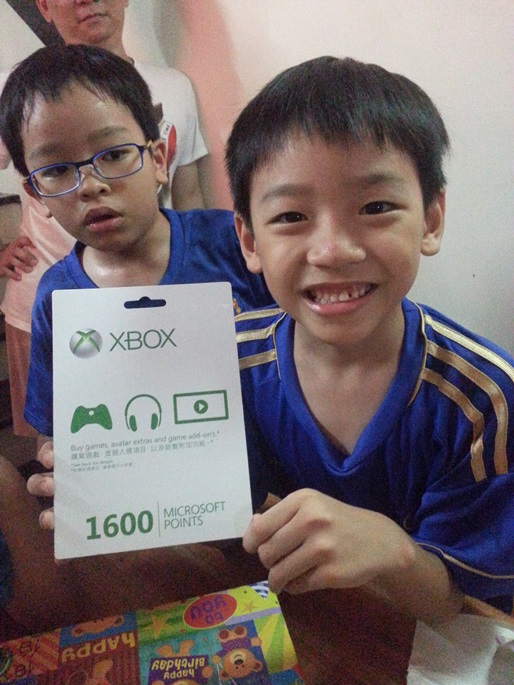 The presents below were from Z.Y., M.Y. and W.D.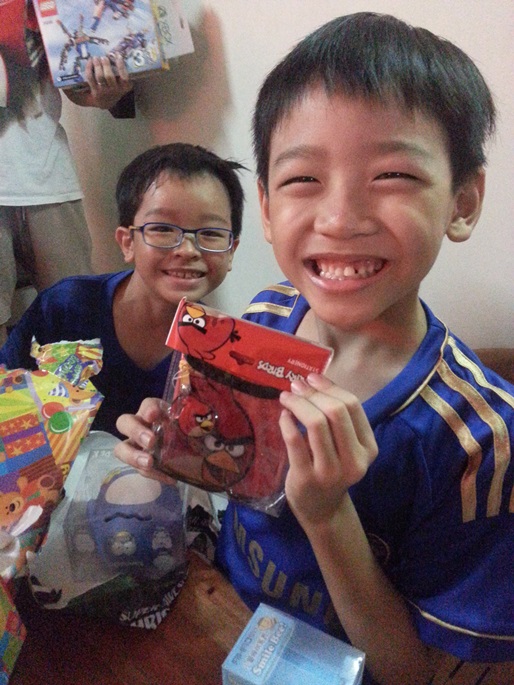 With that, ended our 3 days 2 nights of birthday celebrations for my niece and my younger son.
Happy Birthday Z.Y. and Binbin!!!
Copyright © 2007-2016 All About Your Child. The contents on this blog are the sole property of the author, Angeline Foong, and may not be used or reproduced in any manner without consent. All Rights Reserved.
No Comments »