Places Kids Love
April 2nd, 2013
Ooops! Now that the title is up already, I regret doing a 3-part post for our 1st Day trip in Vietnam, 'cos it should have been a 4-part! Too many things to highlight!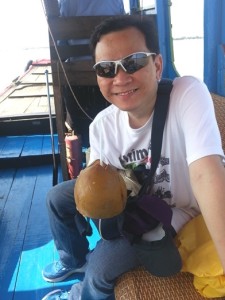 However, since the mistake has been made, you will have to bear with me in this super long post, so that I can conclude day 1.
Alright, take a deep breath and here goes…..
After the sumptuous lunch at Hao Ai restaurant, we headed back to the big boat to bring us back to the jetty.
The Mekong Delta tour guide surprised us with coconuts to quench our thirst while we were on the boat and enjoying the view of Mekong River once again.

Back to main land, we gladly climbed into Mr W.'s 7-seater car again and breathed deep into the air-con. Aren't we glad that air-conditioned were invented for cars!
Just when we were totally soaking ourselves in cool air and perspiration were drying up, we reached a beautiful place called Mekong Rest Stop.
A place for tourist to shop, eat and stroll around the garden.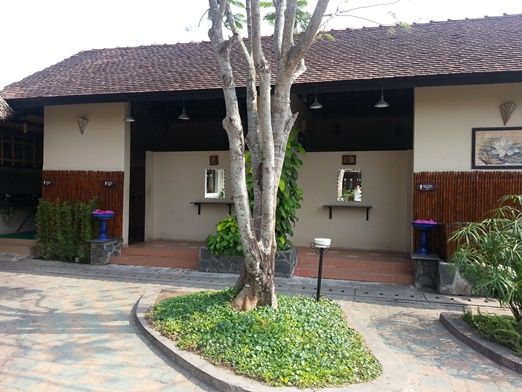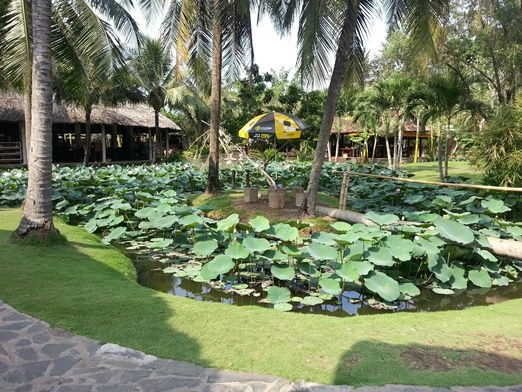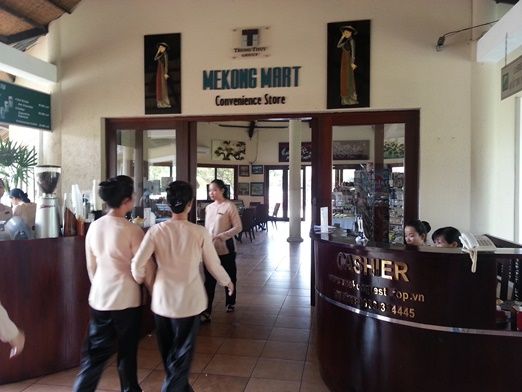 You can also expect to see 'tourist price tags' here. The things sold here are pretty indeed and Allan spotted a nice belt, but it was priced beyond what he would pay for for a belt. Uuurrmmm…. actually that statement should be for ALL items in that shop….. *shrugged*
I think we only spent 5mins or so here, with Binbin spending about half of that time in the clean toilet.
Back into the cool car. This time, Binbin chose to sit at the rear with the luggage. The boys were grinning from cheek to cheek when our tour guide finally replied "YES!" to their naggy question for the past 3-4 hours of "Are we going to the hotel now?!" *laugh*
But their smiles soon diminished as Zzz monster took over….
Fresh from an hour nap. The kids were eager to see their hotel! So were we~!
 But it was NOT "Hey boys, we have reached the hotel." that pulled them out of their dreamland.
It was "Hey boys! Its time to buy JERSEYs!!!!" that sprung them onto their feet in seconds! How I wish its the same response when I wake them up for school every morning….*pout*
Yes, we told our friend to make an arrangement to bring us to a place where we could buy soccer boots and jerseys for our boys and the tour guide remembered! Since it was on the same route to our hotel, we decided to do a little quick shopping first before collapsing on our hotel beds.
When I meant quick shopping, I really meant QUICK!!!
As it was illegal for any vehicle to stop along that stretch of road, we were putting the nice Mr W. at risk of getting a fine from the traffic police. So it was hurry, Hurry, HURRY!!!!
In the midst of all those hurrying, Binbin cut his palm when he was alighting from the car. Skin peeled and blood came out. Thank goodness it was not a deep cut. So while Allan was doing the shopping with Kitkit and Binbin, I was ransacking the luggage for a plaster for my 7 year old's wound in the busy honking road.
It was pretty chaotic.
Can you imagine?
On one hand it was "Hurry! Choose the jersey you want?" and not forgetting the time needed to try the sizes, on the other hand it was "Mummy, my hand very pain. More blood coming out." AND with all the endless honking going into my ears. My mind was flustering like mad! To make things more 'exciting', its funny how times like these I would forget where the plaster was kept! I ransacked every bag! Big and small, only to find the box of medicated plaster in the LAST zip of the LAST luggage!!! *Super Eyes Rolled*
Its amazing how 'soccer language' is the SAME regardless of what country you are from! Allan needed no translation from our tour guide, other than during the price bargaining time. *laugh*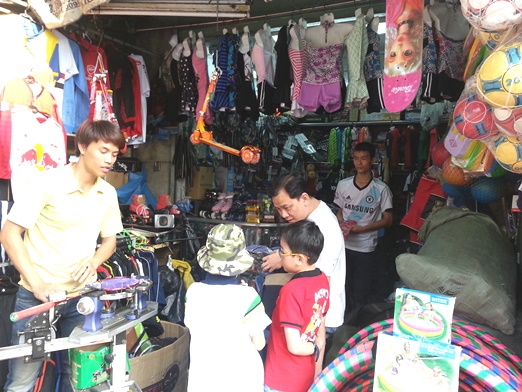 No soccer boots were bought as the sizes were too big for them. Only purchased 2 jerseys for each of the two young soccer fans from two different shops. Allan wanted to buy one set for himself too, but he did not want our helpful driver to get into trouble because of us, so he walked back to the car empty-handed.
Now, we are REALLY going to our hotel. No more stops in-between!
During the planning stage, choosing the place to stay for the four of us had not been a smooth journey. Our tour guide told us that she literally called EVERY SINGLE HOTEL in Ho Chi Minh city to find one hotel room that has 2 Queen Size Beds.
We did not give any budget restriction on this because we want to rest comfortably AS A FAMILY every night. That is top priority for us for any trip that we go to, therefore we usually do not put a price limit on this aspect.
There were none that fit our bill. The closest find was this : a Queen Size Bed + a Single Bed + an additional fordable/portable bed, found in this BEAUTIFULLY WHITE AND GOLD THEME Hotel : SILVERLAND
Our Nice BIG ROOM.
In order for this post to maintain 'readable length', I had decided to put the rest of the photographs of the hotel room in the slideshow below. I had received feedback from my readers that they were not able to see the slideshows for the previous blog posts when they were using their mobile phones.
I have the same experience too. So if you want to view the slideshows, I'm afraid you will need to watch them on your laptop or PC.
We had a good near 2 hour rest in the hotel room. None of us slept. The boys were watching soccer on the wall-mounted TV, while I tried to surf the net and catch up with some friends.
It was dinner time when we meet our tour guide again. I promised Kitkit and Binbin that dinner was going to be very unusual and exciting for them.
Its their FIRST TIME having a meal on a SHIP : Saigon Cruise!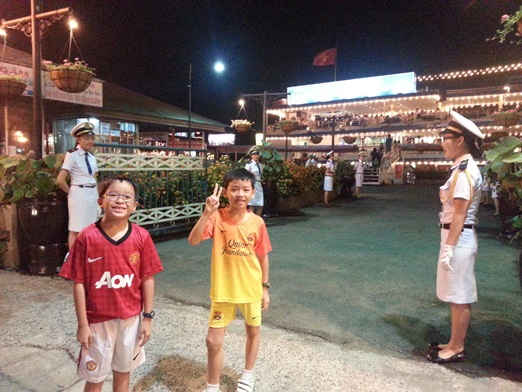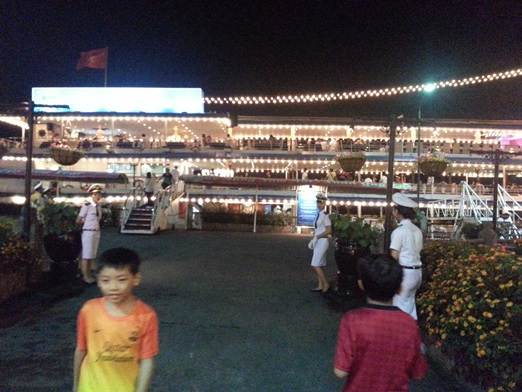 A Total of 3 decks.
Each level has different type of entertainment.
Check them out in the photo below: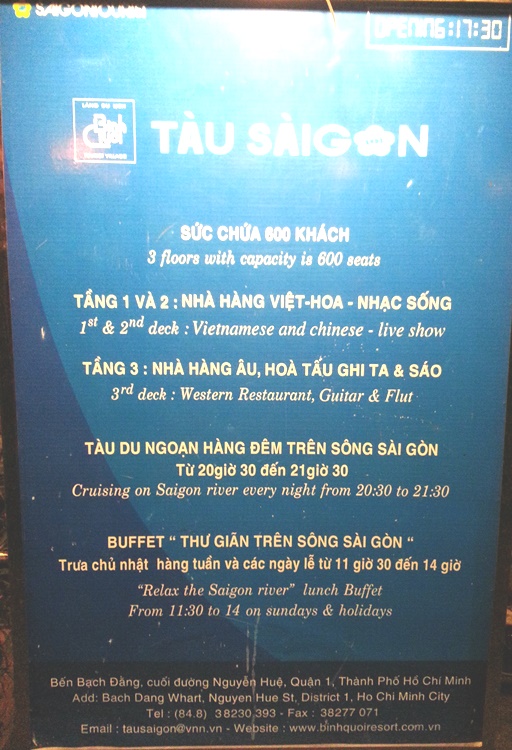 Our tour guide brought us to the lowest deck, aka 1st deck, which I think is a very good choice as we are not aware if the kids would have motion sickness. This is ultimately their first time on a Big Ship and eating at the same?!? Errr… better to be safe than end up having vomit everywhere. Eewww!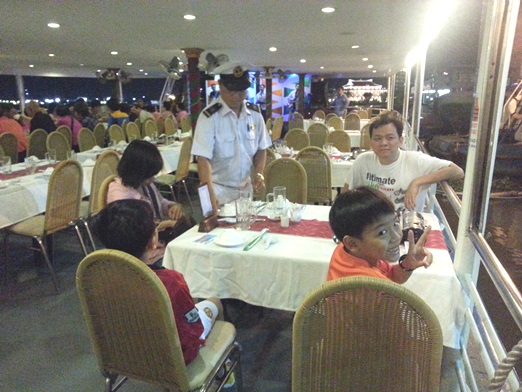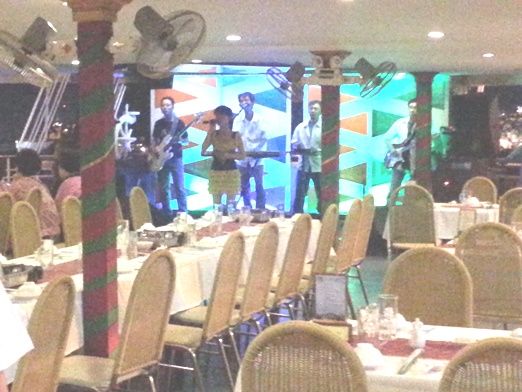 The singer and band were already performing to a big group of Koreans who were already eating happily on board. But as you can see from the above picture, we were seated quite far from the performers. Luckily we get to change to another table that was nearer to the mini-stage (picture below).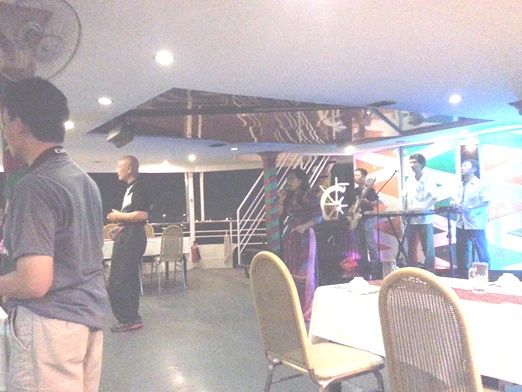 The Saigon Cruise set sail at 8.30pm and we were there at about 7.30pm! *Jaws Dropped*
By the time we finished our dessert, the ship was still at the dock! Hhhmm… its a pity that the kids did not get to experience eating on a moving ship, but it made me happy to know that the possibility of them vomiting or losing appetite due to motion sickness (IF THEY HAVE) is eliminated.
My camera phone is terrible when taking night shots. So do not be fooled by the photos of the food because they TASTE SO MUCH BETTER than they look!!! See slides below:
Finally, the horn sounded and the 'sailors' started to 'unhook' the ropes.
Look at how excited Binbin was!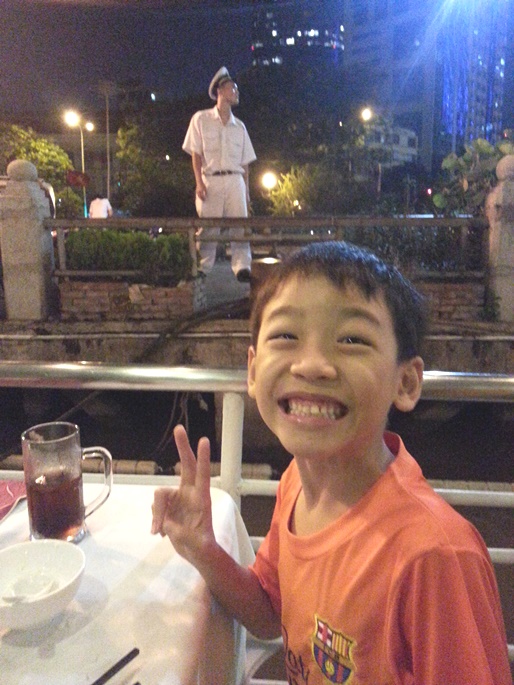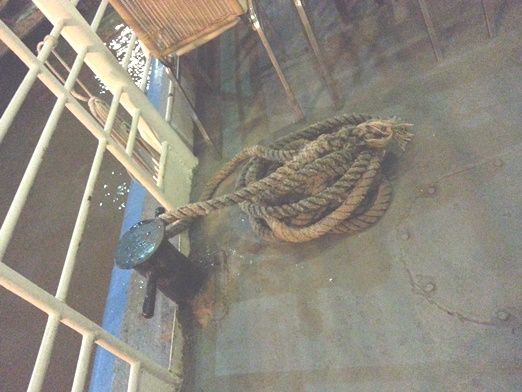 Diners who came later than us were happily eating when the ship started cruising, while the four of us explored the other decks on the ship.
Second deck was very much the same as ours but the highest deck was gorgeous!!!!
Western style with soothing music played by a duo, no singing at all, unlike the other two levels. Not sure if they would sing though, but when we were there, they were not.
Loved the 3rd deck, TOTALLY!!!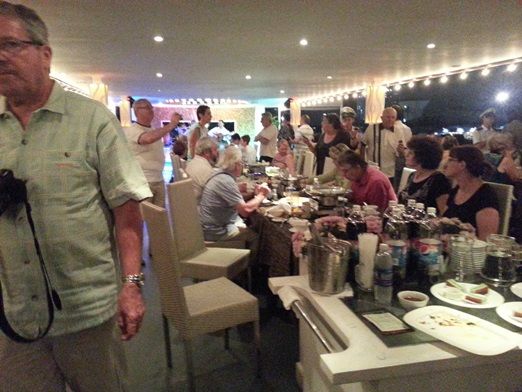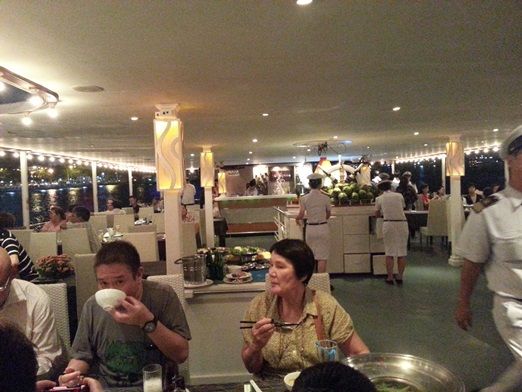 The view was lovely too!
It was a world of a difference on our left and right, as Saigon Cruise moved along the river for one hour.
On one side, it was dim with few light bulbs trying to win over the darkness around; looked like a line of factories by the shore.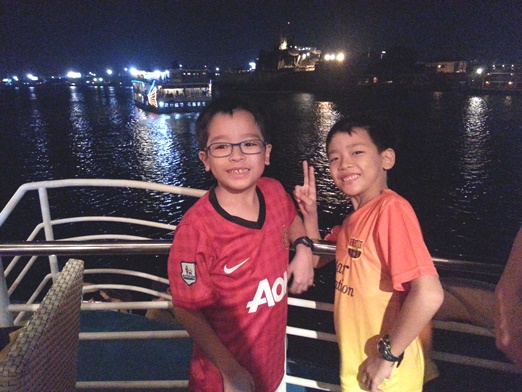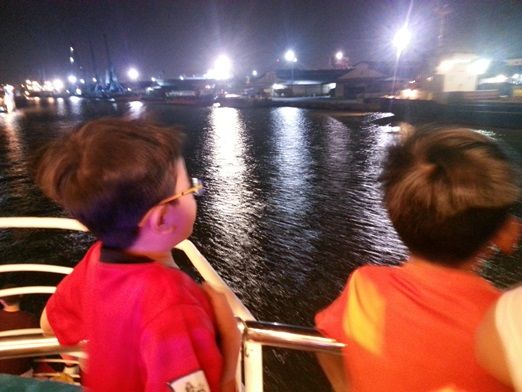 On the other side, colourful rays of lights shone from highrise buildings and we even saw a tennis court, 'protected' by tall translucent walls, just at the edge of the shore!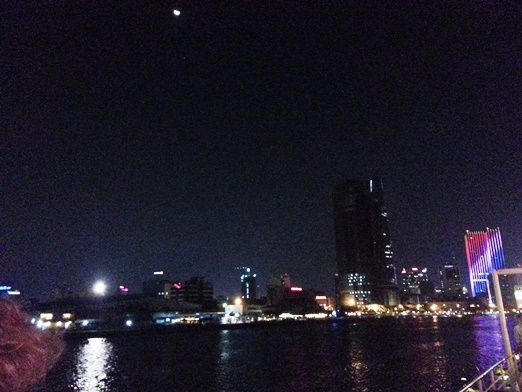 When we saw other cruises which set sail before us going in opposite direction, we knew that it was time for our Saigon Cruise to make a U-Turn back to shore.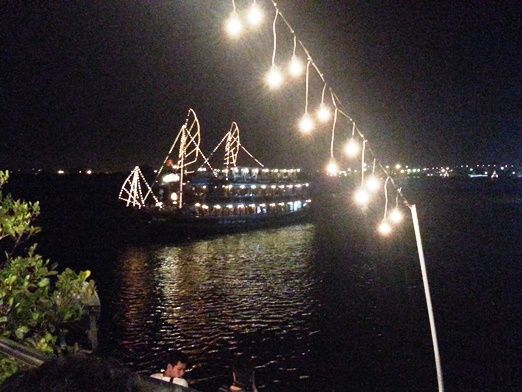 I did not want my boys to catch a cold from staying in the strong breeze for too long, thus we went back to the 1st deck to join our tour guide who had been guarding our table. Thank goodness we went down early.
Saigon Cruise truly saved the best for last. It had been singing and singing all the way from the time we stepped on board. But for the last few minutes of this cruise back to shore, there was 'Fire' show!
The performer was truly amazing!
The video below only captured her performance in the beginning. The later part was more exciting. You will need to go there to see it for yourself. *wink* No no no, Saigon Cruise did not pay me to do this pitch. *laugh*
The other two cruises had already parked as we approached the dock.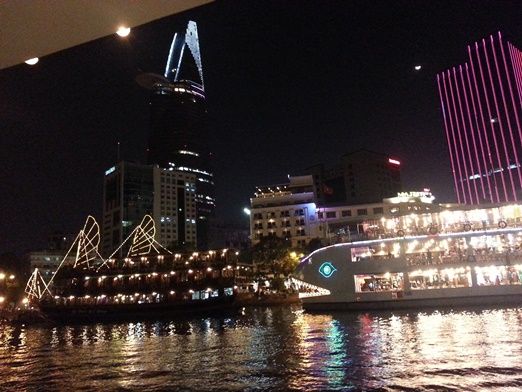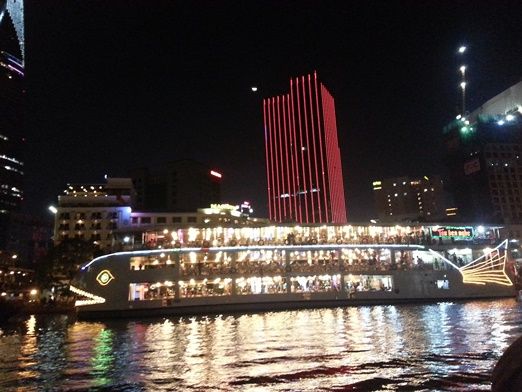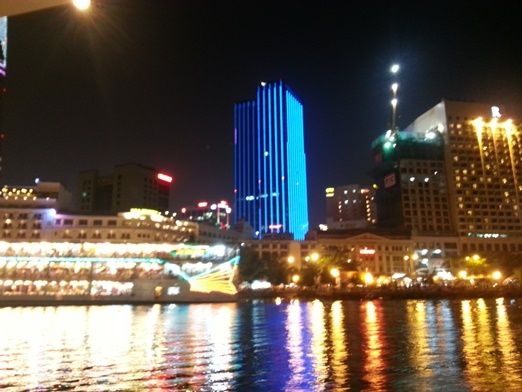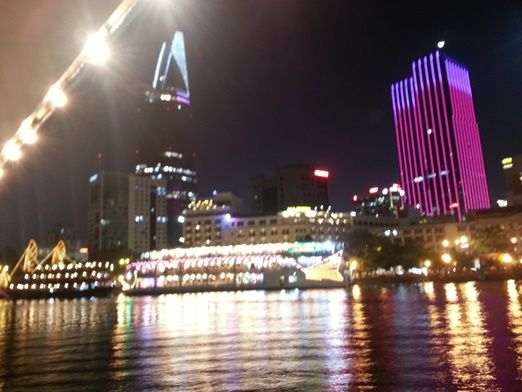 When we were on the way to the hotel after Mekong Rest Stop earlier today, my tour guide highlighted a particular street to us. She told us that when night falls, that particular street changes into a street that has several small stalls operated by small business owners and Vietnamese themselves would buy things from there.
With that short introduction, I knew that its a place for us! We want to shop like the locals and of 'cos pay the amount which Vietnamese would pay for, meaning NOT slash-throat-tourist prices.
It was out of her duty to bring us there, but she was afraid that we might have communication issue with the local stall owners. So she volunteered to SHOP with us!!!
Aaawww….so touched!
You can see from her tired eyes that she needed rest, but for us, she chose to sacrifice her sleep.
Thank you Lan!
*hugs*
We took a taxi to the street. We paid for the cab fare of 'cos! It was out of the itinerary.
The street was NOT brightly lit as compared to other parts of Ho Chi Minh city.
Canvas were laid on the floor where rows and rows of shoes were displayed neatly. Racks of all sorts were assembled to hang clothes and other merchandises with no shelters at all.
Lan, our tour guide, kept telling me to KEEP my mobile phone and NOT hold it in my hand, to prevent it from being snatched.
So no photos were taken for this late night shopping trip.
I bought some tops meant for sleeping in Singapore's warm weather and another pair of wedges to add to my collection.
Nothing caught the eyes of the kids nor Allan even though there were stalls selling children and men's stuff.
With that, ends our first day in Vietnam, Ho Chi Minh City.
Tomorrow evening we will be checking out of Silverland hotel and move on to another place in Vietnam that needs 8 hours of traveling time. We are so looking forward to it, as our friend, who planned this trip for us, told us that the temperature there is usually around 16 degrees!
Whoo-hoo!
Can't wait to feel the cool breeze sweeping across my face!
*Super Grin*
******Thank you for staying with me till the end of this extremely long post. *Hugs*
First Vietnam Trip ~ Day 1/5 : Part 3/3
3 Responses to "First Vietnam Trip ~ Day 1/5 : Part 3/3"
Megan Says:
May 3rd, 2013 at 9:52 am

Angeline

I am being influenced by you. I will be bringing my 7yrs old girl to HCMC during the Jun sch holiday. Hope you can quickly continue your posts on your Vietnam trip.Hee… Cheers!

Have a good weekend :)

Angeline Says:
May 3rd, 2013 at 11:47 am

*giggle* Oh Megan!
you are so cute!
Hope that she will have as much fun as my boys did.

Ok ok…I will try to speed up with the posting.
I was just thinking of having a break from the 400+ of photo editing and uploading…
:p

karmeleon Says:
June 10th, 2013 at 9:33 pm

haha – yeah, your journal on the trip quite long. I doubt I would have the energy nor time to do that like you!
karmeleon´s last blog post ..Music Festival
Leave a Reply