Child
October 1st, 2010
Children's Day is a time to celebrate for sure! One can easily find tons of essay on Children's Day, Children's Day poems, Children's Day quotes, and Mommies blogging about Children's Day activities all over the internet.
I am a play play play Mommy, definitely not in line with what the school thinks for sure. So, as much as I wanted my boy to enjoy this Children's Day, he is buried under tons of worksheets from school because of the long weekend school break.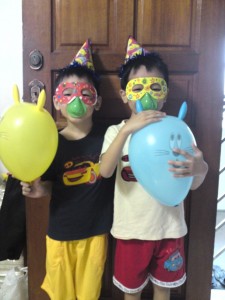 Anyhow, right after school yesterday, I brought my boys down to the 'dead babysitter' and let them had a roaring hour of fun.
Today is a school holiday, so the kids celebrated Children's Day yesterday in school.
Children's Day in Binbin's school is celebrated with an hour of games, snacks and presents unwrapping, no pencil and paper stuff at all.
As for Keatkeat's school, I would say it was rather special. After hearing the speech on Children's Day by the school principal, Keatkeat's school started to go crazy with the 'what's my ambition' competition.  Everyone was allowed to wear or rather to dress up based on their ambition. Keatkeat told me that some children wore like a businessman, chief, artist, ballerina, football player, fireman and the list goes on.
Knowing that with this competition on Children's Day, the teacher will NEVER confiscate the children's mobile phone, so Keatkeat's classmate who dressed up like a businessman, brought his REAL mobile phone, REAL laptop, wore shirt and tie plus jacket; and even a pair of sunglasses to school. *giggle* The effort paid off! The child came in 3rd in the competition. Whoo-hoo!
I wonder how is Children's Day celebrated internationally, probably very much like Teacher's Day I guess; or maybe not. International Children's Day probably have lots more poppers, party hats, gifts, masks, balloons, etc; just like what my 2nd SIL bought for the 6 children in the family last week.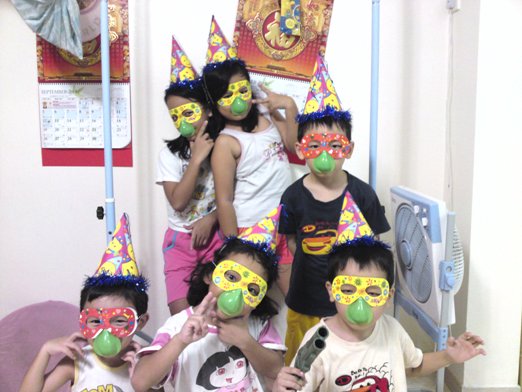 Children's Day mini-celebration started last Sunday at my in-law's house and another bigger celebration tomorrow. *wink*
Here's wishing all children
3 Responses to "Happy Children's Day"
prince n princess mum Says:
October 1st, 2010 at 6:10 pm

Happy enjoying children's day!~
.-= prince n princess mum´s last blog ..Numbers =-.

amber Says:
October 3rd, 2010 at 11:43 am

We don't celebrate children's day in America. I used to ask my mom about that when I was little and she would say "everyday is children's day"

kkf Says:
October 3rd, 2010 at 1:34 pm

looks fun!!! glad your kids enjoy their children's day!
.-= kkf´s last blog ..Great way to start our Sunday Morning =-.
Leave a Reply