Child
February 18th, 2013
The time of the year has come whereby the kids get their so-called bonus! Yeah! *clap clap clap*
There will be no more house visiting for us this Chinese New Year, as we ended our 'last house' last Saturday; unless there are 'last minute' ones… *wink*
So the kids were extremely energetic and excited even when we reached home at almost 12midnight on 16th February 2013.
All ready to open up their Hong Baos and calculate how much they have.
Kitkit: "I wonder who will have more money this year." as he opens his Hong Baos.
Binbin: "Definitely you lah! Because I gave some to Mummy already few days ago."
Kitkit: "Why?!" turning to me.
Me: "Remember the story which I told you and Binbin ~ about my childhood? About my Mother would take away all my Hong Baos when I was at your age and younger times too; because she needed to recycle those money to give Hong Baos to other children during Chinese New Year? So I do not have the privilege (like the two of you)to keep my own Hong Baos given by friends and relatives?
So when Binbin gave me two envelopes that day, I was very surprised. He said: "Give you. I know you lose alot of money during Chinese New Year." "
……..
That very moment I was very touched, but I wanted Binbin to keep them, so I rejected. He insisted, "Nevermind lah. I give you, you just take lah."
So I accepted and gave him a huge bear hug.
Contented with that embrace, he left the room.
Leaving me sitting on my chair soaking in my blissfulness.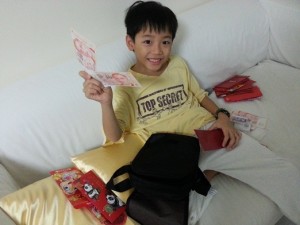 …….
So after Kitkit heard what Binbin did, he did something which I did not expect.
I thought he would either follow his younger brother's footsteps and pass me some Hong Baos because he usually would not want to lose out to Binbin
OR he would choose to keep all the Hong Baos to himself.
Instead, he did BOTH!
*laugh*
What do I mean?
He held up 3 Hong Baos and said: "Nah! I also give you."
Seated beside him, I did not raise my hand to take but just stopped and looked at him.
Then he withdrew his hands and said: "No lah. I think better not. I waited for one year to get Hong Baos leh."
*huge laugh*
I love both of their responses and reactions.
There is no wrong or right in them.
It is just different goals and values they hold.
I do not think I need to explain much about Binbin's reaction to my childhood story.
As for Kitkit, I can understand why he reacted that way because he had been waiting for this festive season to come, so that he can accumulate enough to buy what he planned to buy.
He set his goals for so long, finally this is the chance to fulfill his goals, he does not want to miss it and wait another year again…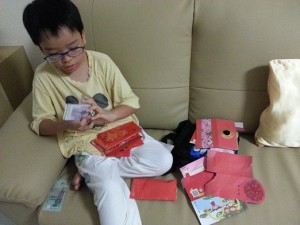 One Response to "Chinese New Year Hong Baos managed differently"
Siaw Lee Says:
February 18th, 2013 at 12:31 pm

Good boys! Renae spent some to give us a treat during my lunar birthday, and then some for my mom's birthday in March, LOL!
Leave a Reply