Child
July 14th, 2013
Since the beginning of this week, Kitkit had the thought of preparing breakfast for us during the weekends.
"Can I cook breakfast for all of you?"
The thought did not die off even though it had been quite a hectic week for him.
Yesterday, he said: "I must set alarm, so that I can wake up early to cook breakfast."
This is the first time, I felt so comfortable with him doing everything in the kitchen on his own, while I enjoyed myself capturing his every move.
My 9-years-old….
How time flies…..
"Mummy, I need one more scoop."
"Mummy, I want one more spatula."
"Mummy, can you get some plates……"
My every answer to those question is "Get it yourself."
*laugh*
With a smile on his face, he get them by himself….
*thumbs up*
It is very easy for Kitkit to fall back to his 'lazy self' and failed to realise that he is MORE CAPABLE than he thinks he is.
Since he initiated to prepare breakfast for us, he is in the PERFECT mood to step up to the challenge.
Thus, even though I rejected to help him, he was still all smiles.
*grin*
"Mummy, I think Binbin and I can start our own Tiny Chef Restaurant."
A few seconds later….
"Mummy, I think I should start writing out my menu."
*giggle*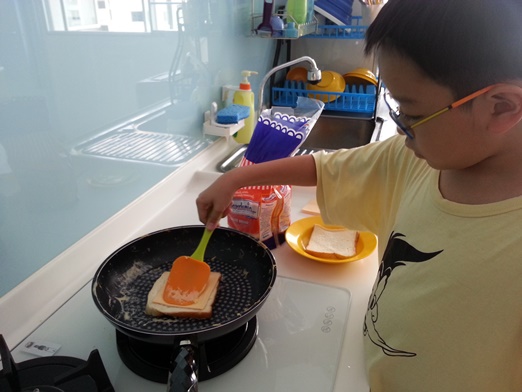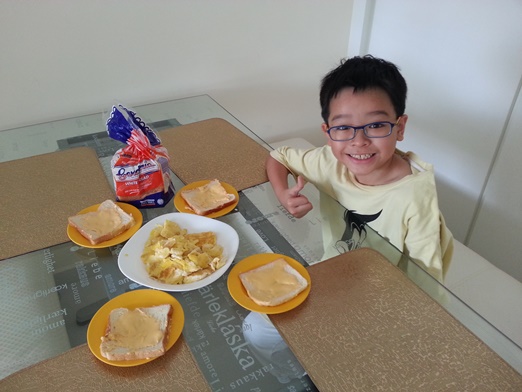 "Papa, give me a rating. Maximum 10."
Allan: "I give 9, because I like my bread more chao-da (burnt)."
Binbin: "I give 7."
Yet, Binbin ate the biggest portion of the fried eggs.
*laugh*
What made me even happier is he cleared up the mess he made around the stove area.
"Mummy, is it nice?"
"Yes."
"Mummy, its nice because its cooked by me?"
"Yes."
"But what if its NOT cooked by me, is it still nice?"
"Yes!"
And we exchanged chuckles…..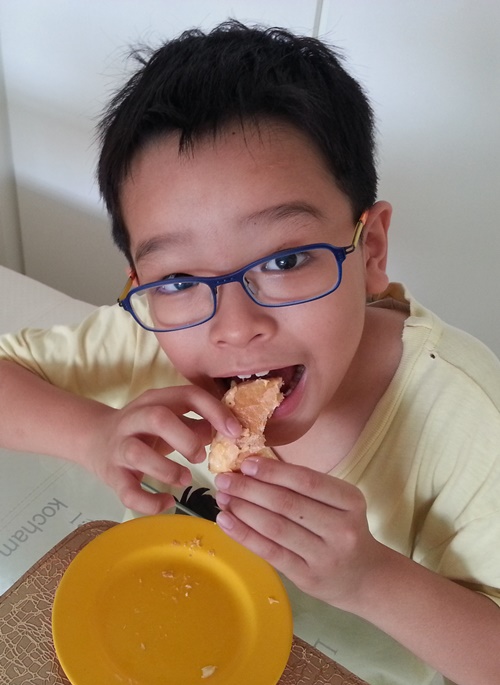 Leave a Reply