Baby, Breastfeeding, Child, Special Moments
December 8th, 2007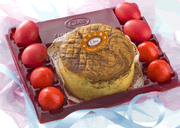 My neighbour's daughter, Bernice, is turning 1 month old today. Bernice's daddy and mommy are Chinese. As the tradition goes, they will give a 'Full Month' celebration cake with red eggs and ang-ku kueh.
The cake being round symbolises that its a completion of the entire pregnancy cycle and moves on to parenthood.
The eggs symbolised a new life. Red colourings were used to dye the egg shells, as the colour red is an auspicious colour for Chinese. Whenever a Chinese celebrates any occasion, you are bound to see red everywhere.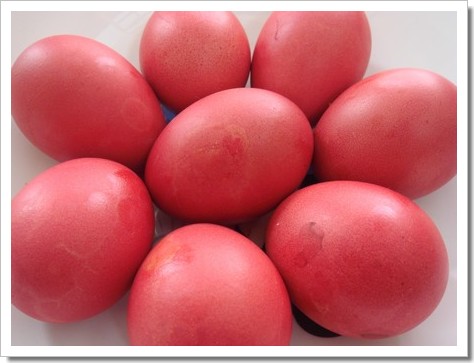 Ang Koo Kueh or Red Tortoise Cake symbolises longevity and prosperity.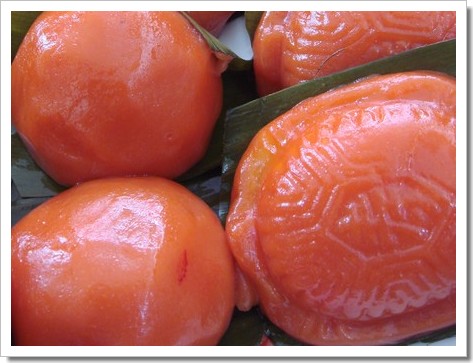 The tortoise shape (right) is to be given when you had a baby girl. And when you had a baby boy, you have to give both shapes. In olden days, the round ang ku (left) is shape into a cylinder.
For ALL Chinese, its really a very important day, as it marks the day of the end of the confinement period for both mommy and baby.
In fact for my neighbour's case its a big celebration too, 'cos Bernice is the first child. As for mommy, its a great relief! Finally, she can bathe!
Yes, the Chinese believes that after child birth, the pores on our skin is wide open and will stay wide open for 1 month, so mommy is not allow to touch or try to avoid water and wind. The Chinese believes that once the water and wind gets into the wide open pores, the chances of mommy having rheumatism is almost 100%.
I remember the time when I was breastfeeding my younger son, I would clean my breast with warm towel, I think hygiene for baby is very important; and because I need to get in contact with water at every feed, my mom-in-law interfered when I was breastfeeding my elder child, so much so that I was 'forced' to change to bottle-feed for good! But of 'cos the main reasons was not that, I wouldn't want to go into that story today, 'cos the main star for today's blog is Bernice, my cute little neighbour.
So, Happy 1st Month Birthday to Bernice!
P.S. Bernice's daddy and mommy wasn't very keen on putting their baby's photo on the web, so I've got to respect them.
Leave a Reply