Baby, Child, Special Moments
April 15th, 2008
(Disaster! The original post was accidentally deleted by my uncontrollable finger, can't remember the exact words I wrote type, getting old… you know)
Today is my nephew's 1st Birthday. We celebrated Weidong's Birthday earlier over the weekend at Pasir Ris Coasta Sands Resort. When I was still half-alive, Allan brought the boys there on Friday to stay over, in hope that I may be well enough to go to the BBQ on Saturday.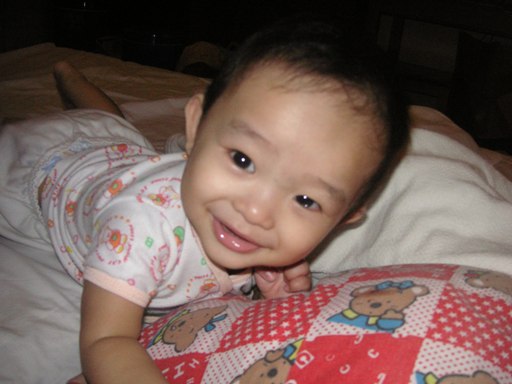 When I reached there on Saturday noon, the whole family was kite-flying. My boys were enjoying themselves, running around by the beach with Allan. Writing on the sand, spotting dead jelly fishes, dead crabs and other dead sea creatures on the beach.
I used to enjoy such chalets, for different reasons. It is here, do I find laughter and it is here do I find freedom; free from worries and midnight knocks on the door.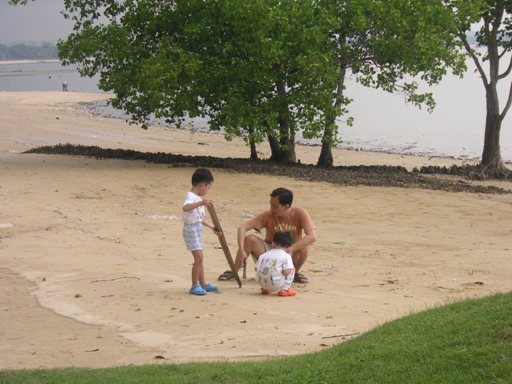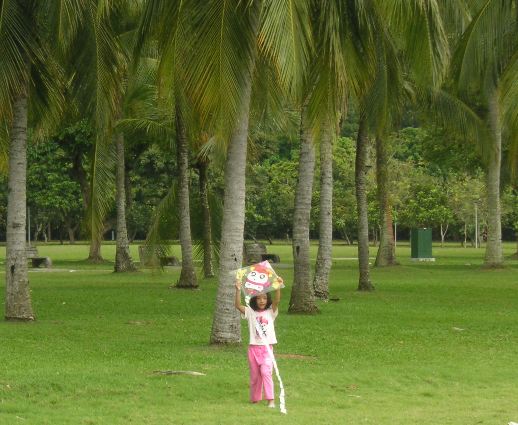 What do you do when you can't get a kite up?
Get help from the older folks, even if they are above 60 years old.
Look at that smile on my Mom-in-law's face. *wink*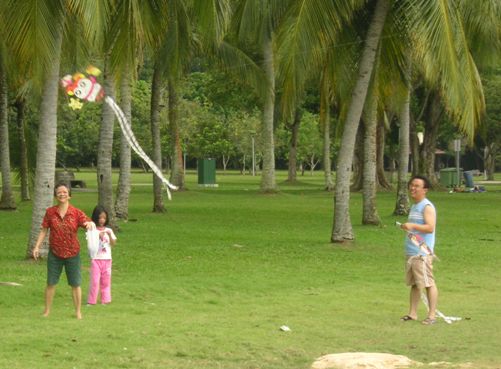 Flying a kite is great but not when the mosquitoes are biting all over your body. Look at the scratchy ManYee…… and the dark clouds at the background…..
We came across this pretty flower, when we were heading back to the resort as it started to drizzle. Its hard to see, or rather notice such beauty when you are staying at the city. Its really good to get away from the hustle and bustle sometimes. So refreshing….feeling better already…..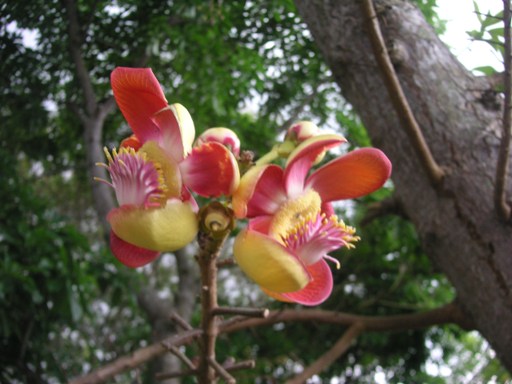 It rained dinosaurs and monsters for a long time. The kids were getting impatient, stuck in the chalet doing nothing but eat chips and watch programmes that doesn't even catch their attention for more than 1 full minute.
"Can we go swimming now?"…..5 minutes later…."We can swim now, right?" You know how kids bug you like at housefly till you said yes! ManYee couldn't wait, sneaked out on her own to see if the 'Swimming Pool Is Closed' signage has been removed
And so it did! Came back and announced, "No more sign….we can go swimming now!" While everyone was changing into their swim-wear, ManYee was lectured for 10 minutes for leaving the 'house' without telling anyone.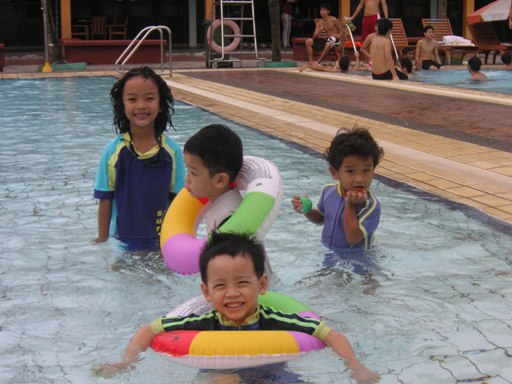 At 3pm, everyone was getting ready for the BBQ. Allan and I guessed that one rented pit ($16 with $20 deposit) from the Resort itself won't be enough. So we brought our own pit, the rectangular one on the right.
Till this day, Allan and I have no idea how did this pit get into our storeroom. This is the first time we are using it. The scotchtape around the box is still nice and strong. Its been years since this thing sat on the top shelf of my storeroom….maybe Santa came and couldn't find Christmas Socks, so he left it there….hmmm…maybe. *wink*
Stringing the food….This is the first time I wasn't helping in anything, just lie on bed, getting up occasionally to take photos of the BBQ process.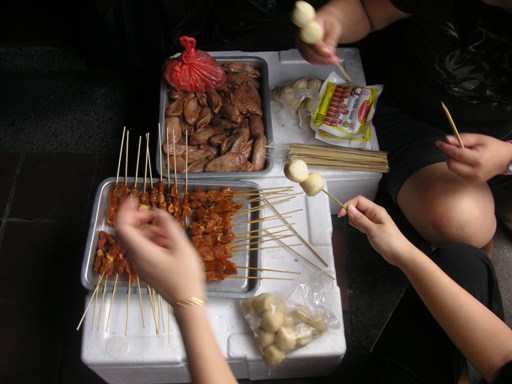 So there was hotdogs, fishballs, chicken wings, satay, otah……
then came the prawns, pork chops, (inside the aluminuim foil) sweet corns, sambal squids, sambal prawns, sambal fish, sweet potatoes – orange and purple ones. Purple ones are rare, they are imported from Japan, super yummy!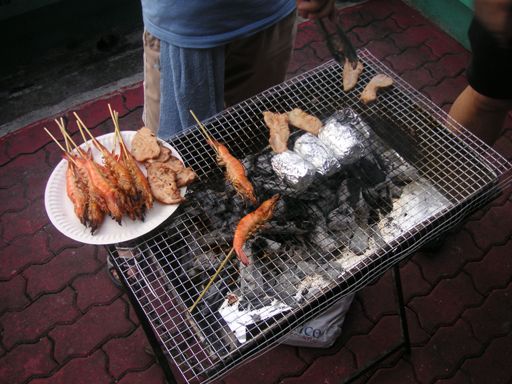 Then came the moment….Winnie the Pooh birthday cake with one little candle….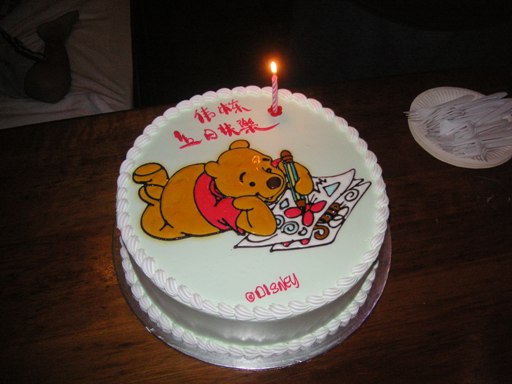 the birthday song…..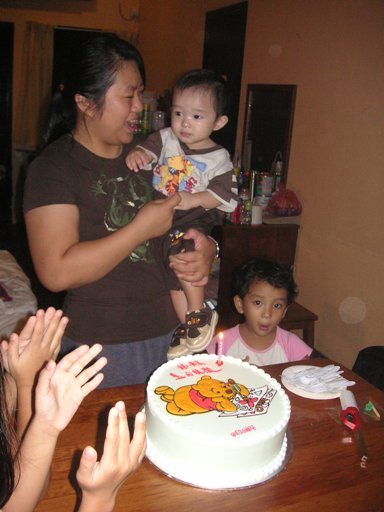 cutting the cake…..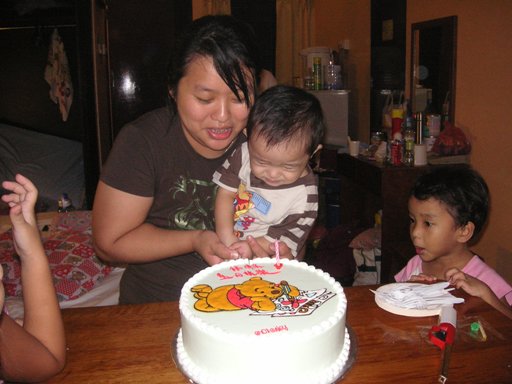 and presents……the sealion is from Keatkeat, the puzzle roller on his left hand is from Binbin and the lady bug is from Allan and I.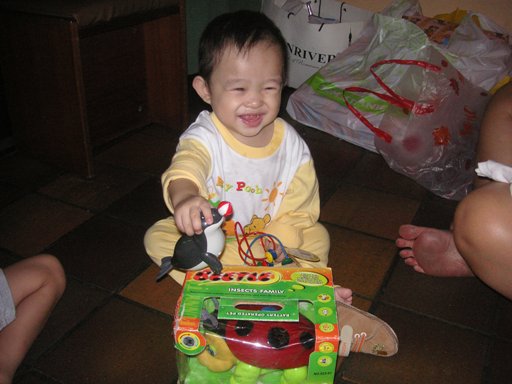 When we were leaving, every kid was saying the same sentence, "I want chalet for my birthday…."
Leave a Reply