Child
July 1st, 2013
Now that my boys are older, their feedback after a movie is no longer just "Nice!" or "Funny!" or "Scary!", they have more things to say.
So I thought of doing a recollection of the movies they have watched so far. Their comments after each show are sweet memories to me. I did not want to do a-movie-a-post, seemed too many, 'cos we are such movie-goers now, ever since we found out that its so much more affordable to watch it in Malaysia.
With kids' special rate and all, we usually spend RM44 or less for the 4 of us, which is less than S$20. This is weekday price, as we go over to Johor Bahru ONLY on Weekdays. Weekend rates will be higher.
Unless we choose to watch 3D, then we would end up paying a few RM more; which errrmmmmm, we hardly go for that option, 'cos 3D gives me headache. So I will always say "NO" to 3D unless the showtimes for the 'normal type' could not fit into our schedule or when our preferred timing has no more seats available.
Needless to say, with a better exchange rate, the cost per ticket becomes even lesser. *wink*
1st Movie watched this year was Ah Boys To Men II.
The photo of my kids with the big poster was lost when my memory card collapsed during my trip to Vietnam. *sigh* I should have backup the photos sooner. We watched it way AFTER Singaporeans had because we waited for the 'later' release in Malaysia.
KK: "Scary! Next time "I" need to go serve NS and do all these things."
BB: "I like it when the wild boars were chasing the sergeant. At first so 'hao-lian' then later 'act like girl'."
2nd Movie in 2013 : The Impossible
KK: "I cannot watch this type of show, it makes me wanna cry!"
BB: "It was so gross when I saw the leg, because it split open."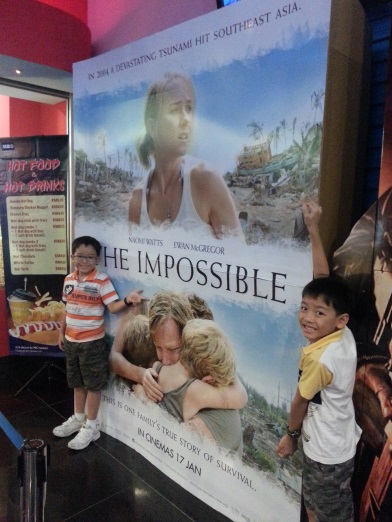 3rd Movie in 2013 : Iron Man 3
KK: "So Cool! The Iron Man got backup at the end. So many of them!"
BB: "To me, it feels very pain when the armour hits his 'down-there' (private part)…."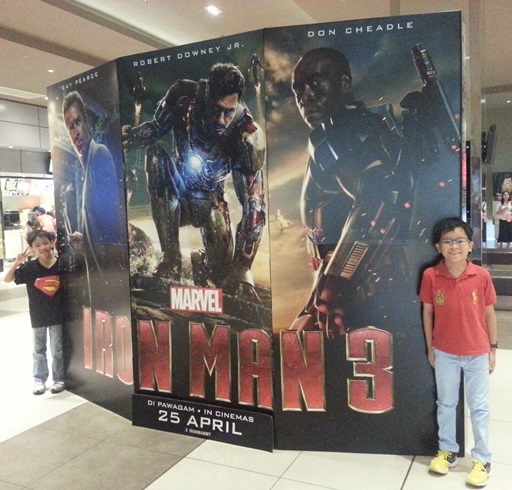 4th Movie in 2013 : Epic
KK: "Everything looks so cute because very small."
BB: "I like the last part when they fight."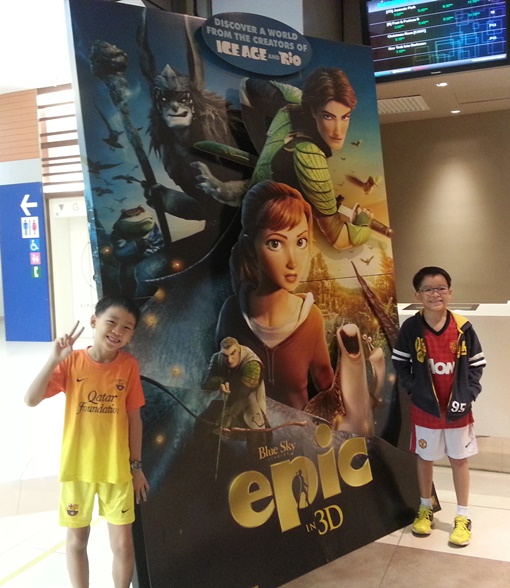 5th Movie in 2013 : Man of Steel
KK: "I've got nothing to say." (I think he was not very impressed)
BB: "Quite shocking when the camera moved very fast."
After I took the photo below, I can't help but said: "Alas! The 3 of you should have worn your 'Superman T-shirt' today!" It would be cool! Hhhmmm….or would it be too cheesy? *laugh* I don't know. I just think it would be cute!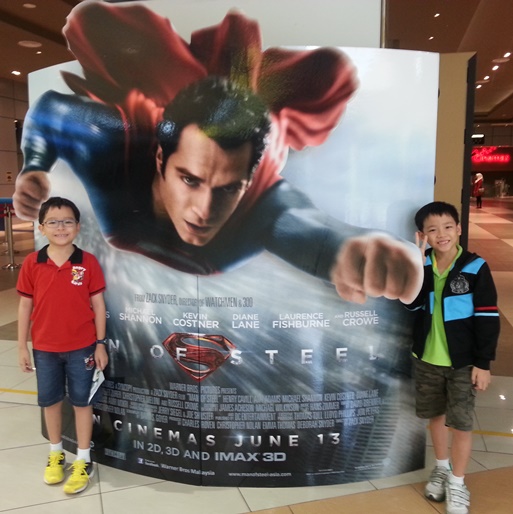 6th Movie in 2013 : MU ~ Monsters University
KK: "The pet of James Sullivan was very cute : The pig!"
BB: "I like "Squishy"! Feel like squeezing him! Very cute!!!!"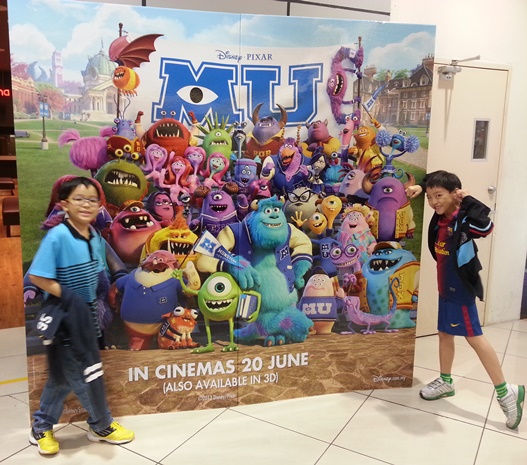 7th Movie in 2013 : Despicable Me 2
KK: "Wow! There are so many weapons."
BB: "I think the Crispy Hat. I think its creative."
This movie was watched in Singapore. Nope, we didn't pay for it. It was a treat from my sister and BIL. They could not make it that day, but tickets were already purchased in advance. So they gave the tickets to us. Super nice of them! Thank you. *hugs* We intended to watch this movie on 5th July during our next trip into JB.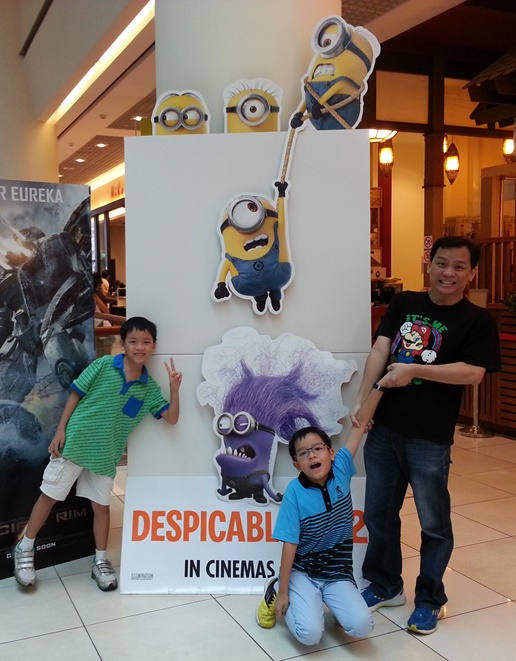 Now that this movie is checked from my list, then we will watch World War Z next. It has been in the cinema for some time now, hope it will still be showing this Friday. *fingers and toes crossed*
Movies Watched from Jan to June'13
One Response to "Movies Watched from Jan to June'13"
mnhl Says:
July 5th, 2013 at 11:19 am

wow…that's a lot of movies u all had watched. I love Man of Steel….such a nice story. Better than iron man 3 (my opinion)
mnhl´s last blog post ..Taiwan ( 29 Apr – 6 May 2013 ) ~ Day 2
Leave a Reply