Child, Health
February 1st, 2011
This year is going to be an exciting year for Keatkeat! Seriously, Keatkeat is not an academically strong kid, but he is talented in many other no-pen-and-non-paper activities.
Whenever he watches 'fighting' shows, he can strike the exact same pose or fighting strokes just by watching it once. Well, there have been alot of times he tried his untrained martial arts on his younger brother and his dad. Boy! It hurts according to his victims.
So as a Mommy, I have to set rules and stuff to prevent Keatkeat giving a punch or a kick too hard on Binbin. 'Fighting' may seemed like a bad thing to many people, but if its put to good use, as a sports for good health and a way to protect oneself, I see all benefits and no negatives.
Keatkeat's first choice for Extra Ciriculum Activities in school was Lion Dance. *laugh* Oh you know how crazy this whole family is over that art. Well, no such activities in Primary School but we have gone to the extend to find out that there IS in his preferred Secondary School. Yeah! So he would have to wait for another 4 more years before his wish can come true.
So for now, we have been hoping that his Primary school would have Judo or Taekwondo and our wish came true last Friday! Yippee! *clap clap clap*

The moment Keatkeat received the letter asking for new recruits to the Singapore Taekwondo team, we signed up without a second of hesitation! He was jumping with joy "Yeah! I'm joining Taekwondo!"
$90 first up for registration, uniform and 3 months of training. Pretty cheap isn't?  That's the good thing about joining such activities through the school. *Grin*
First lesson began today! Look how handsome my boy is! I am such a proud Mommy! *Super Grin*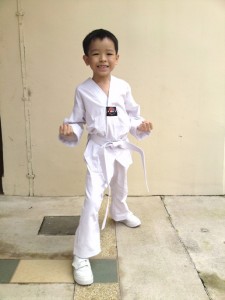 After 90mins of training, my boy was grinning from cheek to cheek, with his uniform on for the first time when we went to fetch him.
As parents, we want to be there for him to share his every moment of joy, excitement, achievement… and well disappointment and tears (if any)…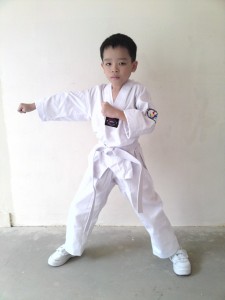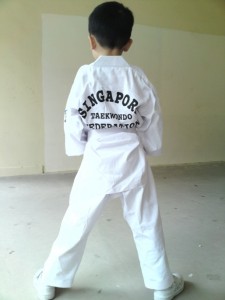 The moment I greeted him "Hi Handsome!"
He rattled on non-stopped, "Mommy, my teacher, Tom, said I am very cute and good because I pay attention and follow instructions. The other instructor, Janson, said I am the best in the whole white belt group. During one of the exercise, Janson said I did very fast and very well, he said overall the whole white belt group is better than the yellow belt group. The yellow belt group was unhappy and complained, "The exercise was too confusing lah." I felt very proud of myself. *smile*"
He continued after taking a brief moment recalling the happy incident, "I wish there is Taekwondo every day. Soooooooooo Fun! *Grin*"
My wish for him is, may Taekwondo strengthen his weak body, train his wandering mind to be focus, discipline his reckless actions and most importantly, have lots of fun!
Would you let your child learn Taekwondo?
4 Responses to "Taekwondo for Your Child?"
Leave a Reply