Funny Moments
March 1st, 2011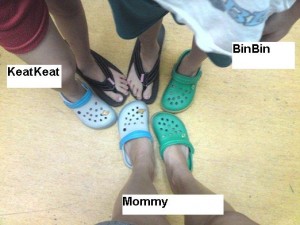 Our Little DeStress… Being Silly! *giggle*
Walking in each others shoes.
Ignoring the eyes of the public.
A good few minutes of giggling at our own silliness….
When was the last time you acted just like a child with your kids?
Never???!!!
You should!
Its fun!
With lots of laughters and giggles, its definitely a good way to destress…..
2 Responses to "Our Little DeStress…"
mnhl Says:
March 1st, 2011 at 5:22 pm

I enjoyed doing it. haha….sometimes, MIL shakes head. Kids will be closer to us if we enter their world once a while.

kkf Says:
March 8th, 2011 at 7:25 am

hahaha what great fun
Leave a Reply