Games, Places Kids Love
October 7th, 2008
The kids love to follow his dad to his office at Toa Payoh….because of THIS: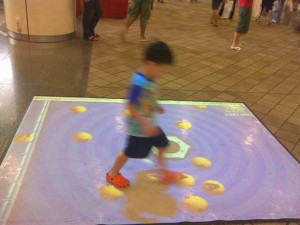 Its normally very crowded. Completely packed with kids hopping, jumping and kicking on that mat, while the virtual camera, on the ceiling, flashes all sorts of graphics for the kids to exercise their feet.
Its really amazing how the graphic could react to the kids movement. For example, when Binbin stepped on those yellow balls, it will 'bounce' away from him.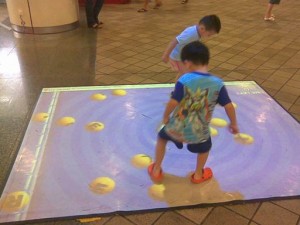 This was taken early in the morning, after Keatkeat went to school, Binbin and I followed Allan to Toa Payoh. While the man was in his office, my Binbin was having his morning exercise on the mat.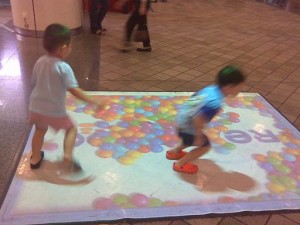 Then another kid came along and the two boys of the same height were having tons of virtual fun!
It was a perfect timing to be there, that is if you want your kids to enjoy themselves. When noon time comes, there is a chance that almost 12-15 kids try to squeeze onto that mat of size about 5ftx6ft. That's when there is a higher risk of your child's foot being stepped on by other kids.
These 2 little ones were having ample space to move around and it was hilarious at one point when both of them gave each other 'eye signal' to jump together! *laugh*
Other than Toa Payoh, this is also available at IMM. Do you know of any other place which has this?
18 Responses to "Virtual Fun"
Leave a Reply