Health
July 18th, 2014
Ever since I did this post on Facebook :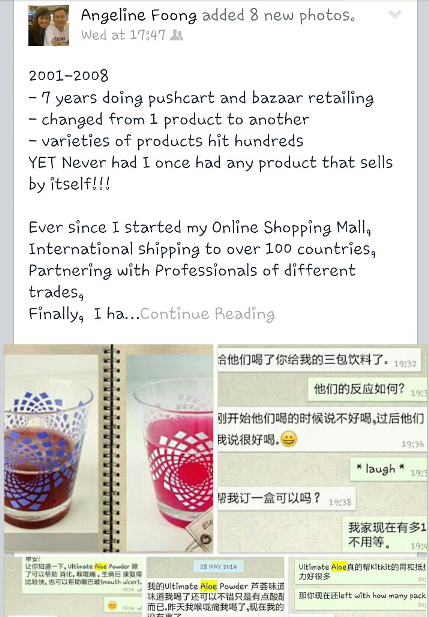 I had been having private messages and calls from different people.
"I thought you create Websites and sell to people?"
"You told me that you are selling Water Filtration System last week, how come change product again?"
"Aren't you selling cosmetics? I remember you organise make-up parties."
"You said you managed to slim down because of your company's program, aren't you selling weight loss things?"
"Didn't you say you've got Pet products to let my dog try? How come you are selling Aloe now? Why change?"
"What EXACTLY are you selling?"

*laugh*
The answer is "YES! I am STILL providing those things and services. I'm selling Almost Whatever that any human or pet needs or wants."
Nothing has changed.
Well, I Franchised an International Online Shopping Mall.
Just like when you go to a big shopping mall, what do you see? what can you buy from there?
Its the same for my case, the only difference is I am bringing the Entire shopping mall onto the Internet.
So you can shop 24/7 anywhere (ALMOST anywhere. Sorry, we don't deliver to the North Pole and other remote places. Don't think they have internet access there anyway. *bleh*).
Of cos, the most common question was "Can you tell me what the dialogue says? I can't read Chinese or my Chinese is poor."
Then came my closer friends asking, "Hey! I thought you said your Chinese is poor? But you messaged your customer in Chinese!"
Well, my hanyu pinyin is GOOD, and I have Allan to help, when needed!
So I survived!
*laugh*
But if you ask me to WRITE Chinese words, oh no!
Feel almost like walking naked in the rain.
Totally helpless!
*cover face*
As parents, Allan and I understand that when kids are sick, parents can forget about getting a good rest.
Recently I have 4 friends who had to bring their kids to the hospital, because it had passed the normal operating hours of neighbourhood clinics, and their child/children was/were unwell.
Most were down with fever.
If you follow my blog long enough, its easy to spot the member in my family who has health issues often.
Yes, its Kitkit.
Ever since I started this Online Shopping Mall Business, the partners I work with are Professionals in their own trade and I discovered a few things which helped Kitkit and my family; and now extended to friends, relatives and customers.
One of the things which helped Kitkit alot was Aloe and Digestive Enzymes.
And the dialogue I posted on Facebook was mainly about Aloe and other items which my customer bought from me.
Let me do the translation for friends who requested for it.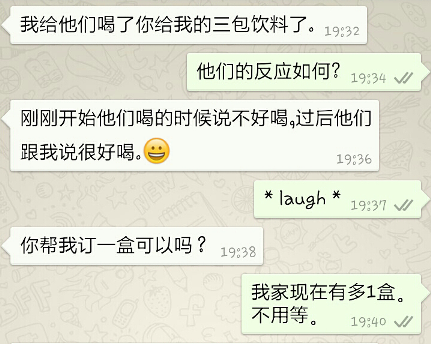 Customer : "I gave them (her own kids) the 3 packets of drink which you passed to me."
Me: "What's their reaction?"
Customer: "They did not like it in the beginning, but after that they said it was tasty."
Customer: "Help me order 1 box, can?"
Me: "I have one extra box at home. Don't need to wait."
(It takes about 2 weeks to reach Singapore after order had been placed. Each box contains 16 packets.)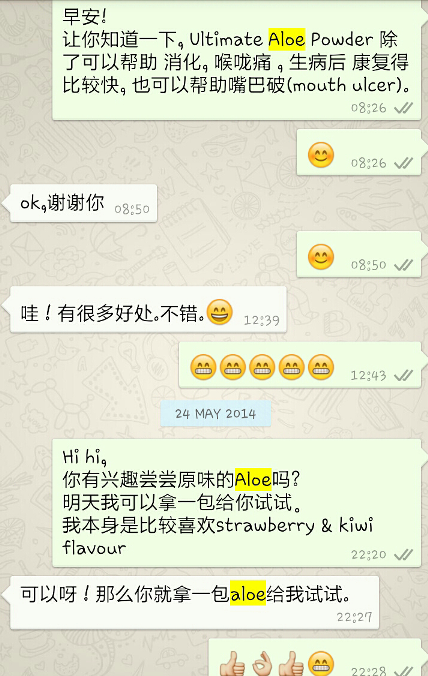 Me: "Good Morning! Just to let you know, the product helps DIGESTION, SORE THROAT, a SPEEDIER Recovery after being ill and MOUTH ULCER."Customer : "Ok, Thank you."
Customer: "Wow! A lot of benefits. Not bad."
24th May 2014
Me: "Hi Hi, Are you interested to try the natural flavour of Aloe? I can pass you a sample to try. I prefer the Strawberry and Kiwi Flavour though."
Customer: "Sure! Pass me one packet then."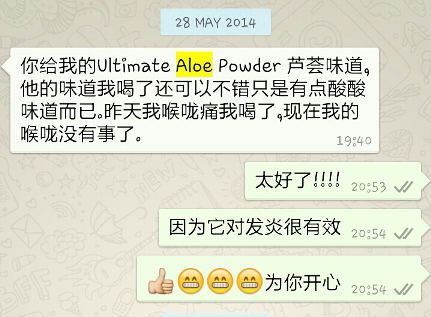 28th May 2014
Customer : "The Natural Aloe Flavour, which you passed to me, I have tried. The taste is still ok, just a little sourish. Yesterday, I was having SORE THROAT, I drank it and now my throat is fine."
Me: "Wonderful! This is because it can reduce inflammation. I'm happy for you."
(Aloe is for both Adult and Children)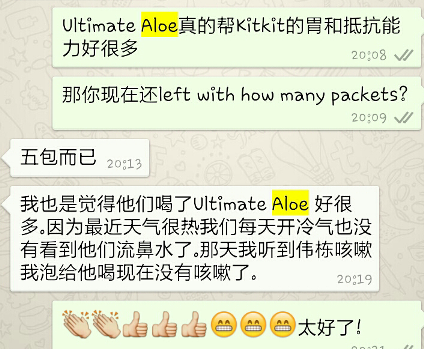 Me: "This item (Aloe) has improved Kitkit's digestive system and immunity system. How many packets do you have left?"
Customer : "Five only. I feel that after the kids (her own kids) have drank this, they (their health) have improved too. As the weather is warm recently, we had been using the air-conditioner, and the kids did NOT have runny nose anymore. The other day, I heard my son cough, I gave it to him and he stops coughing."
Me: "Awesome!"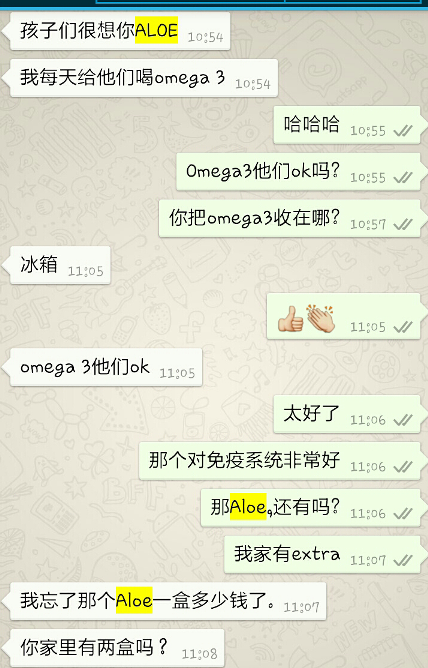 Customer : "The kids missed your Aloe. I gave them Omega3."
Me: "Are they ok with Omega3? Where did you store the Omega3?"
Customer : "Fridge."
Me (clapped and thumbs up)
Customer : "They are ok with Omega3."
Me : "Great! Its very good for immune system. So do you still have Aloe? I have extra at home."
Customer : "I forgot how much is a box of Aloe. Do you have 2 boxes at home?"
(Omega3 is Binbin's favourite currently because of the fruity flavour and because its served cold. Unlike Kitkit, whose favourite is Digestive Enzymes.)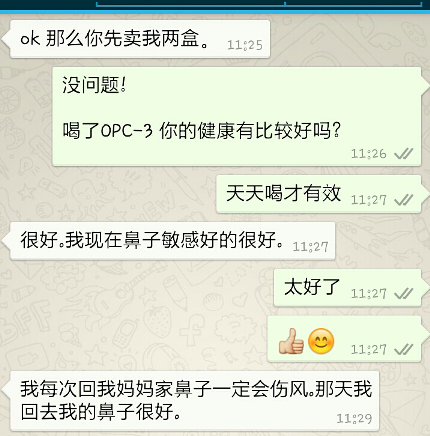 Customer : "Ok, then sell me two boxes first."
Me : "No problem!"
Me : "Did your health improved after drinking OPC ? Need to drink everyday to be effective."
Customer : "Very good. My SENSITIVE NOSE has improved."
Me : "Fantastic"
Customer : "Whenever I go to my mother's house, I will have runny nose without fail. The other day when I went over (to her mother's house), my nose was fine."
(OPC for kids and adults are packed differently.)
Me : "The day before yesterday, my runny nose was terrible…So Angry! Drank 3 caps of OPC + 1 cap of Calcium, got rid of the naughty nose!"
Me : "Why will you have this issue (runny nose) whenever you go to your mother's house?"
Customer : "Because of the quality of the air, I will have this problem whenever I return to my mother's place. (not in Singapore)"
=================
Whenever Kitkit or Binbin start to show signs that they are going to be sick, Aloe is THE thing, which I will give to them BEFORE the illness really strike.
So far, no visits to the doctor ever since they started taking it.
*fingers crossed*
It has benefited my sons and I hope it will benefit your children too.
So, for those who have interest in this Aloe drink, please contact me and I will deliver 2 packets of Aloe to you PERSONALLY.
***I apologise that this Giveaway is only limited to people staying in Singapore.
Ways to contact me:
email to me at Angeline@AllAboutYourChild.com
Facebook Messenger
or Call / Watsapp me if you know me personally.
Cheers to Great Health for everyone in the family!!!


Giveaway – Aloe Sample
Leave a Reply