Health
April 25th, 2013
No joke!
That was what happened today.
Kitkit complained about abdominal pain since yesterday and had yellow poo right after dinner.
This morning, after breakfast, he rushed to the toilet again and came out feeling worse than before, so Allan brought Binbin to school, while his elder brother stayed at home.
After a nap, we brought Kitkit to a nearby clinic, which was unusually crowded today. The staff told me that we had to wait for at least 1.5hours before the doctor can attend to us. As we were not willing to wait, we went back to the clinic, which Kitkit visit often when we were still staying in our old house.
The doctor checked on my 9 year old and said it might be Appendicitis. Wow! Really?!
I doubted, as my boy looked too WELL to have Appendicitis; but I just had to trust and follow the doctor's instructions. Such thing……better to be safe than sorry.
He continued to explain that his pain was one sided, bottom right and he had diarrhea plus slight fever, so it was best that he go to the hospital to do a thorough check.
Alright.
Allan sent us home to get the birth certificate plus give me some time to shower, just in case Kitkit really need to be hospitalised. After we had alighted, he made another trip to the school to bring Binbin home, so that he could go to the hospital with us; thus Allan does not need to rush back again to fetch him after school. Therefore, the little one left school an hour earlier today.
We went to KK Hospital, the only hospital which has his medical record since birth.
It was the first time we were being attended to in less than 10mins in A&E. Awesome! *clap clap clap* Probably because it was a weekday afternoon, non-peak period for this department, unlike during midnight.
The hospital doctor said she needed Kitkit to clear all his bowels before she can make any conclusion, but from the preliminary checks she made, she was pretty certain that the possibility of Appendicitis is zero.
The medication had to be pumped in from below, let it flow towards the tummy and create some rock and roll inside. Kitkit was very nervous to show his smooth butt to a stranger, aka the nurse, who was all ready to pump. He squeezed his bums so tightly that she was not even able to see beyond the 'cleavage'! *laugh*
Kitkit was also very worried; as he was required to hold the liquid medicine inside for at least 10mins, to give the medication sufficient time to flow through the intestines, give it a good stir before he was allowed to let anything out. The super friendly nurse told my child that sometimes it might need to take up to 15mins before any rumbling or tumbling can be felt in the tummy.
If he were unable to hold well, he would end up letting out the medication instead of the stool, which would then mean a need to go for a second pump, not something that he wants….. obviously!
But my boy did so well!!!!
*Gigantic Clap clap clap*
We went to check out the toilet, imagined the path he would be racing through, making sure that there were no obstacles along the way, etc. We were just short of rehearsing the toilet-bowl-dash! *laugh*
We sat and watch 'The Amazing World of Gumball' while we waited for some reaction.
Miraculously, 10mins (EXACTLY) later, Kitkit yelled: "Can I go to the toilet now?"
Me: "But are you…" (I could not even finish my sentence)
Kitkit: "I CAN'T HOLD ANYMOREeeeeeeee!"
And he ZOOMED OFF!
*laugh*
So I stood outside the vacant boy's toilet and waited. Checking on him occasionally and kept reminding him that the doctor said he MUST be sure that there were no 'leftovers' in his tummy before he leaves the toilet bowl.
15mins later….
"It was TEeeRrriBLE!!! It was like diarrhea man! ALOT!" With a slightly pale face, he muttered his first few sentences after he opened the cubicle door.
Went back to the doctor and she asked: "Anymore pain?"
Kitkit: "No."
She pressed his tummy once more to confirm and we were sent home with a 2-days medical exemption, 2 bottles of paracetamol for pain, another bottle of medication to soften his stools and a list of food for my boy. A more fibrous diet was what he needs to prevent this from happening again.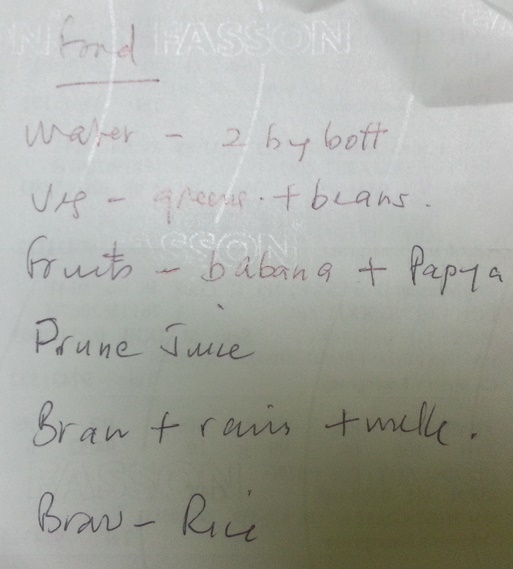 Apparently, though he passes motion everyday, it was not well cleared. Thus, as days go by, more are being accumulated, which eventually putting too much strain on the intestines and causing cramps. The initial signs would be the feeling of bloated-ness, lost of appetite and farting, which happened last week.
With a bill like this (below), plus parking charges and petrol cost, we paid over $100 just for my boy to fill the toilet bowl with shit. A pool of Gold indeed! *eyes rolled*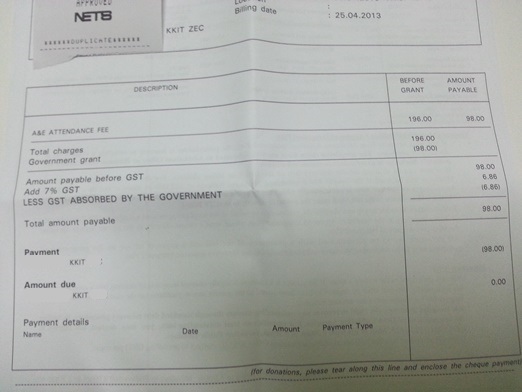 But the story did not end with that, just 2 mins before we reached home, Kitkit said that his tummy was acting up again! Oh man!
And sometimes life just like to play tricks on human….
When he was prancing up and down at the lift lobby, the lift was at the top floor, taking its own sweet time to come down to the ground floor.
To make the trick more exciting, an old uncle joined us in the lift and pressed a level different from ours and its lower than ours. Now Kitkit was literally dancing in the lift after uncle stepped out.
I raced to the door, opened it in seconds….but it was too late…
*sigh*
Well, whenever things go wrong, I always tell myself to think of the positive side……
And SOoooo…. the good that I saw from this was, we were at least home and all that was lost was just a pair of underwear.
*forced smile*
Leave a Reply