Health
November 7th, 2013
W Optics, Singapore's largest vision care store, offering eye check services, solutions for better eye health and optical products, invited us to their place. From the eye care experts, I learned so much more about the latest myopia control options.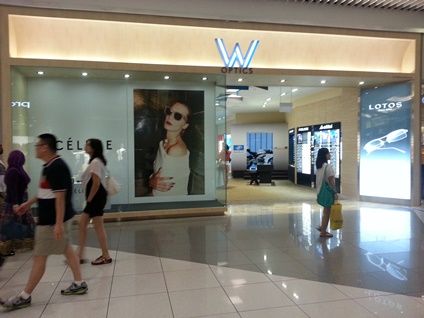 As most of you know, my myopia has hit the 1000 mark long ago and I was devastated when I found out that Kitkit's myopia progression was pretty steep during his first year. Thus, when it comes to equipping myself with better knowledge on controlling myopia progression of my child, you bet I was ALL EARS! The 2 eye care experts, Mr Chew, Manager at W Optics  and Dr Gerard Nah, Medical Director at W Eye Clinic, gave me new insights into more ways of preventing the progression from shooting up too fast, especially for children.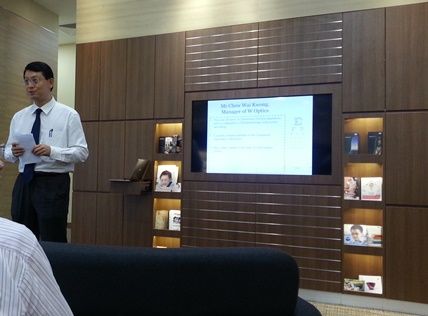 [Above] Mr Chew is a veteran in eye care with keen interest in the area of myopia control, while [Below] Dr Nah is a qualified eye surgeon with over 20 years of experience and also the founder of the Vision Performance Centre for the Singapore Armed Forces.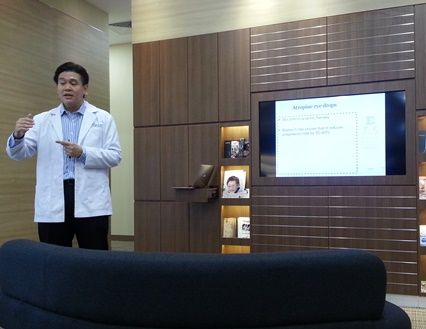 From them, I learned about which spectacles had proven to be effective in reducing the rate of myopia progress, special overnight lenses to wear, so that you can become glasses-free or lenses-free during the day, unique contact lenses that replace the natural shape of the corneas with a new refracting surface and the one-drop-per-eye-per-day eye drop called Atropine that had been around for some time already (which I did not know), that has proven to reduce myopia progression rate by 50-60%.
This last paragraph is so unlike me eh???
I am so used to telling EVERYTHING whenever I blog, so much so that people around me find me "Too Revealing" over here. *laugh*
Well, seriously, there are really too many things to share. So much information that I feel that you should hear from the eye care experts themselves.
W Optics is having a Myopia Forum at their premises this Saturday, 9th November 2013.
Suntec City Mall (Next to Convention Centre, Near to Watsons)
#01-400
Free admission and eye check for your child., but seats are limited.
To RSVP, you can visit their website at http://woptics.sg
Or you could call them at 6736 1303 to find out more.
Feel free to bring your children along for the session! As, they will be able to sit in for the talk or they could explore the colourful children's corner in the store.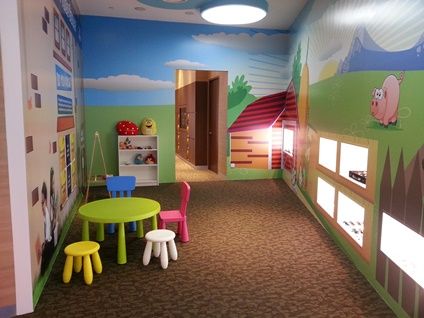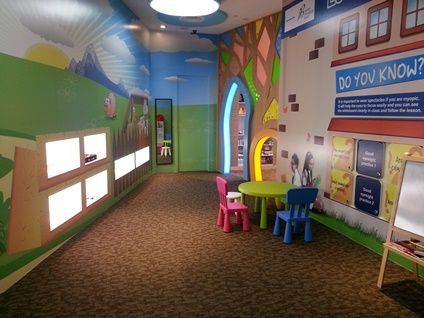 I want to take this opportunity to thank the team at W Optics for giving my boys the complimentary eye check and giving me a very comprehensive eye check that includes checking for:
Dry eyes
Cataract
Retinal conditions
Glaucoma
Current Prescription suitability (my current spectacles)
The experience reminded me of my visit to a lasik clinic to check if I was suitable for lasik, with my sister, many years ago.
However, at W Optics, they did so much more!
The screening was so thorough and your eye condition could be presented through a photograph or video in W Optics.
They took a photograph of my eye ball and Mr Chew gave such detailed explanation as he examined the image. I was thrilled to know that for someone like me, with myopia of 1000, plus the late nights 'working' on of my PC, my eye balls are actually REALLY HEALTHY!!!
Whoo-hoo!
The only thing that was on the down side (but Mr Chew said its not something that I should worry too much [because its not that serious]) is the Quantity and Quality of my tears. Quality was acceptable but Quantity was not enough, which explains why I get dry eyes so easily.
*pout*
From the 1.45hours of check, I realised that Mr Chew is truly a very patient man who is always ready to answer (many of my) questions and suggests simple solutions.
We take care of our teeth by brushing daily and when our teeth give problem, we go to a dentist.
We take care of our spine by having good postures and when our spine give problem, we go to a chiropractor.
Yet, it is so common that we do not really take care of our eyes and when our eyes have problem we go to a GP ?????!!
There was a new article recently on the Chinese Newspaper whereby an old lady was given a wrong diagnosis by a GP and almost caused her to be blind.
When our eyes have problem, we SHOULD go to an eye care expert, not GP!
I go for my body checkup every year, yet I did not know that I should also have a annual check up for my eyes.
I did not know that till now and I am so glad that I have found the place and the person.
Ok, too much on me, let's go to my children.
The best age group to test for Myopia is 6 to 12 years old as researchers found out that the greatest acceleration happens when kids enter Primary 1.
So for Binbin, it was a simple eye check and the result was 50 for the left eye and 25 for the right.
I am happy to know that he can still do WITHOUT glasses. Yeah!
For Kitkit, as much as he gives me problem at home, he also gave the optician a hard time!!!
No matter how many 'degrees' the optician added for Kitkit, he continued to give very WEIRD responses.
T, he said Y.
F, he said R.
C, he said S.
After changing different lenses many Many MANY times, Kitkit still gave very extreme answers, so much so that the optician had to call Mr Chew in to give a more detailed check to see if Kitkit's eyes have other issues.
OMG! The time taken for Kitkit was triple the time taken for Binbin!
I was already losing patience as my anxiety level rose, yet, Mr Chew and the optician continued to smile and patiently examines Kitkit's eyes.
After a long while, Kitkit's result was FINALLY out, his eyes are fine but his myopia has increased. Right eye increased by another 75 and Left eye by another 25.
New glasses needed AGAIN!
*sigh*
Nonetheless, I was very happy that my rules of going outdoor daily under the warm evening sun and restricting 30mins limit on electronic devices have been confirmed by the eye care experts to be the right thing to do to help reduce myopia progression. *thumbs up for me*
So, if you are as concern about your child's eyes as me, or you would like to know more on the latest myopia control options that are available and what type of spectacles will suit your child's needs and preferences best, go on down to their Myopia Forum this Saturday. If you cannot make it on this Saturday, they do have another Myopia Forum 2 weeks later on 23 November 2013.
W Optics Myopia Forum:
Suntec City Mall (Next to Convention Centre, Near to Watsons)
#01-400
Free admission and eye check for your child.
Seats are limited.
RSVP:
at their website at http://woptics.sg
Or
call them at 6736 1303.
W Optics
One Response to "W Optics – Serves Your Eye Care Needs"
prince n princess mum Says:
November 18th, 2013 at 4:52 pm

Nice place for eye check up!~
prince n princess mum´s last blog post ..Bubbles!~
Leave a Reply