Parenting, Special Moments
October 22nd, 2008
Today 'I' am ONE year old! My blog that is….NOT ME!
First started blogging because of $$$.
Then I grew to love it.
That's where the $$$ aspect isn't that important anymore. I dropped the Pay Per Post idea altogether too. Call me inflexible, I admit.
I made friends, chat with them 'out' of their blogs and mine. Seriously, for a Full-Time SAHM, this is really a bonus! To be able to make NEW friends without stepping out of my door…is something untrue to me ONCE….but now, its a reality I'm living in. Thank you dear blogger friends.

Created by OnePlusYou – Free Online Dating
*Phew* I think I'm happy with the results. At least I'm not long-winded…*laugh*
I have to admit Blogging IS addictive! Didn't put up a post and I'll feel like PMS. Didn't visit a friend's blog and I'll be uneasy and my mind goes, "what is on her mind today, what would be the top story for today and blah blah blah."
Blogging is also NOT for the weak hearted. Its a roller coaster ride! I go to a blog which was celebrating and I'll go, "Yeah! *clap clap clap*";
then hop to another blog which is crying over the lost of a loved one and I'll had to do a 180degrees change in my mood and thoughts, feeling all the sadness in the blogger's heart and I'll go, "Oh dear! I'm so sorry to hear that…."
and the worse part is when I hop over to visit the next blog which has been such a 'usual' site for me and couldn't understand why this blogger hasn't been blogging for a long time now, I went, "Hmmm…could she have gone overseas for a trip? could she be sick? or maybe she is just too busy…?" Then I received the following email:
"My name is Samantha and I am a cousin of the Thrice Blessed Momma, Helena. I write this comment at a very troubling time for our family. Helena, left us on Thursday, February 21st. But now she is with peace and her husband Andrew. She had told us that the people she had met blogging were like a family to her. So, I felt it necessary to let you know of the funeral arrangements. The service will take place on Sunday, February 24, 2008 at 12:30pm. The location is Schoenberg Memorial Chapel (1519 Philadelphia Pike, Wilmington, Delaware). Please keep Madison, Zoe, and Jonathan in your thoughts and prayers."
Completely in shock!…..
then I pop over to yet another blog which was all witty and funny and I'll had to re-adjust my emotions and start laughing as I read on…..
after the laughter, I hop over to yet another blog which was all moody and upset because the blogger made a grave mistake and is regreting her decision and her stupidity…and I'll go "Awww…don't beat yourself up like that, its ok…"
This is truly Crazy! And all these emotions are but within minutes! And ALL SORTS OF EMOTIONS got stirred up just sitting at a fixed place!
Probably that's why blogging is so 'powerful' cos' it contains all the emotions that a person can ever experience and most importantly, without even seeing the person, touching the person, hearing the person's voice, blogging makes one feel like (as if) I had known the person for years!
In this Blogosphere, I have met wonderful people (awful ones too). People who go the extra mile to send you a personal email just to know you better and let you have a chance to know them better. People who add you to their Facebook so that you can be part of their daily lives, out of this blog world. People who send you hugs and kisses, kind words and smiles to cheer you up on your 'down time'; AND celebrate with you (some in tears) when you are happy…I love this place…love it!
But this virtual world that I've grown to love is also a dangerous place. I was so caught up with all the sparkles, I start giving the "One moment please…", "I'm coming…ya..soon…", "go play with your brother and let me get this (blog post) done first", "I just need to type a few more words here (other blogs' comment boxes) and I'll come…very fast…soon…"
Sometimes my boys do stay quiet for a looooong while and I knew something is wrong…and scenes like these would greet me: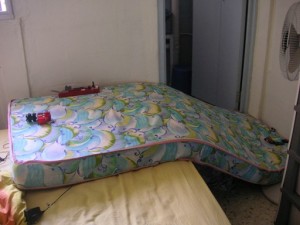 The mattress was used as a slide for their hotwheels cars.
And their toy box was completely emptied with its contents spread-ed out all over the living room….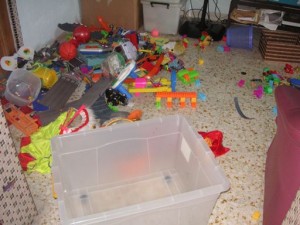 It took me a few months to realize that my priorities were going hare wire. Kids' tantrum increased tremendously, siblings' fights were like every other 10mins and my house was definitely messier than before. Everything seemed out of control. I couldn't concentrate on blogging with the yelling kids and I couldn't pacify them long enough too.
I was getting frustrated. Its funny how frustration do WAKE ME UP. Rather should I say, I'm not used to having frustration cells living in me, so when 'they' start growing in my aching body, I knew I am NOT MYSELF anymore.
I 'woke' up. I stopped. Sat back and thought over. I was wrong, very wrong! That's when I started to make big changes. I blog or blog hop ONLY when they are asleep or in school or when Allan is around and willing to take care of them.
When you learn to give your kids your time, they learn to give you YOURS.
After a year of blogging, my boys are more willing to play together and leave me alone. Their brotherhood are that much stronger now and occasionally, I do get instructions like this, "Mommy, go do your 'work', we can play by ourselves…" *laugh*
Over the 366days (Feb 2008 has 29days remember?), its been an amazing journey! Other than the new blogging friends I've come to love deeply, I've said many things that BLOW people's mind away. Some may have even doubted the validity of what I say in this humble blog of mine, so much so that I've to write this particular post just to TELL THESE PEOPLE THAT I DO NOT BLOG TO IMPRESS, everything I said is TRUE and nothing but the TRUTH! If you are NEW to my blog, go click on that link and KNOW the REAL ME first before you start doubting my words and read my future posts…
I love comments, every single one, be it good or bad, I love them all! If you bother to take your time to type the words out, you know for sure I'll read them with my heart, BUT spammers get lost!
I love you girls and guys, everyone of you…especially those who have stuck with me from the very beginning till this day…LOVE YOU! *muack* And there are those of YOU who even BACK-READ those posts which were written way before you first realized this space of mine…LOVE YOU TOO! *muack* No matter you are first time here or not, thank you…THANK YOU…THANK YOU!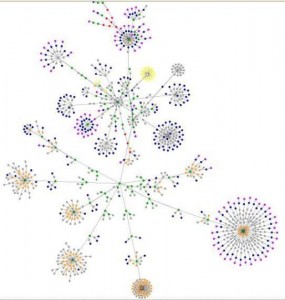 This is how my blog looks like 'Graphically' now, I think its pretty:
I love to see how it unfurls….Go click here to see how your blog looks like 'graphically'…*wink*
28 Responses to "1st Blogoversary!"
Leave a Reply