Places Kids Love, Special Moments
November 2nd, 2009
MORNING
For the very first and last time, he celebrated his birthday at his preschool with his classmates and his little brother. We 'borrowed' Binbin over to Keatkeat's class for the mini-party.
Aaawwww… the feeling was so WONDERFUL for me!!! It felt like as if I was back to my Child Care Centre, having an Awesome time with High Spirited Children.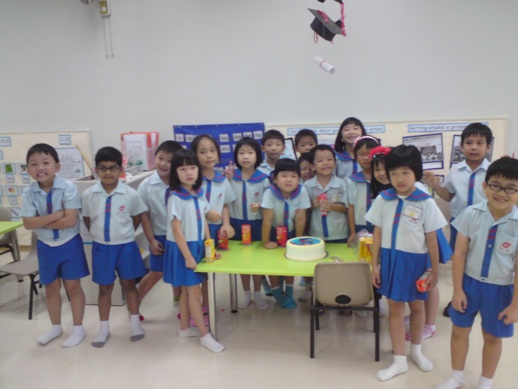 From a Birthday Party, one can always tell if the birthday boy/girl is popular in class and I am not ashamed to say that my boy is not. Some of Keatkeat's classmate simply REFUSED to come over for the Birthday song.
During the English version, Keatkeat was 'pushed' behind everyone else. The song went on, but the 'STAR' was missing from the spotlight, hence Allan only video-ed the Chinese Version.
I apologise if my hubby had caused you to have a stiff neck. I tried for an hour searching for a way to rotate the video, but after trying out 5 different ways, nothing worked. I'm sorry, I gave up because we had to go out for the celebration already!
Just in case you were wondering if that 'Adult Voice' was mine…. ITS NOT!
That was Keatkeat's teacher, who hmmm… didn't give any presents; unlike Keatkeat's nursery and K1 teacher, who bothered to find out what the birthday child likes.
What made it even worse was Binbin's Teacher gave Keatkeat a Birthday Present!!! (picture on the left)
Its either my boy is not in his teacher's list of favourites or else, his teacher is someone who simply couldn't be bothered. *eyes rolled*
AFTERNOON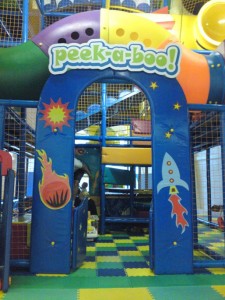 We went to Kallang Leisure Park's Peek-A-Boo for the very first time and we LOVED IT! Adults enter for free and children older than 2 years old, pay $12.00 per entry. You can play ALL DAY!!! Cool! Oh, remember to bring socks!
I love to go to such places during Mondays or Weekdays. It felt as if you have booked the entire place for yourself! Fabulous!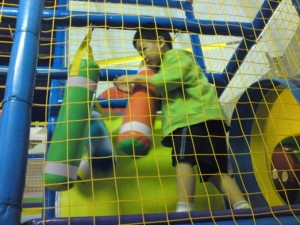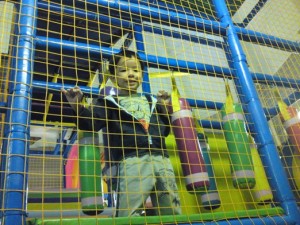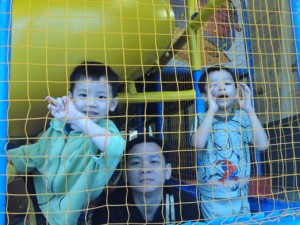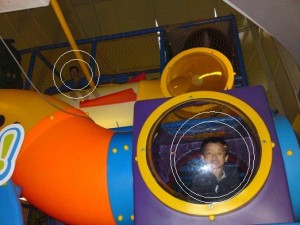 When I got disgusted having the NET and PLASTIC between us….
I JOINED THEM INSIDE!!!
Climbing that 3 storey tall playground and playing full-out was Awesome!
Ok, a word of warning for parents who want to climb in with your kids: You have to squeeze your way through some of the obstacles….so if you want to avoid having the risk of being stuck up there… you know your forbidden grounds *wink*
There was this period of Pure Family Fun for 45mins . Just the 4 of us conquering that Place. Whoo-hoo!
We stayed there for 3 hours before we head down to Suntec for Dinner……
EVENING
Few days ago….
Allan: "Keatkeat, where would you want to celebrate your birthday?"
Keatkeat: "I want to celebrate at Tony Romas, just like Mommy. Because I came out from her tummy. So I want to be just like Mommy."
And so the birthday wish was granted.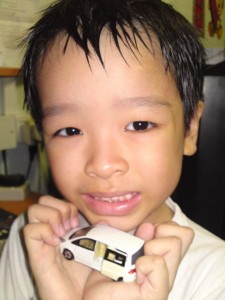 If you had the patience to watch till the end of the above slideshow, here is the answer to Binbin's big surprise for his big brother…
After dinner, we went to Toys R Us and Keatkeat could choose anything he wants and Binbin will pay for it from his piggy bank.
And THIS was Birthday Boy's choice. (left)
(Look at how tired his eyes were from the whole day of Fun….)
Usually, the birthday cake is my present for him. This year was special, I found a Hot Wheels Car in the storeroom (by chance). As many of you know, I'm NOT A buy-toys Mommy, so Keatkeat was overjoyed when he received this from me. *Grin*
Allan bought his boy's favourite Alien: XLR8. So you can imagine his glee!
My sis and her bf brought the boys out on Saturday to shop for his presents. According to my sis, this year's present is the CHEAPEST of the 6 years! *giggle*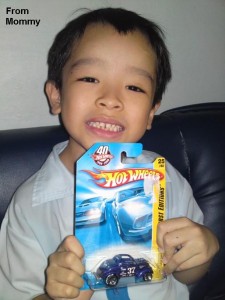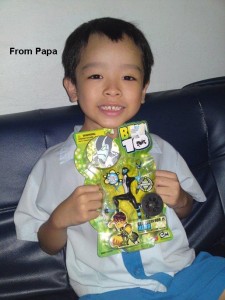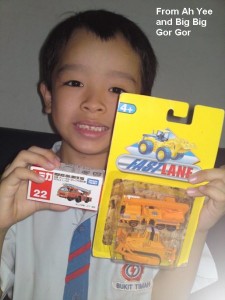 Happy Birthday, My Dearest Firstborn!
17 Responses to "Happy 6th Birthday Keatkeat!"
Leave a Reply