Special Moments
March 29th, 2010
We celebrated my niece's Z.Y.'s 9th birthday over the weekend at Coasta Sands Resort. Other than fun, there were many other mixed moments:
The Red: My boys were so tanned after 2 rounds of swimming on the same day, their faces were red as the bums of the red-butt monkeys.
The Black: My nieces were already very tan. And after the swimming sessonS, my FIL said they looked like Indians. Which I had to agree man!
The Pain: I had to tie the many mini-balloons for my niece that my 3 finger turned red and swelled a little. Took more than 24hours to subside.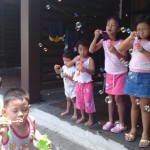 The Bubbles: This is the ONLY place, where we would not need to worry about cleaning up. Thus we bought bubbles for the 6 kiddos to play with.
The "Huh?!": A stranger popped into our chalet seeking for a space to watch the famous long-winded Taiwanese drama "Love" with us. She stepped in with a chair ready and asked: "My 'side' is watching another channel, but I want to watch "Love", can I come in and share with you guys?"
Before we could even reply or recover from the sudden request, she had already rested her butt in the middle of the living room. *faint*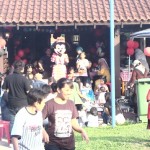 The Minnie Mouse Surprise: Nope. Not for us. It was the unit opposite us. The had an event organiser to get a Minnie Mouse Birthday celebration for their child. Our kiddos had the luck to see Minnie Mouse in person.
The most amused had to be the 2 year old W.D. He was so engrossed that he did not even realised when Minnie Mouse had left. He kept asking: "Where did Minnie go? Where?" *huge laugh*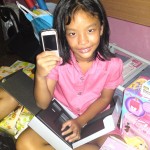 The "Wahhh…": Z.Y. had one of the best birthdays (I would say). Her presents this year are expensive! And they were all that she had wished for. The most major one was a Handphone from her Papa.
(Man! Isn't that a little too early?….Alright, me and my old-fashioned mind.. *eyes rolled*)
Our presents for her this year:
From: My sis, her bf, Allan and I: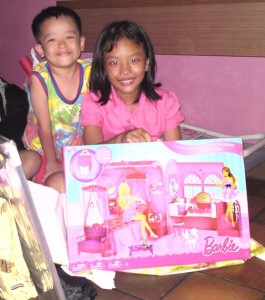 From BinBin(left) and KeatKeat (right):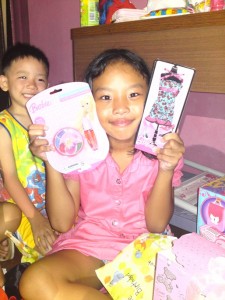 Happy Birthday Z.Y.!
3 Responses to "Happy Birthday Z.Y.!"
ling Says:
March 29th, 2010 at 11:16 pm

HAPPY BIRTHDAY ZY AND BIN BIN !!

blessed mom Says:
March 31st, 2010 at 10:10 pm

Happy belated birthday, Z.Y.!

hmm..hp is too early..mine asked for one too but i told her no.

the stranger really bold! so in the end, u guys becomes friend? :)

Angeline Says:
April 1st, 2010 at 12:17 am

Blessed mom,
*huge laugh*
Friend?! No lah…..
It was a rude shock to all of us… *laugh*
Throughout the show, we needed to move around to prepare for birthday cake cutting 'ceremony' and she was in the way…
*giggle*
Leave a Reply