Special Moments
February 18th, 2014
Was it because of the pain in my knee, or simply because I have aged another year and memory failed me again; I forgot to capture the great moments of the TWO reunion dinners we had this year. One with my sister and BIL, the other with my hubby's family. *pout*
Days before our 1st reunion dinner for 2014, my boys'  had a memorable experience riding the "GINORMOUS HORSE" :

Riding the wooden Horse to welcome a year of Good Health, Great Concentration and Lots of Laughter!
===============
*29th January 2014 – The day BEFORE Chinese New Year Eve
Sister and BIL came for reunion dinner in my house for the first time. We dined out for reunion dinner last year.
Somehow, since a long time ago, it was instilled into my head that steamboat dinner = reunion dinner. Though last year's reunion dinner at Paradise Inn was delightful, I still prefer to have steamboat on this special day, when family members sit together around the hotpot.
In fear that our glass dining table may crack under the prolong heat coming out from the hotpot, we took out our bazaar tables or what we used to call "Pasar Malam tables". Wooden tables with detachable-foldable metal legs, which we used to bring along whenever we have bazaars to run to, during our 7-years in retail-business, more than 12 years ago.
Hubby and I were so happy that the two 3ft x 3ft tables could fit into the empty space in our living room without the need to shift our sofas. Whoo-hoo!
If only I had remember to capture the moments………*slap forehead*
Yet, when my fingers start clicking…it was difficult to stop! *double slap forehead*
So expect to view most of the photos in slideshows….. (I apologise if you are unable to view the slideshows from your mobile phone, I cannot view the slideshows on mine too. You will need a laptop of PC to be able to access.)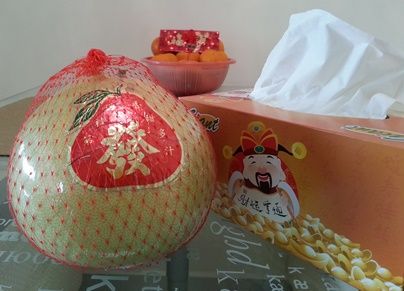 ========================
*30th January 2014 – Chinese New Year Eve
Went over to my in-law's place for reunion dinner.
First time having reunion dinner on their 2 NEW TABLES!
Finally!
The 14 of us need not squeeze during our reunion dinner there anymore!
Everyone felt so relaxed with the "spaciousness" we had during (yet another) steamboat reunion dinner that night.
Hhhhmmmmm…….come to think of it, I guessed the 13 of us had to thank my youngest niece for breaking the leg of the previous dining table, causing the glass table top to smash into pieces.
Otherwise, we will not be blessed with 2 New Tables and being able to eat without being conscious at all times that our elbows will not hit the one sitting next to us.
*wink*

==============================
*31st January 2014 – 1st Day of Chinese New Year
Just like every other year, Kitkit and Binbin will present mandarin oranges and say words of blessings to Allan and I. In return, we will give them a Hong Bao (red envelopes with money inside) each as well as words of blessings too, before we head over to my in-law's place.
After wishing "A Prosperous Chinese New Year" to everyone at my in-law's place, the 14 of us set off to the "Parrot's House". Oh well, at least that is what the kids call it. That was the only thing which made them look forward to when visiting my MIL's elder brother's house each year. This year, Binbin gets to impress his granduncle with his capabilities in playing the game app 'Unblock Me', a game which his granduncle installed recently to play during his free time. *smile*
After spending an hour there, my 1st BIL's family head off to Malaysia to visit 1st SIL's relatives, while my family of 4 went back to my in-law's house once again.
As we waited for time to pass before we set off to 2nd SIL's place to visit her parents, Allan and I had a good time chatting with the two old folks.
2 to 3 hours were easy to pass when you are with elders who have endless stories to share.
With an earful of stories from them, we left for our last house-visiting trip of the day.
When we reached my 2nd BIL's place, lovely handmade paper lanterns hanging from the ceiling caught my eyes. My eldest niece took time and effort to get them done. *thumbs up*
After greeting everyone in the family, Kitkit and Binbin locked themselves in the room with their eldest cousin, having lots of fun (I presumed); as they hardly came out of the room, till it was dinner time; and went straight back into the room again after their tummies were filled.
As for the adults, it was eyes on the TV till it was time to leave.
Sent my FIL and MIL home before we ended our not-very-exciting 1st day of Chinese New Year (CNY).
=================
*1st February 2014 – 2nd Day of CNY
Day 2 of Chinese New Year is spent with my Father's family.
Ever since my dad passed away 18+- years ago, we hardly keep in contact with his family.
However, few years ago, I felt that my kids NEED to meet their granduncles and grandaunts, my Father's siblings, especially those who are still living in Malaysia and only come to Singapore during Chinese New Year.
Thus, I started visiting them on Chinese New Year few years ago. After not connecting with them for so long, it was a mixed feeling for me. We had so many things to catch up on and I was really surprised that my relatives could get along with Allan really well.
Till this day, they have no problem starting a conversation with my hubby and it could end up being a looooooooong chat!
Nice!
*thumbs up*
With 4 houses to visit, the kids are the happiest, because they will be receiving lots of Hong Baos! *laugh*
Before the journey begins, we will wait at home for my sister and BIL to come to exchange mandarin oranges and words of blessings. They would sit around for a while before Allan and I go 'childless' when we are on the road. Kitkit and Binbin love their Ah Yee and YiZhang; and would try all ways and means to stay close to them whenever they meet one another. Being in their YiZhang and Ah Yee's car and chatting throughout the journey with them, is one of the simple things they enjoy most.
1st Stop: "the Tortoise House"
My dad's eldest sister's place is the FIRST place which the relatives from Malaysia set foot on when they arrive in Singapore. Thus, its our first stop too. Lunch is always provided to fill our tummies in this house, before we moved on to other siblings' homes.
The only thing that helped my kids remember this family is their pet tortoise. *laugh*
They will always find time to say "Hi" to their little hard-shelled friend.
2nd Stop: "the IKEA House"
Its funny how the kids come out with these nicknames to help them recall their grandaunts' houses.
From my dad's 5th sister's home, my boys can spot IKEA's yellow-blue building, hence their 5th grandaunt's house was named  "the IKEA House"; and NOT because they live in IKEA! *laugh*
Adults chatted alot but the two youngest chap felt bored and entertained themselves with digital devices. However, I am glad that they stick to the 30mins rule even when they are not at home.
*thumbs up*
Been to this house so many times, yet this was the first time my sister and I had a hearty chat with our cousin's teenage daughter! There were so many things to chat! We should have started talking to one another years ago man! Well, never too late! *wink*
3rd Stop: "the Lion Dance House"
The kids remembered that their very first visit to this house was both amusing and frightening at the same time!
*huge laugh*
My dad's 3rd sister was so happy to see my boys for the first time years ago. After knowing that my sons love the Chinese Lion Dance, she called in the troupe which was circling in her block of flats and allowed the "Lion" to dance for the kids INSIDE THE HOUSE!
Binbin was still a toddler then and though he loved to play with his own mini lion head at home, he did not know that when the 'real thing' was so close to his face, he WAILED!!!
As for the kindergartener Kitkit back then, he just sat there as still as a rock….IN SHOCK!!!
*huge laugh*
This year, Allan had a long chat with my uncles and aunties when we were in this house. My boys played with their phones again to kill boredom, occasionally reaching for Chinese New Year goodies to munch.
4th Stop: "the Dog House"
Well, just as you might have guessed, the owner of the house, another sister of my dad, has a pet dog.
Binbin was the one who looked forward to this visit the most!
He wanted to have pets all along and his favourite is a puppy, but Allan and I never agreed on that.
So this is/was his one chance every year to play with the dog.
This year was also extremely special for my boys as they get to speak to their grandaunt and granduncle who stays in England through Skype. Though the chat was short, Kitkit was surprised to know that he had a grandaunt who stayed so far from Singapore.
Yet, this year, the most memorable moment for me is to hear my elder son said: "Your food is very nice." to the owner of the house.
I am so proud of my Kitkit!!!!
Seriously, I was NOT expecting that!
They meet each other ONCE a year.
Not exchanging more than 10words each time they meet.
Yet, this year, he was SO SWEET that he went to tell the owner that her food was very nice!
Wouldn't your heart melt when a 10 year old boy comes to you VOLUNTARILY to praise your cooking skills????
I WOULD!!!
=======================
*2nd February 2014 – 3rd Day of CNY
A family whom we had grown very close to during our retail-business years came over for a visit.
Hhhhmmmmm….the first time we met, Kitkit was still in my womb!
The friendship between these two families had been more than 10 years!
We watched each other's children grow and ourselves age each year.
Precious Friendship!
Allan and I remembered the first time we played with their daughters whose height were not even up to our waist!
Now, they are taller than me!!!
There is no barrier nor topic we cannot talk about within the two families.
We have seen the down times of one another and the happy times too.
Unlike other children, their daughters will sit with us, chat with us and laugh with us, just like good friends.
Among the teenagers I know of, these two girls are truly gems.
Extremely well-mannered, approachable, friendly and lovely in many aspects.
I would LOVE to have DILs like them!!!
*smile*
While we chatted, their youngest child played Xbox with my boys till almost 9pm!!!
Way passed our dinner time!!!
*laugh*
We let the kids choose what they wanted for dinner.
Guess their united-answer?!
"McDonald's!"
*laugh*
We intended to take the outdoor seats, but it was NOT up to us to choose, because seconds after we sat down, there was a BLACKOUT!
*laugh*
So we had to change to indoor seating.
Thank goodness the blackout did not happen when we were eating halfway….
After a great meal, we wanted to spend more time with one another and ended up at West Coast Park till late!
As if this day was not enough, we made plans to meet again on the 8th day of Chinese New Year, but this time, at their house!
==========================
*3rd February 2014 – 4th Day of CNY
It was my me-time! A dinner without my children.
A "Lou Hei" gathering with my secondary school friends.
***For non-chinese readers, "Lou Hei" is a type of salad we eat during Chinese New Year. As we use our chopsticks to toss the items on the plate, we would say good phrases.
Though some of our friends left earlier, the rest of us continued to stay till the restaurant started to close for the day.
Dinner was not fantastic but the people around the table were awesome!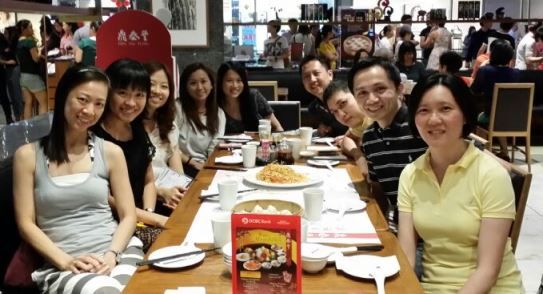 ======================
*4th February 2014 – 5th Day of CNY
This day is also known as "Li Chun" day. The day which some would spend time alone with EGGS!
*laugh*
You heard me right! EGGs!
It was believed that on this day, it is easier to make the eggs stand on its 'butt', thus standing upright without toppling over.
It is NOT a practise of ours to do it on this day, but we thought it would be fun to do it this year, as a form of FAMILY Bonding.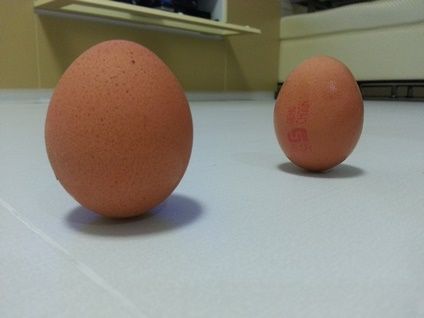 Someone is missing in the photos above eh?
You are right!
Kitkit tried a few times only and gave up, regardless of how hard we tried to encourage him. He does not think that its fun nor worth his time.
*shrugged* Oh well, to each his own.
Allan has the fastest record and I, the slowest.
But eventually the 3 of us did it and Binbin thinks its FUN!
Just in case you were wondering why didn't we try to balance more eggs……..Well, we had TWO ONLY!
*laugh*
===========
*7th February 2014 – 8th Day of CNY
Remember our pact with our long-time-retail-friend(family) on the 3rd day of CNY?
Yup!
The day has arrived to savour her cooking once again.
I missed her Lala Noodles Soup soooooo much!
This day, she did more than just a bowl of Lala Noodles for us.
There was a plate of stir fried chili Lala, a plate of vegetables and Shark Fin soup too!
The man of the house also treated us to his 'secret recipe' cocktail. Actually, its no longer a secret now, as he prepared the cocktail infront of us. *laugh*
A night of laughter between the 6 of us: The jovial couple and their 2 daughters, plus Allan and I.
A night of play, play and more playtime between their son and my 2 boys.
A night that we did not want to end.
A night that needed the clock to strike 12midnight, before we forced ourselves to say "Goodbye and see you again soon"….
=======================
*8th February 2014 – 9th Day of CNY
This was the second time we had dinner at this VEGETARIAN restaurant.
Allan's uncle (owner of "the Parrot's House", which we went on the 1st day of CNY) is a vegetarian and as he is the eldest among the 19 of us and commands great respect because of his good personality, even those who did not like vegetarian food were present that night.
Unlike last year, they were not in the mood for a group photo this year.
Thus I could only get 1 "lousy" snapshot of the 19 of us when we were feasting on 2 separate tables…thus some faces were blocked by others.
Everyone was EXTREMELY full when the 8-course dinner finally came to an end.
Somehow we could hear sigh of relief from one another simultaneously….yet it was not the end!
*laugh*
My cousin-in-law gave us a box of macaroons for SUPPER!
Oh no…..SUPPER!!!?????
We were WAY TOO BLOATED to stuff anymore food into our tummies, so the macaroons were consumed the next day.

=======================
*14th February 2014 – 15th Day of CNY
The last day of Chinese New Year celebration is also known as Chinese Valentine's day.
After 19 years, Valentine's Day and Chinese Valentine's Day coincides again!
A rare occurrence truly made this day very special.
Over 200 couples took their marriage vow in Singapore. Nothing to do with us though! *laugh*
We went out to spend time as a family, walking around, enjoying the "last sounds" and "last sights" of Chinese New Year 2014…..
=========================
The 15-day long Chinese New Year celebration had been wonderful for us, as a family.
The kids collected more Hong Bao money than last year. *Grin*
We had awesome bonding time with relatives and friends.
The only downside this year was not meeting my mother's family.
Relatives whom I am very closed to, since the day I was born….
*frown*
We will definitely meet each year, just that this year happened to be the first…..hope it will be 'back to normal' next year.
As we step into the Year of the Horse, may you and your family stay HEALTHY, WEALTHY and HAPPY!
CHEERS!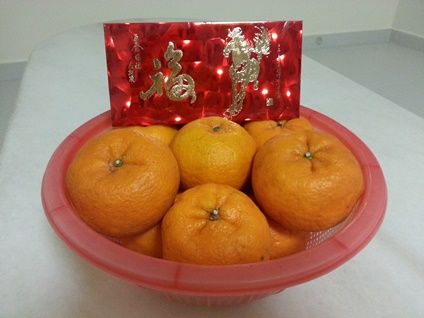 Memories of Chinese Lunar New Year 2014
Leave a Reply