Special Moments
Every year, my firstborn wished he could have a MEGA birthday celebration, ON HIS ACTUAL Day, at his house and filled with people he loves. However, year after year, his brithday either falls on the exam week of his cousins or his own OR it may be on a weekday. He does not enjoy celebrating his birthday in advance, he just have this "Thing" in him that makes him feel celebrating on his actual day at his house is like winning the first prize.
His wish was FINALLY granted today, on his 11th Birthday.
Though his mummy, me, am not a big fan of having the party in my house because I really don't know how to keep guests from age 7 to age 70s entertained at the same time. I feel so bad when I saw the 'don't-know-what-to-do' faces on the older generation's faces. I have no problem entertaining the kids though, as usual…… well, friends don't call me 'kids-crazy' for nothing ok?! I sincerely wished the adults who came today would forgive me for not being a good-enough host. Hhhmmm….
But the Birthday Boy was Definitely Happy today, especially after receiving presents which he had waited for FOR MONTHS!
Yi-Zhang, Ah Yi and the newest member in the family, JennJenn, were the first to arrive. Birthday Boy had a good time bonding with his new cousin. Today, is also sweetie's first time in my house. Awwww…..she is soooo cute and cuddle-able!
Oooooooo the adults liked the curry's SPICINESS!
I liked the cucumbers! *laugh*
Different kids liked every other random stuff on the table.
Its so fun to sit with my 3 nieces, eat and chat about stuff of all sorts.
Laughter and Eeeewwwws and What-Have-You... different expressions lots Lots LOTS…. *laugh*
Then suddenly, someone surprised the Birthday Boy at the door!
Western Food uncle came and passed a Big Bag of Green Pea Snack!
Oh! For the sake of my blog readers who are not my FB friends (yet), let me do a short introduction for this Western Food Uncle.
Our Friendship grew over the past few months as my family love the food he cooks.
Every now and then, he will give us free fruits or snacks.
The Friendship grew stronger when I managed to salvage his wife's scalded face by passing her some Aloe Gel.
Now we are friends so close, we would sit and chat for a really long time….whenever we dine there.
Am truly grateful for this friendship.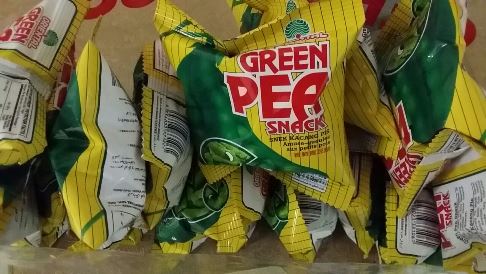 Too big a pack, so we gave away some to the guests.
Thank you everyone who came today.
And…….
Once again……
HAPPY 11TH BIRTHDAY KitKit !!!
Happy 11th Birthday Kitkit!
Copyright © 2007-2016 All About Your Child. The contents on this blog are the sole property of the author, Angeline Foong, and may not be used or reproduced in any manner without consent. All Rights Reserved.
No Comments »