Child, Parenting, Special Moments
March 30th, 2008


Extremely fun, undoubtedly noisy and indescribably tiring. Here's what happened today at my small little house. Total guests = 20. Big and small, young and old, all squeezed into my humble home of 92sq metre space.
Outside the house….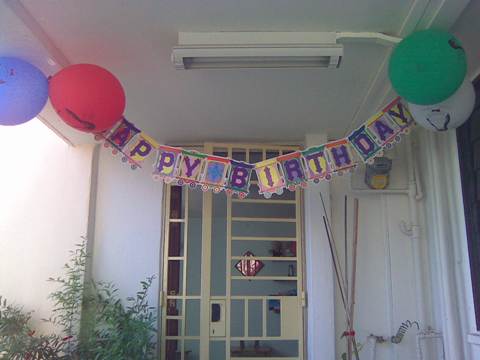 In the house too….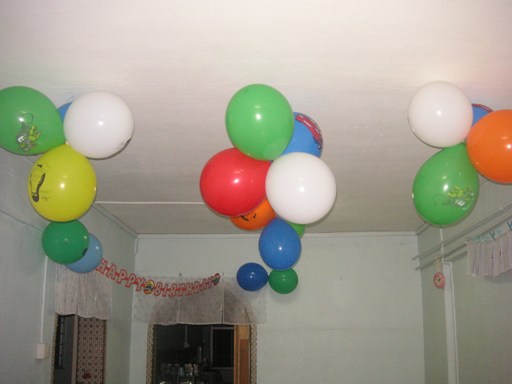 Binbin's favourite Lightening McQueen Decorations…..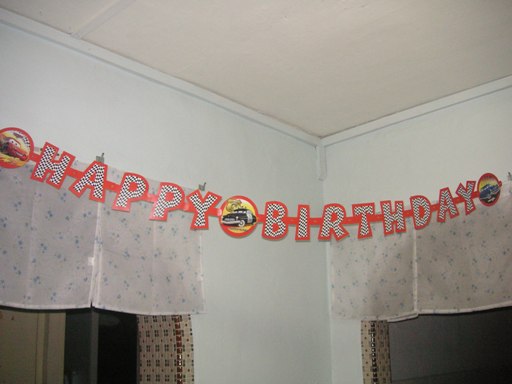 This is how you entertain kids: Throw them into a room full of toys. Forget about the mess. The kids will do the rest; which is messing up even more! *laugh* Make sure your laptop is switched on too, in case someone like Keatkeat (top right) wants to surf the net.
When they are sick of the toys, play Monopoly! The hi-tech one, which uses credit cards instead of cash notes. This prevent 'money' from flying away! You know how kids are…their small hands can't hold on to that stack for long. Or you may end up with soggy notes….Eeewww…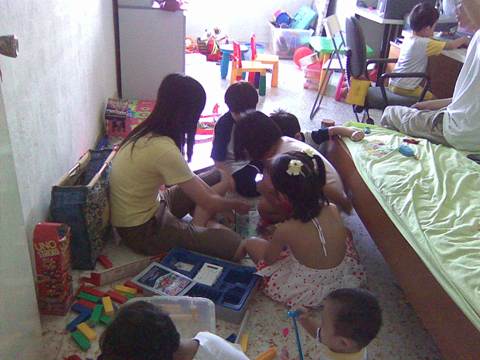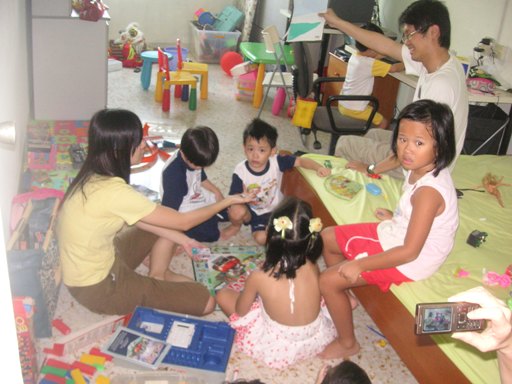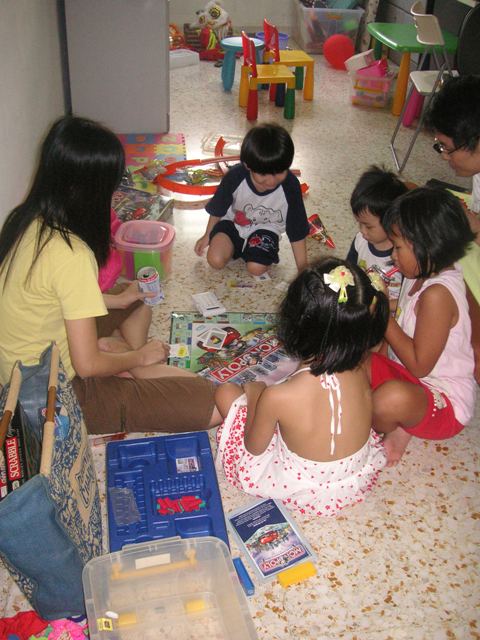 This was also the time when I could fulfill my nieces wishes – Check out MY Little Twin Stars Collection…
While kids play, adults were cooking away……There should be many more faces…if not this feast couldn't be served, but they were camera-shy. So it just me and my favourite aunt, the one who took care of me since I was born.
2 Regular Canadian Pizzas – Hawaiian Classic and Singapura Special AND my mother-in-law's specialty – CURRY (big pot) couldn't squeeze into the photo. But they definitely were very popular throughout the night.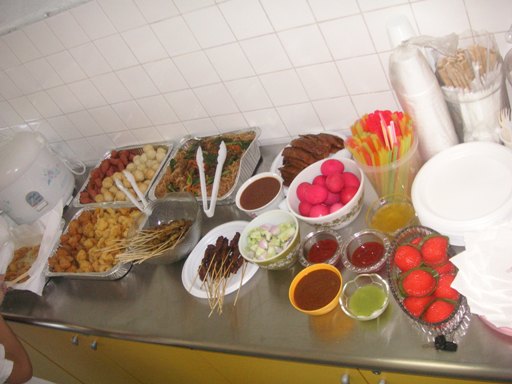 My eldest niece, Cheng Han, having her second round. – that's what I love to see most. There were so much food!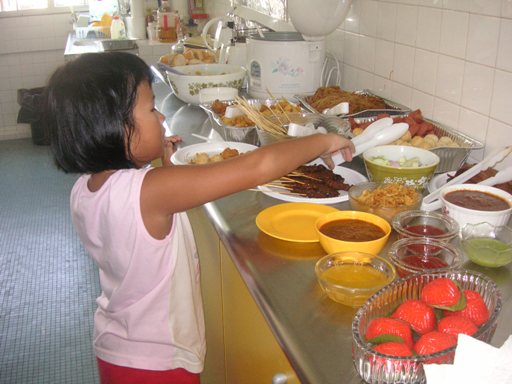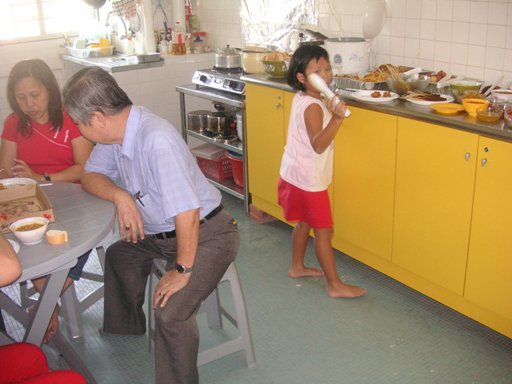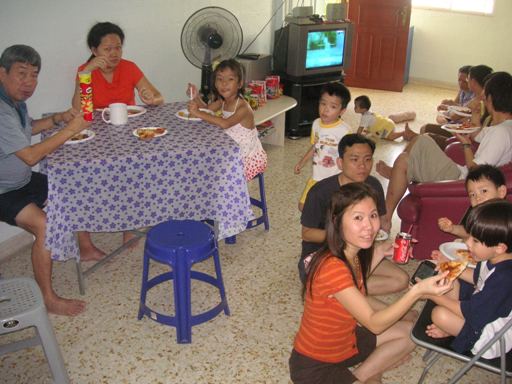 Lightning McQueen Birthday Cake is here!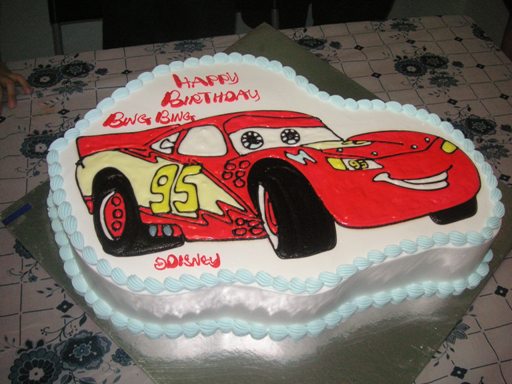 Hhooo….3 Candles!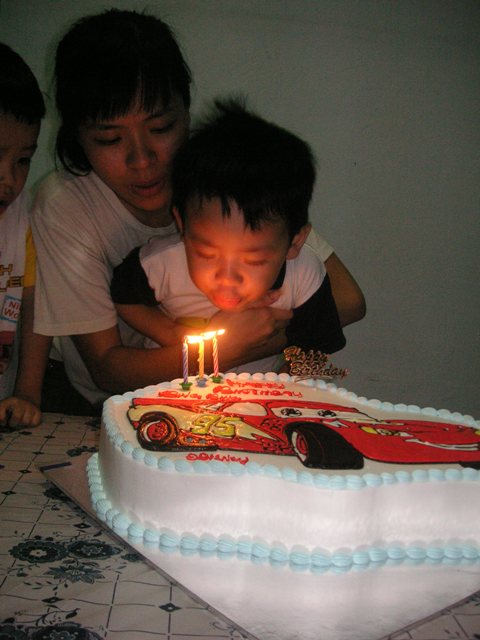 My Happy Family….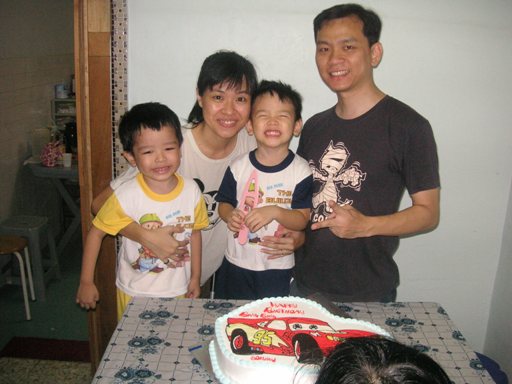 My only sister and her boyfriend, Ted. The 2 Great Children-Sitters….
Auntie, Cousin Navy and her family….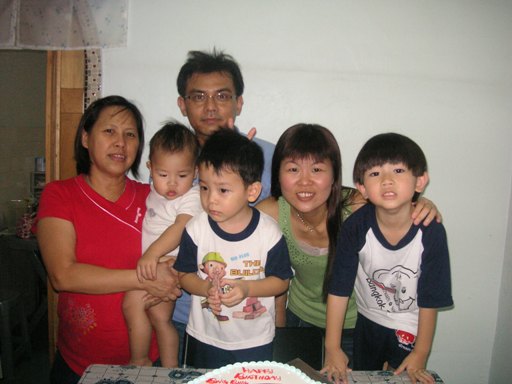 Here's all my nieces and nephews! I Love all of them so much!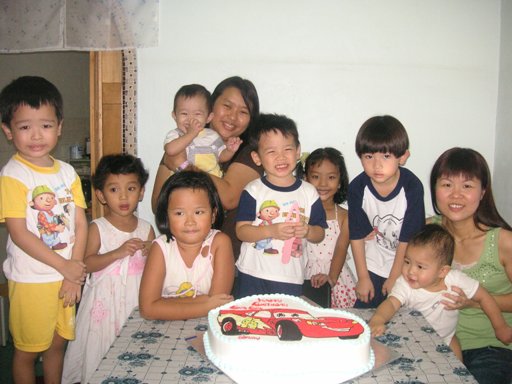 Binbin enjoying his cake or rather the CREAM!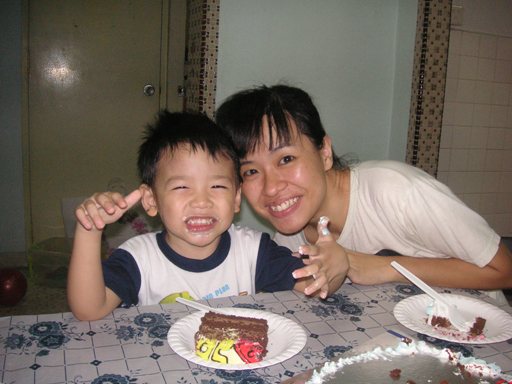 "come! check out my presents! 11 of them! No time to waste, oopen away!"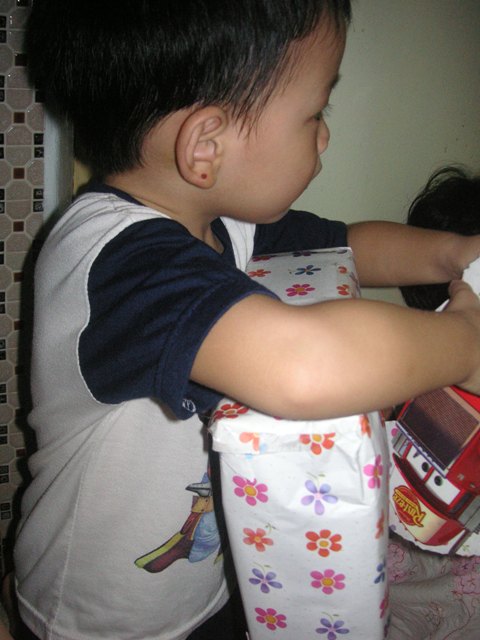 "Big-big Gorgor (Brother), help me please!"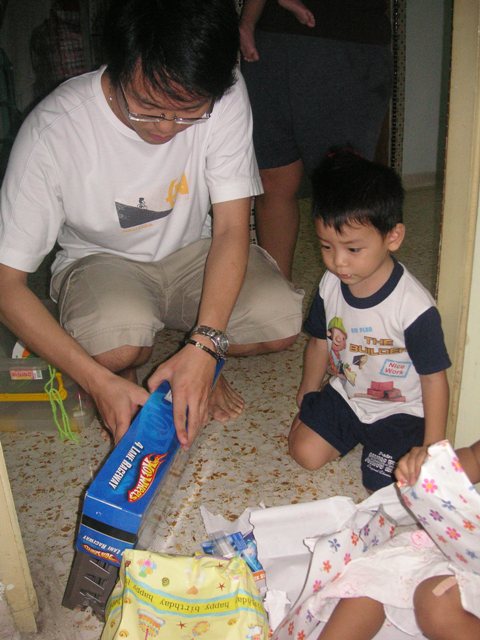 "1.8meters long, 4-race tracks. – From Ah Yee and Bigbig Gorgor."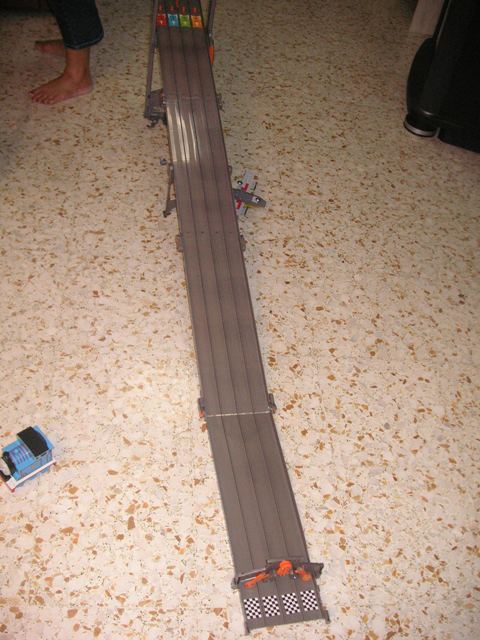 "The drum for my Lion Dance – from my only brother"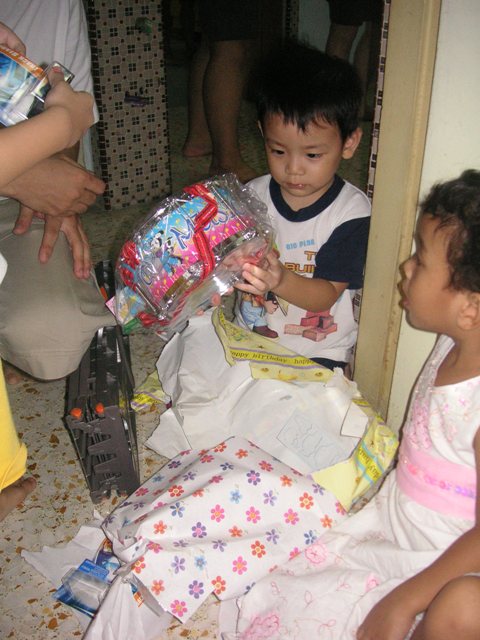 "What's this? So big?"
"My very first LEGO set- from Auntie Navy."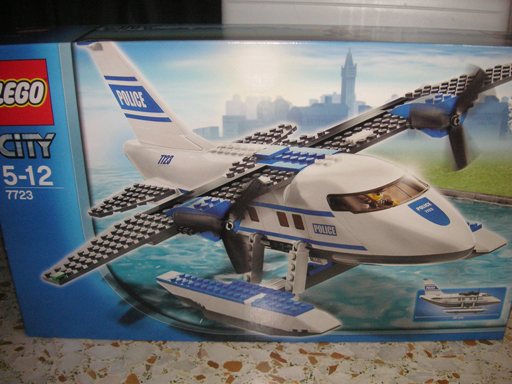 "Another HOT WHEELS race track to add into my collection – from Auntie Corina"
"Including four new HOT WHEELS car – from Ah Yee (againg), Auntie Corina (again) and Cousin Cheng Han – I am one lucky guy!"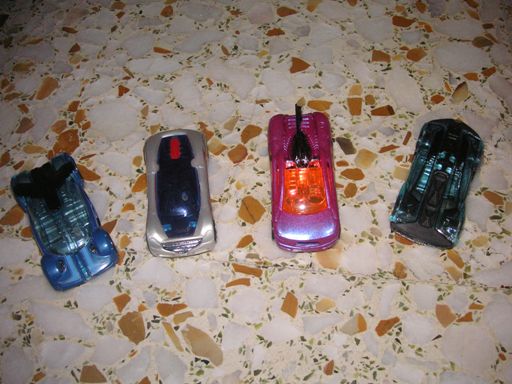 "My first laptop – from Cousin Zeng Yee and Mun Yee"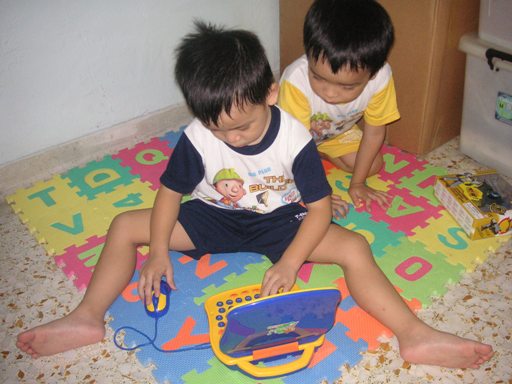 "Don't move! Drop the gun! Fire….."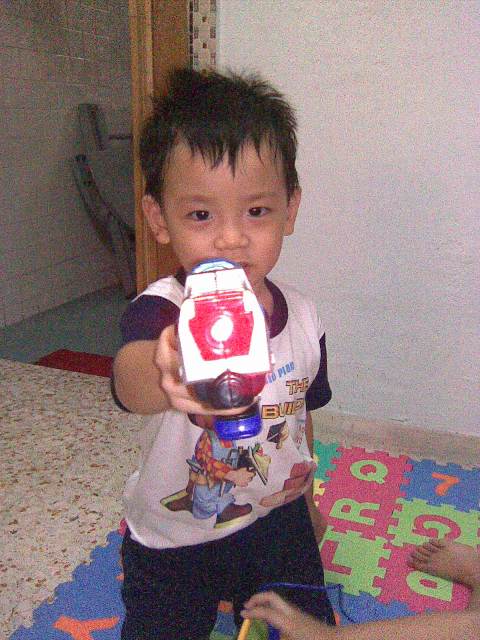 "Nah, its actually a Transformer! Look! 2 of them – from Auntie Angeline and Uncle Derek"
"Top present giver goes to Auntie Corina! Gave me the HOT WHEELS DAREDEVIL CRASH, one new Car and this, Bob the Builder Handphone! Mommy got a new handphone, now I've got mine too!"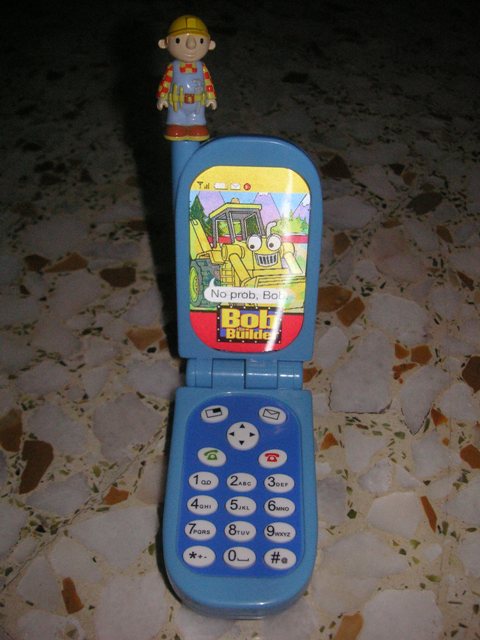 What's my reward at the end of the day? An aching back, an injured ankle, a cut on my right hand, stinky hair and lots of cleaning to do…..Will I do this again? 100% YES! 'Cos my biggest reward was : I made my child SMILE! Even though just before he sleep, he started to have fever….38.1 degrees celsius!
What a lousy ending…..sigh
5 Responses to "Happy Birthday Binbin!"
Leave a Reply