Child, Parenting, School-study
June 3rd, 2009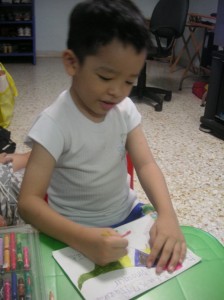 My in-laws gave us a surprise visit on last Saturday. Luckily the house was still pretty much in order. *phew*
I thought, this would make a great topic for the first page on Keatkeat's Journal. Instead, before I could suggest it after our dinner, he walked up to me and asked: "Mommy, Can you draw a T-Rex for me?"
Whoo-Hoo! Its ALWAYS easier to get a child to follow your instructions when it was HIM who initiated the act. The level of interest, commitment and concentration is often tip-top. *wink*
But I have not bought the book for him yet and I don't want to miss this chance because of some silly stubborn belief of 'must start proper'. I'm a flexible Mommy. So long as the goal is attained, HOW it is done is not an issue.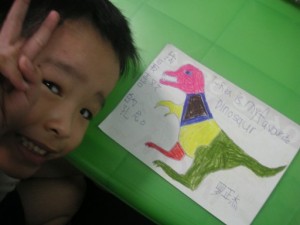 What's the difference between a book and a piece of paper anyway?! 'Cos I can file the papers up too, infact he prefers his work to be SEEN than be kept in a book or file.
And so the Journey to a 'New Way' of promoting his interest in Writing, Spelling, Punctuation of both languages and training his motor skills through colouring and writing has began.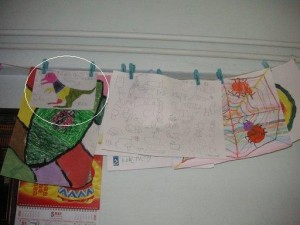 The following day, he SUGGESTED "Mommy, can you draw something for me everyday? So that I can colour and write and hang up 'there' so that everyone can see?!"
*Scream* That was AMAZING! He suggested that it should BECOME a Routine!!!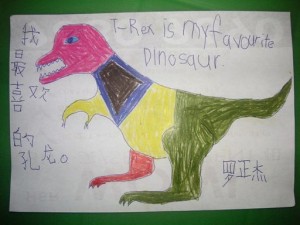 It seems that its really working….
He loved the special attention I gave him during this 'Journal' time.
He loved the control given to him to DECIDE what should be drawn.
He loved the fact that he could CHOOSE what colours to go on it.
He loved the recognition and praises he received when his masterpiece was high up for all to see.
He loved it!
Ok, let's hope this passion stays really long…
So now that the academic is settled. I'm still finding ways to settle the behaviour and habits issue mentioned on last Thursday. *sigh*
*One step at a time Angeline, one step at a time…..*
Since 3 weeks ago, I've got several new commitments, so much so that my 'already-quite-weak Time Management skills' was put to the test. Being slapped with a 30 days School Holidays just made it worse, 'cos kids don't nap during holidays.
My normal-easy-to-follow schedule which allows me to complete many tasks, when they are in school and when they are napping, have gone haywire again! Plus having my invigilation duties this week and next, Woah! I'm up to my ears!
Breathing in the new assignments, exhaling the tasks, one by one, I'm trying very hard to slot EVERYTHING into my 18-20hours of awake time. Seems to be quite sufficient eh? No! 'Cos the kids occupy 90% of that time.
It goes in this order:
Critical,
Urgent,
Important,
Necessity,
Ok,
I try,
If-I-can,
If-I-want-to,
I-can-live-without.
Yet everyday, I'm struggling between Urgent and Important and all those sub-sub-categories in between. I missed you guys. I really do. But by the time I get to Important (like VISITING YOUR Blogs), its usually passED 1am. *sigh* I'm Sorry dear friends…..  from 20-30 per day to 2-3 per day to none…. I'm sorry…I'm trying…
*slap slap* Efficiency Cells! Get down to work FAST please!!!!
*Updated on 4 Jun at 2.20am. My dinosaur in Chinese is WRONG!!! *Laugh* That just prove the point why I didn't want to be Keatkeat's Chinese teacher right from the start. So Now I can add one more benefit from doing the Journal, it will help ME to improve MY Chinese!!! *Laugh*
26 Responses to "The Journey Has Begun"
Leave a Reply