Places Kids Love
November 19th, 2013
Are you wrecking your brains like me during every year-end school holidays; thinking how to keep your active kids occupied for so many hours each day? I prefer to bring my children out for fun to having fun at home. Thus, you can hardly find us at home during the 1 plus month school break.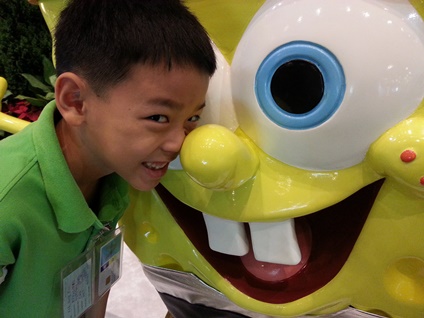 Its my boys' 6th day into the school holidays and we had already went to Singapore Changi Airport twice! Not to travel overseas, but was invited by Changi Airport Group (CAG) for the special extensive SpongeBob SquarePants-Themed Christimas experience.
On 16th November, with special passes, we were able to enter the transit area to admire the giant topiaries of stunning landmarks such as Italy's Colosseum and Turkey's Trojan Horse.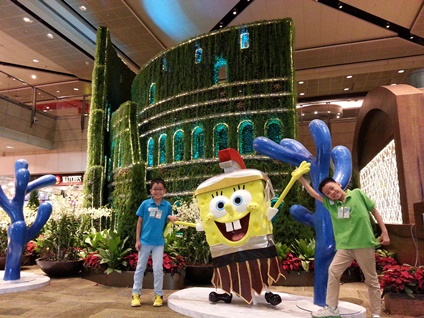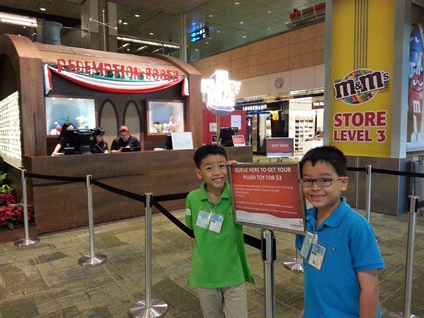 As stated in the photo below, this rule applies when you are in the transit area: Shoppers in the transit area can choose from all 6 SpongeBob SquarePants and his friends plush toys with a minimum spending of $150. While Stocks Last.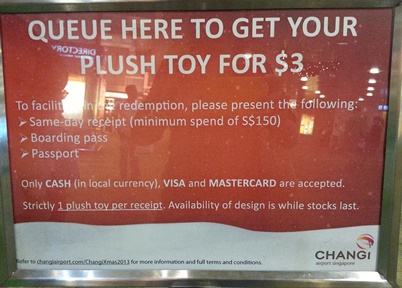 However, shoppers and diners in Changi Airport's public areas can purchase each of the 6 plush toys (a new character launched each week) for S$3.00 when they spend a minimum of S$60 or S$120 in supermarkets. In addition, the first 1,000 Changi Rewards members who earned 1,200points during this promotion period can redeem a full set of 6 characters for FREE!
My boys had more fun at the Trojan Horse area because of the two 'seashells' which allowed them to play SpongeBob SquarePants-Themed electronic games :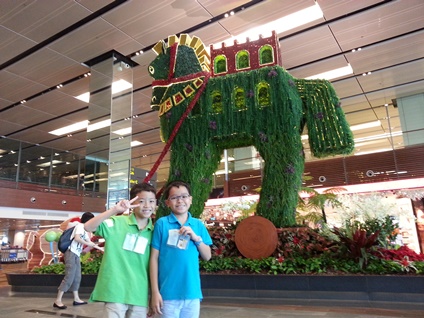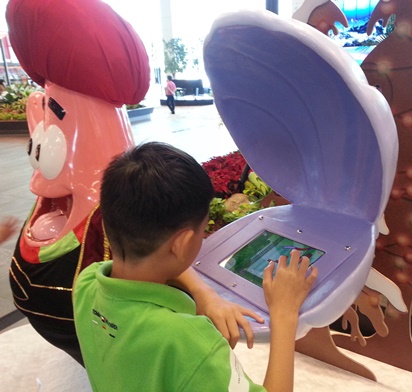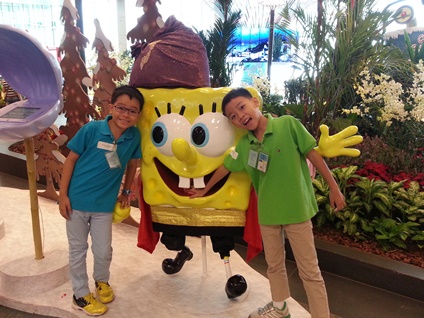 (Below) Kitkit was trying to make the tail of the horse move by rolling the 'roller' as fast as his small hands could.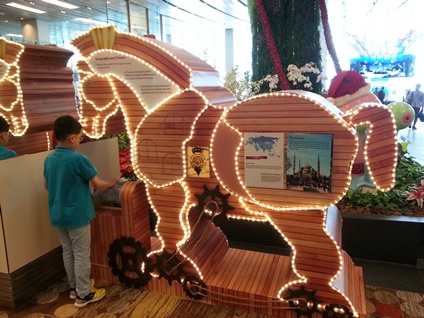 We missed out on the Leaning Tower of Pisa and Russia's St Basil's Cathedral because of issues with our special passes. So no photos on those. *pout* Oh well, spot those two in the transit area, if you are going overseas these two months. *wink*
More fun awaits at the public area of Singapore Changi Airport. From 15 November 2013 to 5 January 2014, located at the spot just before the Departure Immigration doors at Terminal 3, SpongeBob's 11 metres tall Pineapple House has FREE giveaways during their 7 'Snow Times' daily.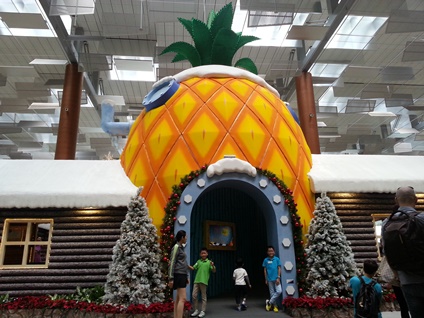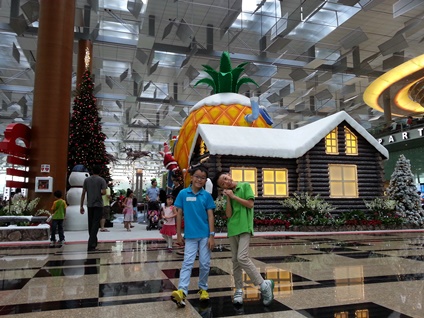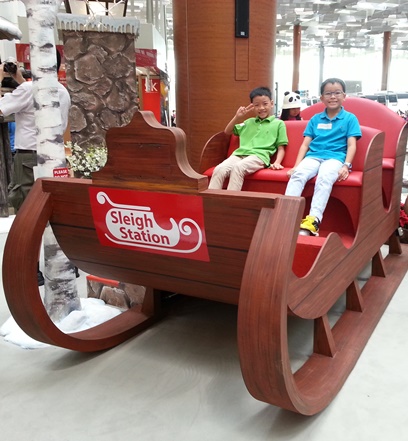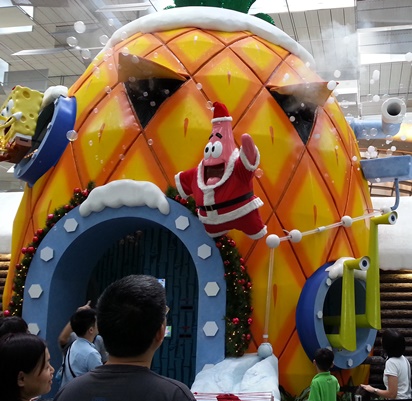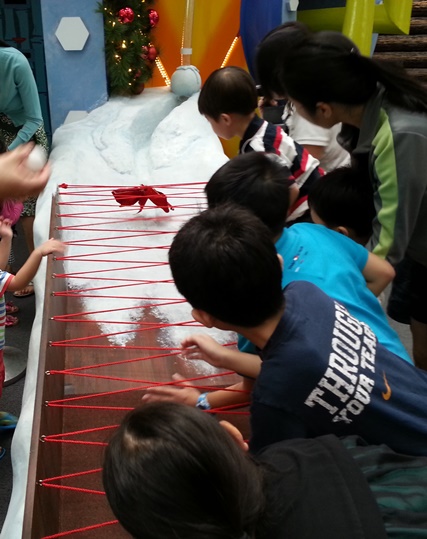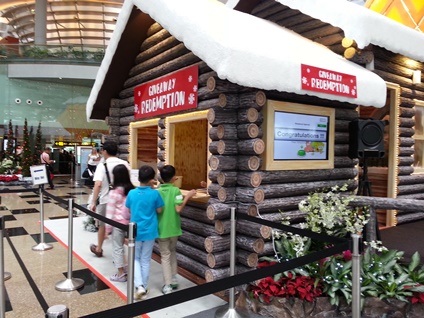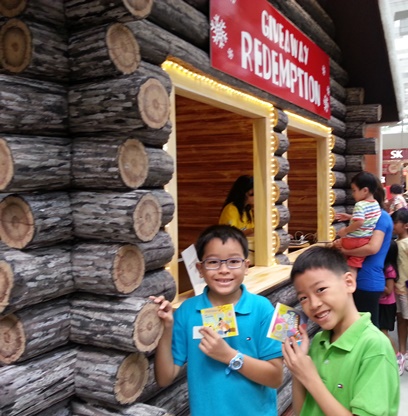 Spot the difference in their outfit between the photos above and the photos below? Yup, taken on two different days.
My boys had 'Stickers Luck'. We went again today and they get stickers AGAIN during the lucky draw, instead of water bottle, slap watch, eye mask, etc. *laugh* I was really happy to see that the staffs were there this afternoon to make sure that people queue up to get the 'lucky ball token'.  On Saturday, many did not know the golden rule : One Ball for Each Person (even though the signage had already said so), therefore, it was REALLY chaotic during our 1st visit. Thumbs up for the amendments made, its so orderly now.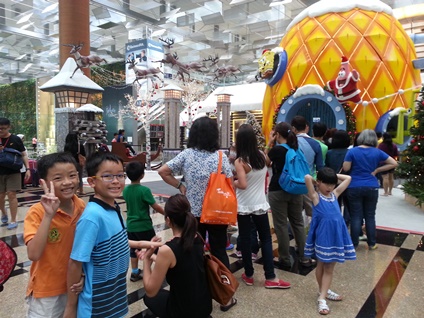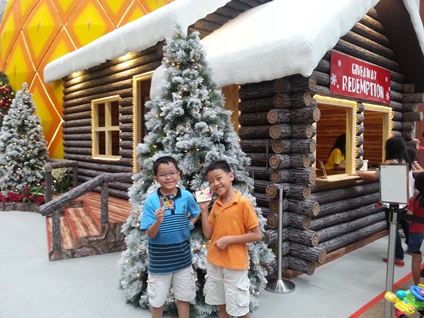 From 21 November to 26 December, visitors will also be able to meet Santa Claus in his log house at this same location as the Pineapple house from 4pm to 10pm daily; where he will share his life story and his home country, Finland.
As for my kids, the HAPPIEST moment was to receive their goodies bag from CAG on Saturday. Thank you so much, you made my boys Super Happy!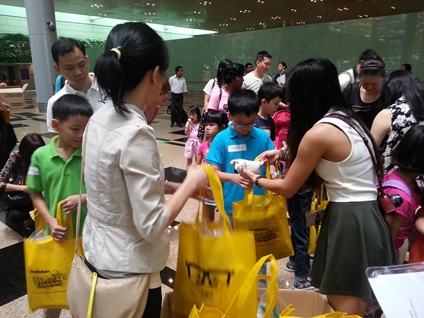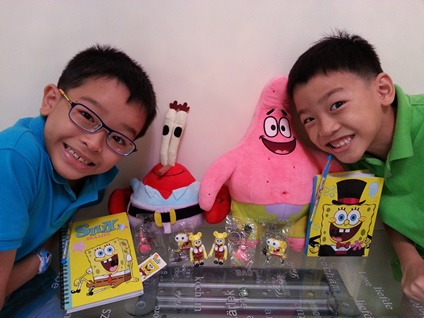 The MOST EXCITING MOMENT, which they had been waiting for on Saturday, was to enter the Huge 9m tall SpongeBob inflatable bouncy playground located at Changi Airport Terminal 3's Departure Hall Row 11. For the safety of children, the staff told me that only 10 children were allowed to enter at any one time and each batch of 10 kids has 10 minutes of playtime. Socks are not required but shoes are not allowed; which is a good thing in terms of keeping the playground clean. *smile*
To get your child on this giant bouncy playground, you would need to:~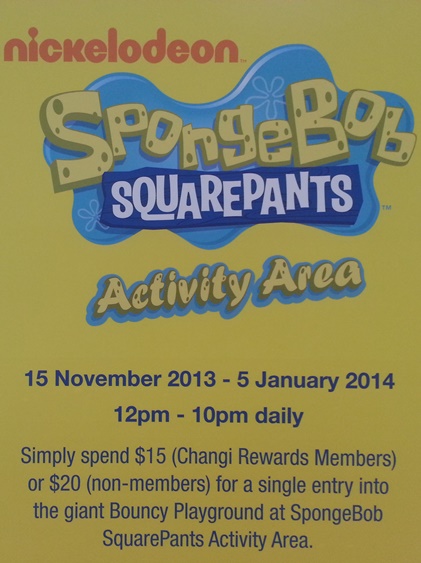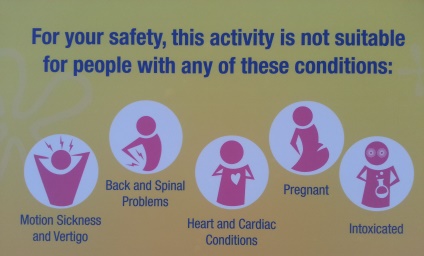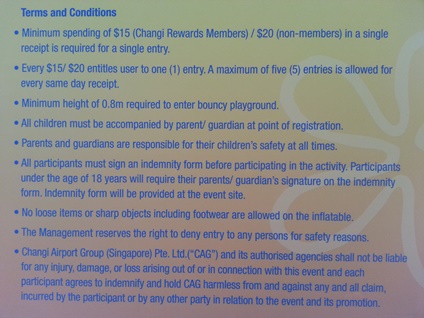 Yet, because of other arrangements, we could not stay for it on Saturday and Kitkit and Binbin were very upset. So all that they could do on Saturday, 16th November 2013 was to take a photo with it before we left.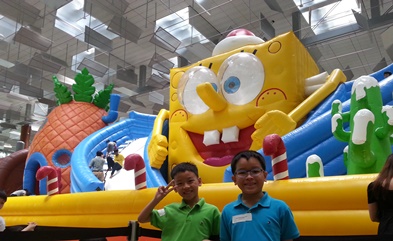 Well, disappointing kids is not my forte, so I had decided to thicken my skin, pluck up my courage and asked the CAG staffs if we could come on another day just for this bouncy playground and they said "YES!".
Yeah!
*clap clap clap*
And so we went during noon today and the kids were overjoyed! Thank you CAG once again for making all the special arrangements for us. *hugs*
No photos can describe how happy they were this afternoon. Watch them at play on the huge inflatable SpongeBob SquarePants playground in the video below:~

If you love Christmas tunes, you would love the performance by award-winning Ministry of Bellz – Singapore's only independent community hand-bell ensemble. On 21 December, they will attempt to make history in the Singapore Book of Records by delivering a non-stop 24-hour hand-bells performance.
With so much to expect from Singapore Changi Airport this Christmas 2013, you can definitely find some joy here, especially the kids with the bouncy playground! *laugh*
View ALL photos taken during our visit on Saturday and Today in the slideshow below:~
Leave a Reply