Places Kids Love
June 7th, 2011
Lots of 'First Time Experiences' for my children this June Holiday, but the most 'First Time Experiences' happened in that 3D2N  Batam Trip.
First time staying overnight in a foreign country.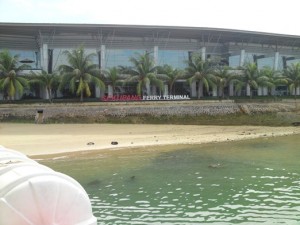 First time spending the nights in a hotel.
First time sleeping in an air-conditioned room (that is not inclusive of the hospital stays when they were first borne)
First time touching a luggage and pulling it around everywhere as if it was their little pet.
First time taking a ferry.
There was the air-con deck and the 'breezy' deck. We chose the latter. We prefer to feel the wind combing our hair.
First time visiting the super tiny and cramp toilet on the ferry.
First time holding, spending and counting Indonesia rupiah.
First time eating dinner in a hotel.
Kids had spaghetti bolognese and they LOVED IT TO THE CORE! Binbin licked his plate clean man! It was pretty special that they included crunchy garlic bread on the plate as well.
First time on a tour bus.
First time being guided around by an uncle (i.e. tour guide) who could not stop talking and telling jokes. *giggle*
Well, he definitely left an impression on Keatkeat. Keatkeat now remembers him as Harry Potter. *smile*
Binbin could hold the Zzz monster no more and fell asleep on my lap, while we were still touring on the tour bus, from one shop to another. Hhhmmm… and because of his surrender to the Zzz monster, I missed out on a shop which sold Super Yummy Honey Cake! Oooohhhh Yum!
But what was more amazing is they get to be massaged by professional masseuse for the VERY FIRST TIME!
For their very first massage, they did not opt for the oil, so it was just skin-to-towel-and-towel-to-skin massage. The masseuses were pleasantly shocked to see the two small-bodies infront of them and looked towards Allan and I for a confirmation. *giggle*
My boys were their very first kid-client. *smile*
The masseuses were giggling and chatting with each other in their language, to every reaction from my boys.
Binbin was GIGGLING almost NON-STOP!!! "This is so ticklish! *giggle giggle*" His giggles made the masseuses giggled that much more.
*laugh*
Keatkeat was going, "Aaawwww…. this is soooo shiok!"
*laugh*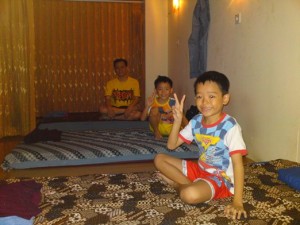 Because my children bodies were so small, the masseuses did the routine twice for them, to last the full hour.
At the end of the session, here's what they have to say:-
Keatkeat: "Mommy, can I have massage for all three days?"
Binbin: "Yes yes yes! I want too! But the next time, I want OIL!"
Keatkeat: "Yes yes! I want OIL too!"
*laugh*
(part 2 of our first day to be continued…)
Leave a Reply