Places Kids Love
May 6th, 2013
The commenter from my previous post made me realised that some of you might be interested to contact my friend, to organise a private Vietnam trip for you and your family/friends. Here is his main sales enquiry email : hellovietnam@pacifictravelworld.com
Ok! Let's begin our post for today. We are still on the second day of our 5 day trip to Vietnam.
After Cu Chi Tunnel and lunch by the river, the boys were VERY excited as they were going for their very first fishing trip. Its our first time fishing as a family too. *Thumbs Up*
Throughout the first day, I noticed that Lan, our tour guide is closer to Kitkit than to Binbin. Probably because their Chinese Zodiac sign is an awesome match. *double wink* But I never expected her to go to great lengths just to please my elder boy. A very rare tour guide.
When we were ready to take the mini-tram to our fishing place, a bad news came.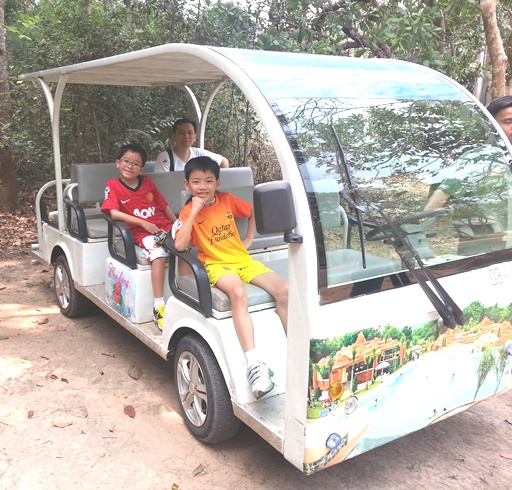 Lan got to know that the pre-arranged fishing activity was cancelled because there were no fishing activity on weekdays, only weekends. 19th March 2013 was a Tuesday. Somehow there was some miscommunication somewhere……..
When she told us, Kitkit went: "Huh?????….." *super pout*
Immediately she picked up her phone again and made a number of calls. Then she came back and told us to wait for a while as she was waiting for a call to confirm that a special arrangement of the fishing activity can be done for us. She said she does not want to disappoint Kitkit. She could tell that Kitkit was REALLY LOOKING FORWARD to this.
Aaawww….isn't she nice or what?!?!
*hugs*
So while we were waiting, the kids got off the above vehicle and went to be 'bulls' pulling a cart. *giggle* Nah…. just a photo-shoot.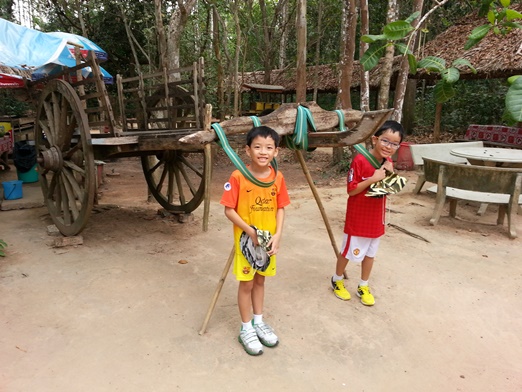 *Phone Rang* And it was GOOD NEWS! YEAH……….! *clap clap clap* Everyone cheered!
In a short few minutes we arrived at a big pond that has a hut equipped with fun items and one of them was the fishing rods.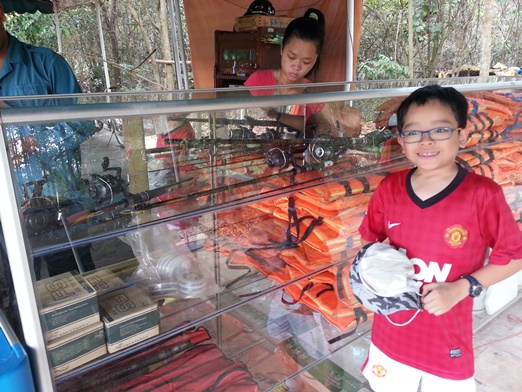 As it was a 'last minute' thing, the staff were still preparing the fishing rods for us. We waited for many minutes and the rods were still not ready.
So my boys walked with the turkeys, which were roaming freely in the vicinity, to pass time; but the rods were still not ready when their birds amusement was over.
Seriously, I have no idea why it needs to take that long to prepare two fishing rods.
The kids were getting impatient and I suggested to take them for an 'elephant-on-water ride'.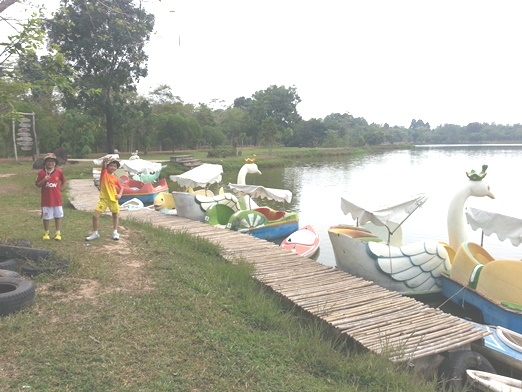 Finally!
After that ride, the fishing rods were ready!
Whoo-hoo!
Errrr… Wait A Minute!
That's not a normal fishing rod!
That's a loooooong wooden stick!
The very 'Ancient' fishing rod!!!
What's going on?
I have no idea!
But Binbin did not mind at all and skipped off with his rod on his shoulders. *Grin*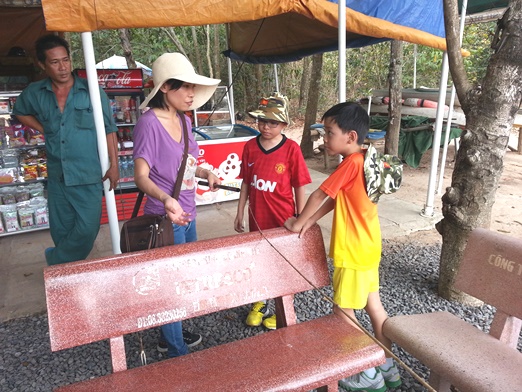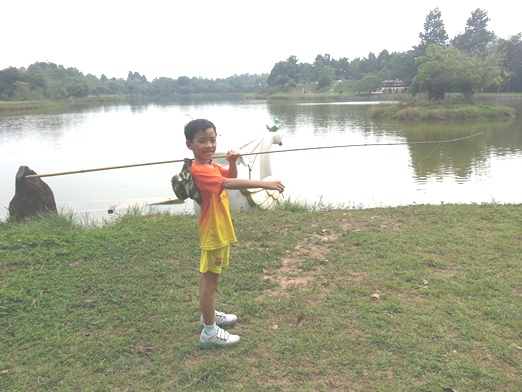 However….I realised that Kitkit were not given the wooden rod, he had the 'professional' fishing rod instead. Hhhhmmmm…..
Anyway, Binbin did not complain about the difference. Their focus was on the chance to be able to fish! Errrr…and HOPEFULLY catch some fish.
Oh well….since its not an issue for my boys, I should not be too particular over it then.
Afterall, it was already a blessing that they were able to fish today.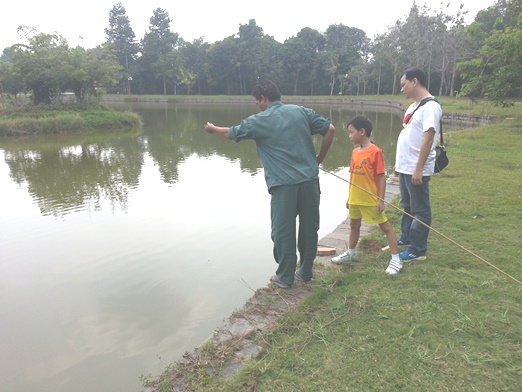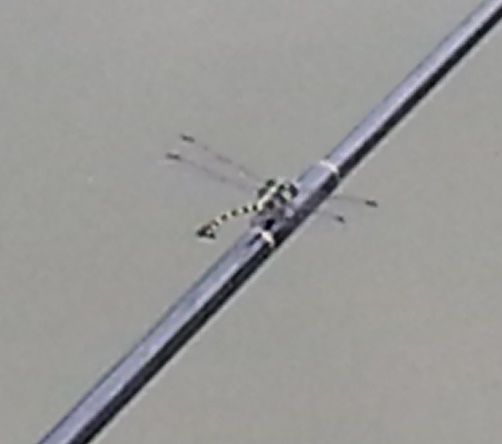 But fishing was definitely a test of one's patience….a game that the kids are not very used to.
Even the dragonfly came to rest on Kitkit's fishing rod and joined the waiting game.
It stood there for a really long time.
So you can tell how MOTIONLESS the rod was!!! *sigh*
 They Waited… standing….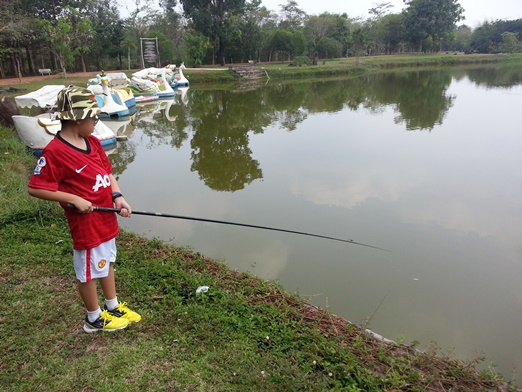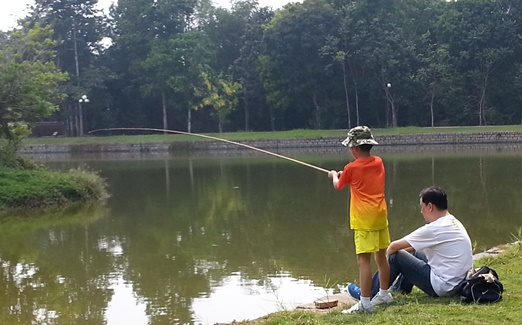 And Waited….. squatting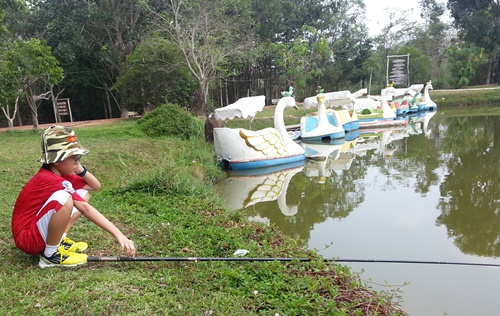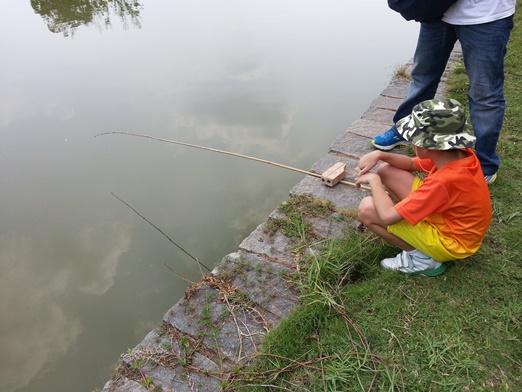 And They Waited….. standing again….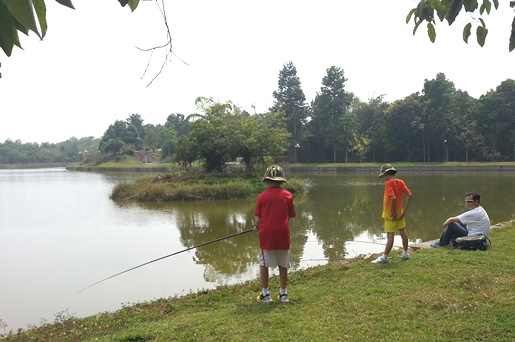 Finally, their legs could not stand it anymore….
They Waited….. with their butts on the ground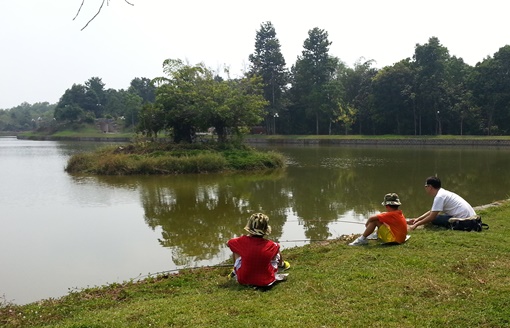 Seeing that we had no returns from our time investment, the fishing staff volunteered to bring another rod. So we ended up having 3 fishing rods.
While the boys were on the grass, Lan and I had a great chat on the rocks. *wink* We were surprised to see each other in purple top and blue jeans on the same day and with the same hat too, so this photo is really special to me.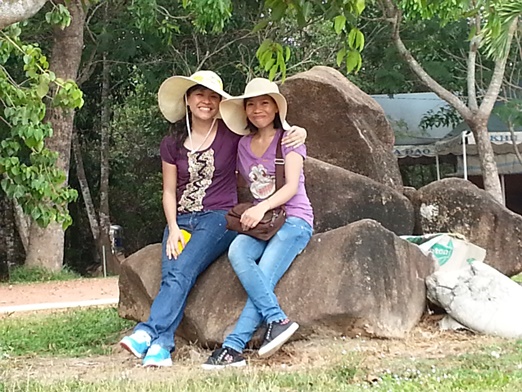 A fish came nibbling on Binbin's bait once but did not bite onto the hook. That was the CLOSEST the boys could get.
After being here for about 2 hours, with an hour or so spent on waiting, the total time allocated for the fishing activity had come to an end.
Just before we hopped back onto the mini-tram to find Mr W.'s car, Kitkit needed to go to the loo. On the way to the secluded toilet, Kitkit and I were so excited to see 5-6 horses strapped onto different trees, chewing away!
I thought it would be fun to play with the 'camera angle' and asked Kitkit to doing a cute shot with the horse :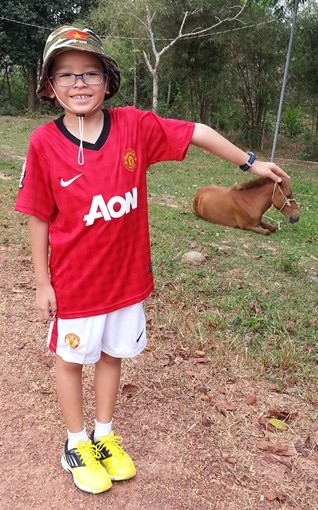 Though empty-handed they came and empty-handed they left, their hearts were filled with contentment.
With hearts so full, they slept for another hour plus in Mr. W.'s 7-seater car back to Ho Chi Minh city.
We were caught in the peak hour jam and the kids were lucky to have a much needed longer rest. They were hungry when we finally got back to the city and alighted from the car. Lan pointed at a street hawker immediately.
She said that there are too many delicious street food in Vietnam and this is definitely one that tourist MUST try when they are here!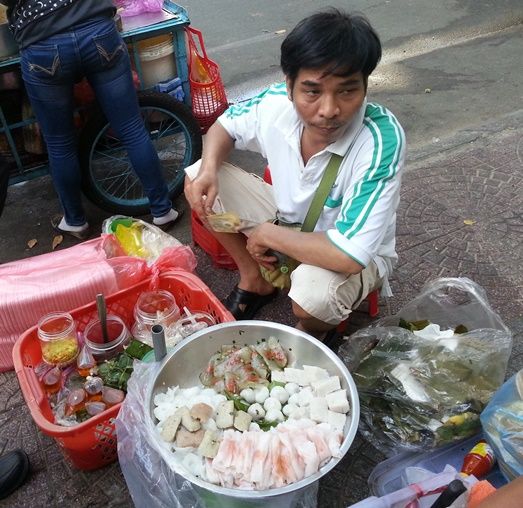 So the kids took a stool each, sat and watched how the street hawker prepared the food.
As parents, kids always get to eat first. They kept eating and eating. I was afraid that they may finish the whole packet and not have any space left in their tummy for dinner.
"Mm! Very nice!" they said.
Finally they stopped and it was our turn to try.
My oh My!
It was Yummy!!!
Lan loves to take motion-photos. She kept clicking and clicking on my camera phone, capturing our different expressions. *laugh*
We did tell our friend that we would love to get some children clothing, so Lan brought us to this place to meet our shopping requirement.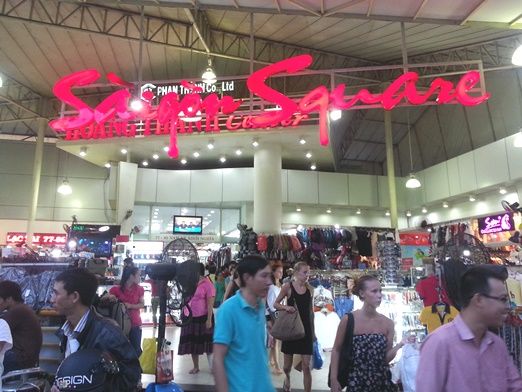 Actually, there are a lot more things inside here beside clothings. I came out with another new pair of wedges (2nd pair from this trip), which the girl skillfully altered for me on the spot. Amazing! The kids managed to get new jeans, polo-Ts and Fluffy Angry Birds T-shirts. Binbin finally gets a new school bag to replace his torn bag and the kids also added a thumb-sucking ape keychain to our shopping loot.
I did not take any photographs of the interior of the 2-leveled mall as Lan kept reminding me to be careful with my phone and not to flash it openly. Therefore, I stayed obedient throughout.
Oh my!
There I go again!
Another post that exceeds the 1000 words mark!
Really not good at summarising. *laugh*
Shall stop here for today.
Tomorrow's post will be a short one (I hope *bleh*).
Its about our unusual seafood dinner and our FIRST experience on a Sleeping Bus for 8 hours.
Till then, stay cool!
*wink*
One Response to "First Vietnam Trip ~ Day 2/5 : Part 2/3"
karmeleon Says:
June 10th, 2013 at 10:13 pm

just reminds me, we have a relative in marriage in Vietnam . Her name is Lan too, but she's very very fair.
karmeleon´s last blog post ..Preliminaries
Leave a Reply