Places Kids Love
November 17th, 2012
It started off as a surprise.
Neither Kitkit nor Binbin was aware of where we were going.
Did they like their surprise when the suspense was finally over?
You bet!
They loved it BIG TIME!
We joined the flock of Angry Birds Space in a space adventure and had an out of this world early Christmas celebration at Changi Airport.
Angry Birds Space decorations, indoor activity lounge for children, workshops, FREE plush toys, music performances, surprising treats and more. You can even have some Angry Birds flying around your head or get one to jump on your shoulders! *laugh* Am I saying that they came to life? Almost! So stay tune as I tell you more.
So much FUN to share and I decided NOT to squeeze them into a single post or it might be too much for you to digest. *giggle*
Three posts to talk about how YOU and your family, especially the kids, can enjoy an out-of-this world Christmas with the Angry Birds Space team at Changi Airport this year.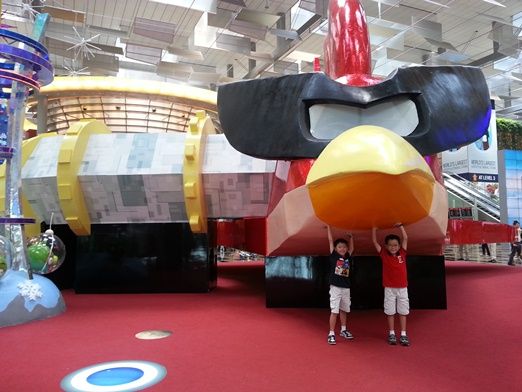 Changi Airport launches inaugural flight to space this Christmas!
The kids saw how the gigantic 13 metres wide and three storeys high spacecraft "took off" with sound and visual effects.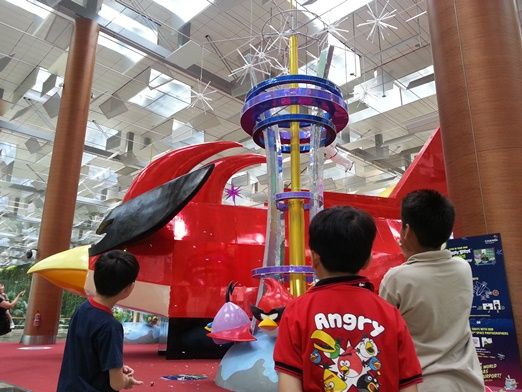 Can you spot the astronaut flying out from the spacecraft?
You and your children can catch this hourly performance at Terminal 3, Level 2 (6am to 11pm daily) as the Space Shuttle takes off with interactive lights and sound effects too.
When the spacecraft 'landed', the boys went in and was welcomed with captivating lightings.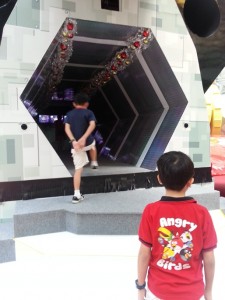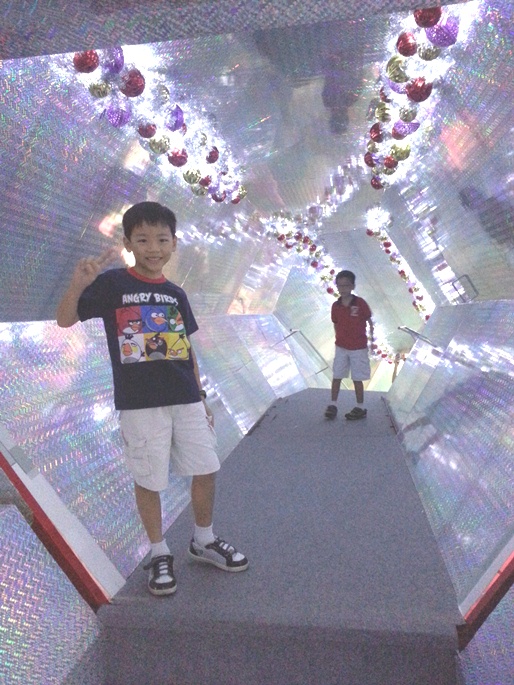 Binbin was having fun on the stairs. Every step he made on the staircase would make the floor light up. Reminded me of the Michael Jackson's Billie Jean MV. *giggle*
Then they took a short rest right in the middle of the aircraft, sitting on the stairs and watched Angry Birds and the Pigs in action on the two monitors.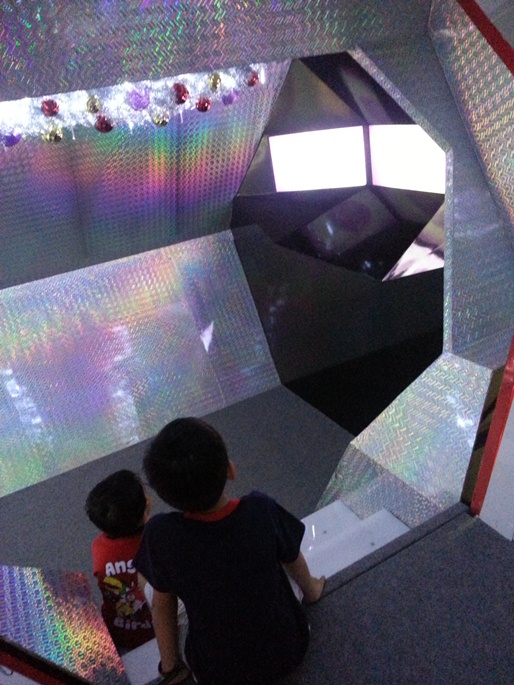 Check in to Terminal 3 and blast off for some intergalactic fun for your whole family too!
Located at this same place : Terminal 3's Departure Immigration (near Check-in Row 6), you and your family can pose for photos with special Angry Birds Space augmented reality markers and get your photos snapped by the professional event photographers free of charge!
Markers like such :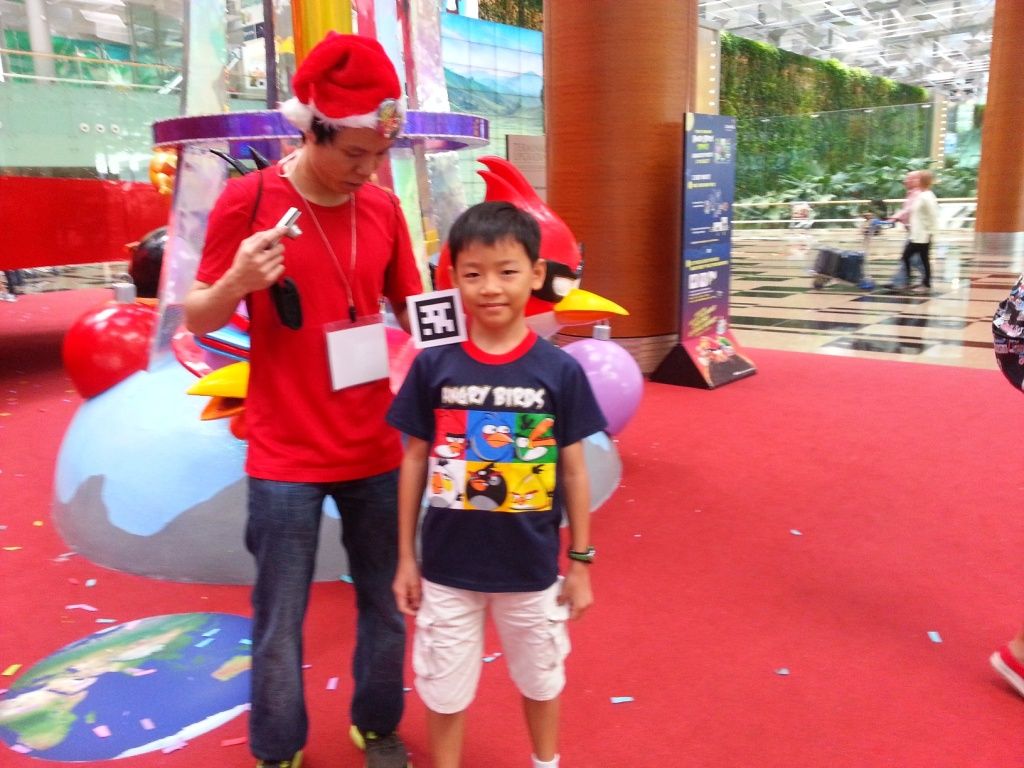 After the live performance, photographers came forward to take photos of us with these special markers to create animated photos.
After they had uploaded our photos to http://changiairport.com/christmas, the Angry Birds came to life on our heads, shoulders and palm!
Go SEE the feathery cartoons flying around Allan's head, one jumping out from my palm and another hopping on the shoulders of the kids by going through these simple steps:~
Once you are at

http://changiairport.com/christmas

Select on 'Animated Photo'
Click on 'View Gallery'
Select 17-11-2012 from the 'Date'
Select 10am to 1pm from the 'Time'
Click the right Green arrow until the last page and you will see the 3 photos.
Click on the photos individually to watch the Angry Birds spring into ACTION!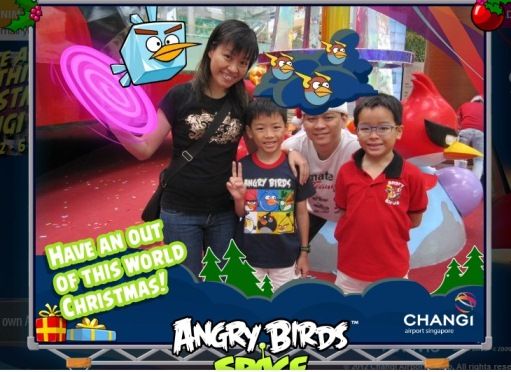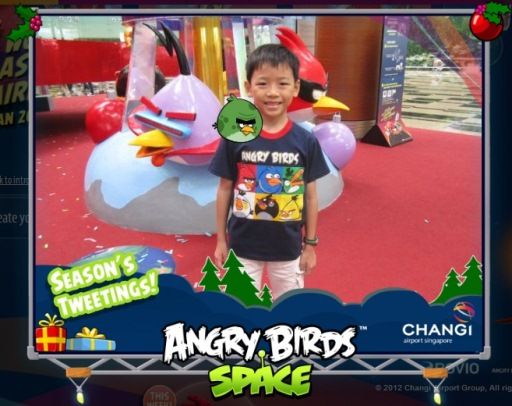 You can also snap your own photos with the special markers and upload your own photos to http://changiairport.com/christmas too for the creation of your own animated Angry Birds e-greeting Christmas card.
While the photographers moved on to help others take photos, Allan was snapping away with his camera phone and we uploaded our own photos to the website too.
Below are the direct links to those photos which we uploaded on our own:
I love the one above (the most) whereby the Angry Bird was EXPLODING above Kitkit's head!
http://christmas.changiairport.com/gallery/view/869
http://christmas.changiairport.com/gallery/view/870
http://christmas.changiairport.com/gallery/view/871
http://christmas.changiairport.com/gallery/view/872
So come on down and have an out of this world Christmas with the Angry Birds at Changi Airport from 16 November 2012 to 6 January 2013!
Next Posts : Angry Bird indoor activity lounge for Children, Free Plush Toys, Angry Bird Games, Workshops and more….
Out of This World Christmas at Changi Airport
One Response to "Out of This World Christmas at Changi Airport"
prince n princess mum Says:
November 20th, 2012 at 4:24 pm

Nicely decorated!~
prince n princess mum´s last blog post ..Money Making…
Leave a Reply