Places Kids Love
October 2nd, 2013
It has been a very long time since my boys went crazy running around in an indoor playground. Though at the age of 8 and 9, they remained totally amused and excited, when I told them about the sponsored visit to Playful Elves. Their enthusiasm was not any lesser than how they felt when they were in their preschool years.
I guessed such indoor playgrounds do have a very special place in kid's heart even when they could no longer stand and walk through the passage ways like how they use to do in their younger days. That being said, even though they had to move through some areas, in the indoor playground, on bended backs, they will ALWAYS come out smiling or giggling!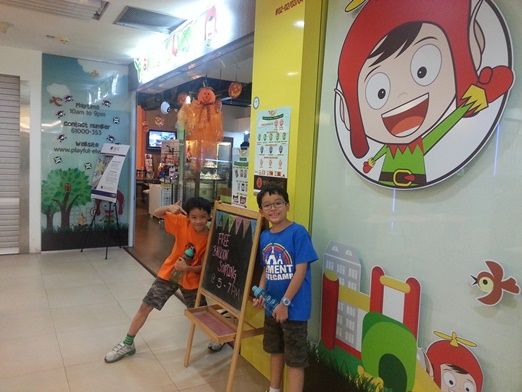 When I saw my boys laughing and having fun, I just could not help but kept capturing every moment on my phone-camera. There are too many photos to show, and to prevent the loading time of this page to take ages, I have decided to put most of them in a slideshow at the end of this post.
We had been to several different indoor playgrounds and Playful Elves reminds me of a Chinese saying "Though the body of the sparrow is small, but its fully equipped."
Playful Elves consists of different sections, which includes one for Birthday Party or Special Activities, the main play area, the bouncy castle corner, the carpeted 'road' for 'ride-ons' and the cafe area for parents to relax while their children play to their heart's content in Playful Elves.
Instead of introducing the play area first, I would like to focus on the cafe or the rest and relax area for parents or guardians. I was VERY happy to see this screen hanging on the wall, which captures different parts of the place. So parents can SERIOUSLY sip their coffee, chat with friends while occasionally taking a peek at the monitor screen to check on their kids without the need to physically get out of the chair and go hunt for them.
*Super Thumbs Up*
Though this was truly good, but I did not get to use it because, as most of you (my loyal readers) know, I am a BIG KID! So long as I am allowed to go inside the play area with my children, I would be picking up balls and crawling up and down with them. Oh yes! Sweating it out while trying to capture every precious smile or laughter my boys make.
I apologise for many blur shots because the kids were so hyper active in the play area!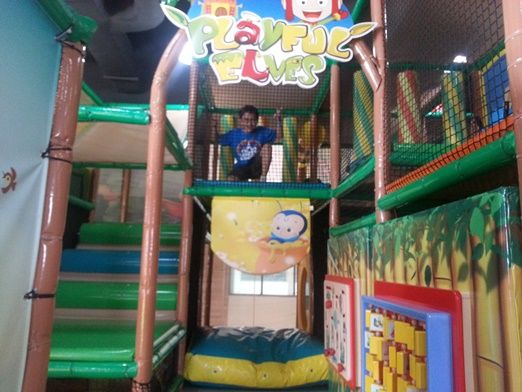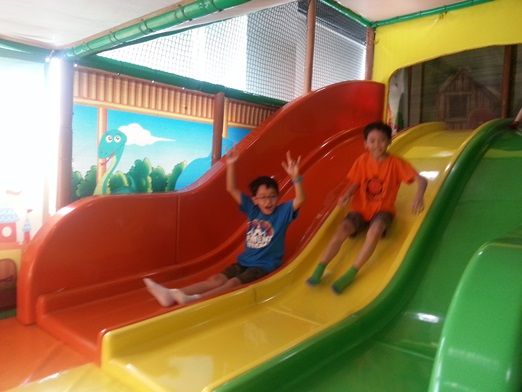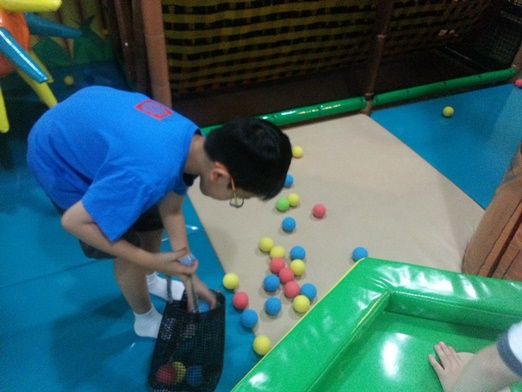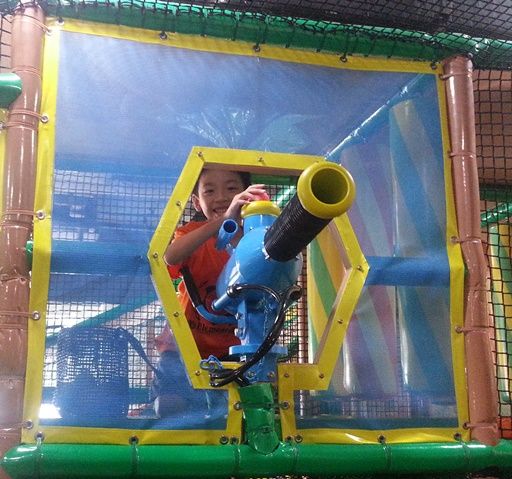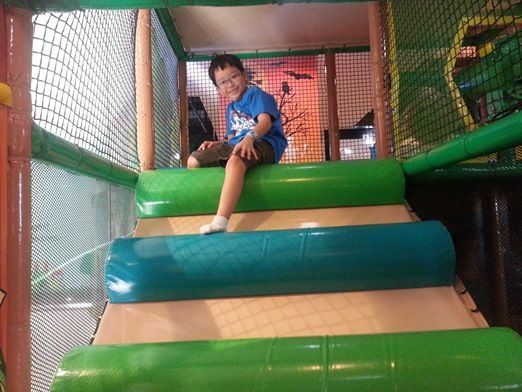 [More photos in the slideshow at the end of this post.]
We went on 1st October 2013, Tuesday and my boys were the tallest among the kids there on that day. Yet, they were having the most fun, in my point of view, because their happy vibes were so strong, every other kid started to follow them around. It was so difficult to take a shot of them without other kids near them, as I kept hearing now and then "Auntie, can see me?! (in the camera)" *laugh* It brought back great memories of my days as a child care centre teacher….. *grin*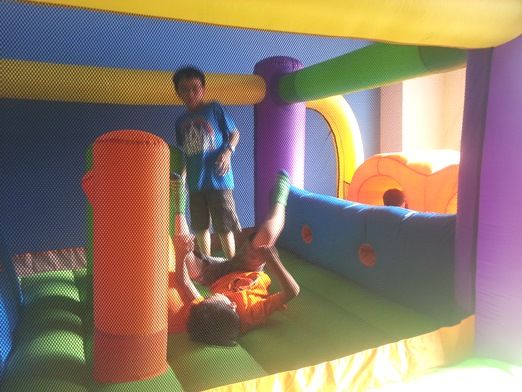 It was a great thing that the end of the bouncy castle slide lands on the carpet. The cushion absorbed some impact from the great 'landing' Kitkit had! The heavier you are the harder you land! *laugh* He was still laughing away when the loud thud was heard.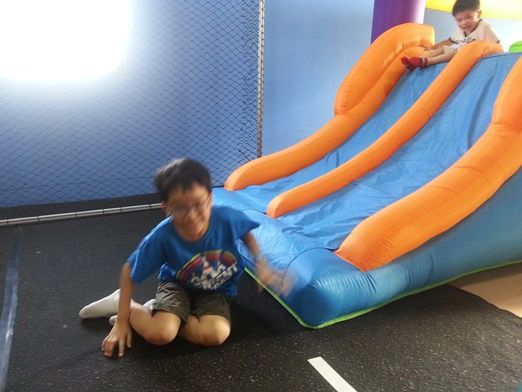 Its amazing how this place truly turned kids into playful elves! Kitkit missed those days of scuffling his (then) tiny feet inside one of these ride-ons. Now that he is so much bigger, he still find ways and means to squeeze himself in! "Mummy! Take Photo of Me!" he yelled. *huge laugh*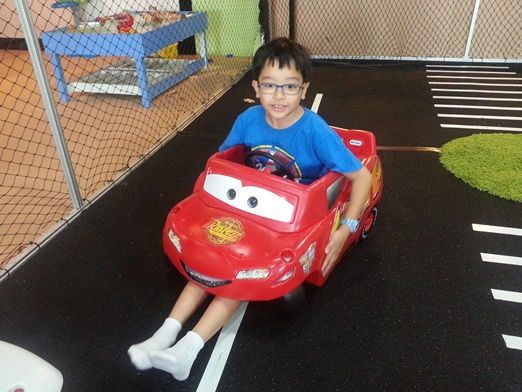 Binbin had a pleasant surprise when he found a mini-soccer ball and the soccer-crazy boy started a game of 'penalty-kick' with his brother. I guessed the weekly Saturday soccer training for him just ain't enough to satisfy his love for soccer.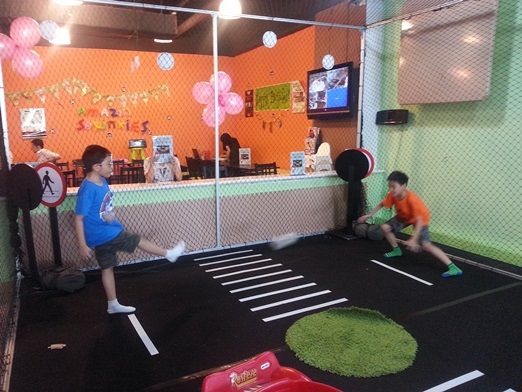 Just then, 'he' appeared!!!
Its HALLOWEEN MONTH!
Instead of screaming, my boys started laughing!
*faint*
Playful Elves made Kitkit and Binbin so happy that even a 'scary face' doesn't stop them from grinning.
*thumbs up*
Totally in the mood for Halloween, Playful Elves has lots of fun activities up in their vampire sleeves and ready to show every kid who comes for the Halloween Party on 25th October!
Early Birds get 20% off!!!
Meaning with just $40, your kids get to enjoy all the stuff listed below and more…..
The last day to enjoy this special offer is 4th October 2013.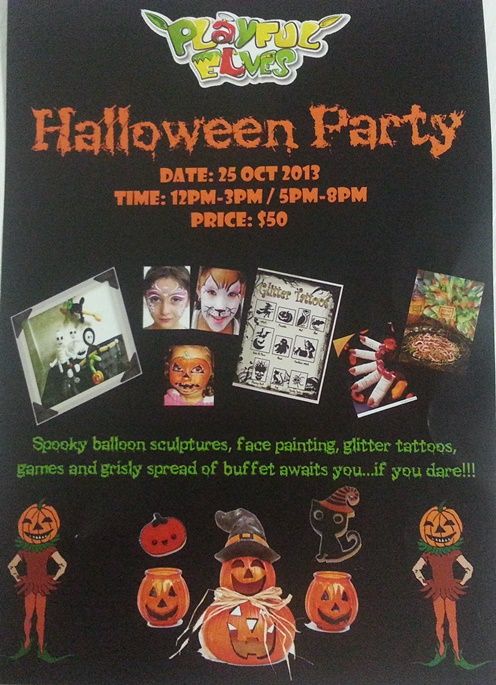 As I was playing with my boys the whole time, I felt really comfortable as there were no foul smell, unlike in some indoor playgrounds we had visited in the past. It is normal for kids to perspire like a faulty-tap during play, so the smell of sweat are usually trapped in such indoor playgrounds, unless the ventilation is really good and I can say so for Playful Elves. No foul smell, just pure fun in a clean environment.
*thumbs up*
Playful Elves mission : "Reimagining Play, The Playful Elves Way".
As such, on every weekday, from 5pm-7pm kids get to enjoy the following activities for FREE with every paid entry:~
Monday- Arts & Crafts
Tuesday- Balloon Sculpting
Wednesday- Face Painting
Thursday- Science Day
Friday- Carnival Friday
Among all the choices, Balloon Sculpting was the one which stood out for us. My boys had always been fascinated with the speed, precision and agility of balloon sculptors' fingers. Kitkit and Binbin were so eager to learn, especially my elder one, it was one of those rare moments when I could see the 'serious look' on their faces; when the skillful Indoor Play Manager, Shingo, taught them the basics of balloon sculpting.
Seriously! Speaking from experience, not everyone can be a teacher to more than one kid at one time, because every child learns at different speed. One needs lots of patience and skill to make sure that the children had fun while imparting knowledge to them and Shingo has it.
Kitkit was better at balloon sculpting than Binbin. Maybe its because of the 18 months difference or maybe, simply, because Kitkit is more interested in sculpting his OWN balloons than receiving one that has already been sculptured. Kitkit listened and watched attentively to whatever Shingo said. When the balloon sculptor advised my 9 year old to use other parts of his body to hold the balloon while twisting, he put it into action straight away.
His armpit, his knees, the table in front of him and even his chin!!!
He did not care if he had to put his face down….so long as he could get his balloon into the right shape!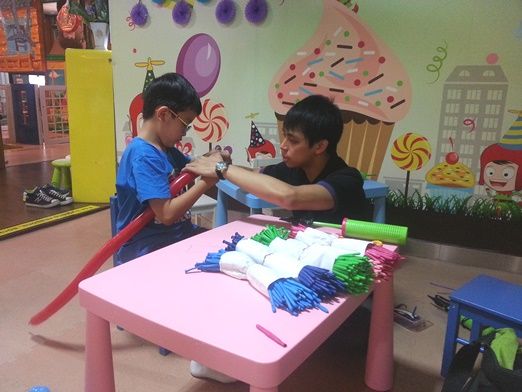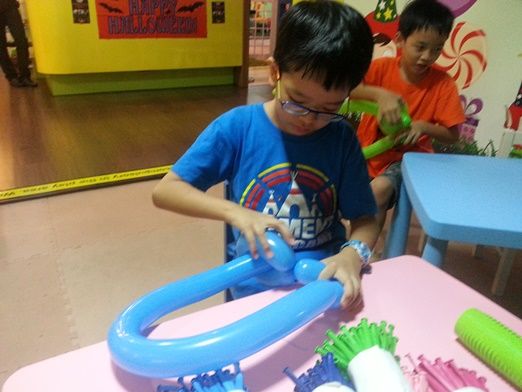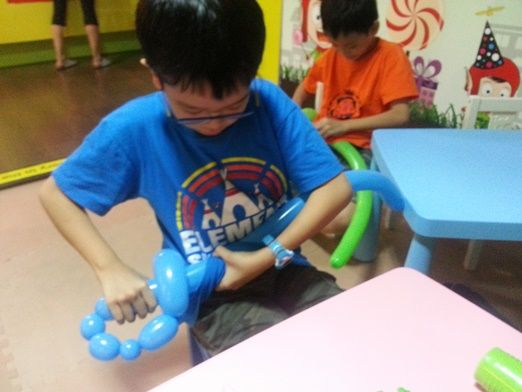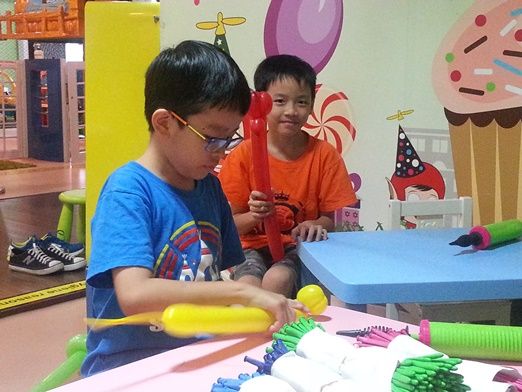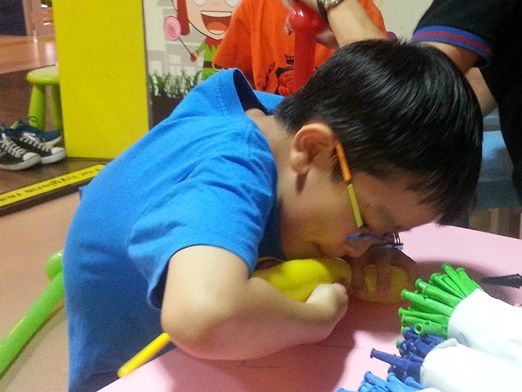 They started with a sword, a puppy and followed by a laser gun.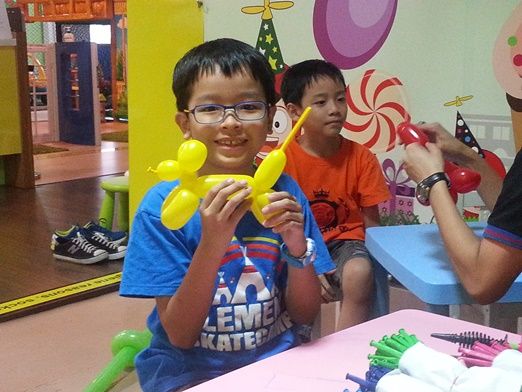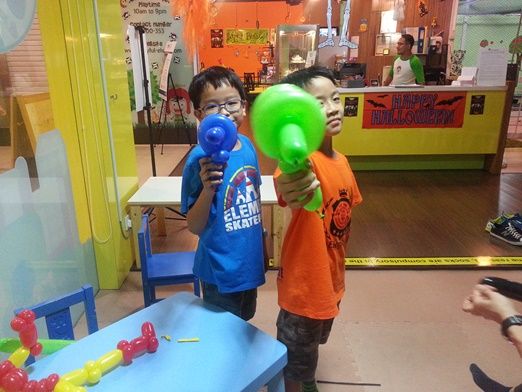 At the end of the learning session, the kids ran back to the play area and sweat it out again. Suddenly, Shingo asked what characters do Allan and I! He was prepared to sculpt one for us. I was pleasantly surprised! Errr…I thought it was just for kids. So we get to have a souvenir too! Yeah! After some thought, Allan chose IRON MAN! *faint*
I was thinking: "Isn't that too difficult to be completed in such a short time??!!!"
Wow! I was greatly impressed by how at ease Shingo was when he started twisting, turning, breaking and tying different parts of the balloon to create the IRON MAN in just a few minutes:-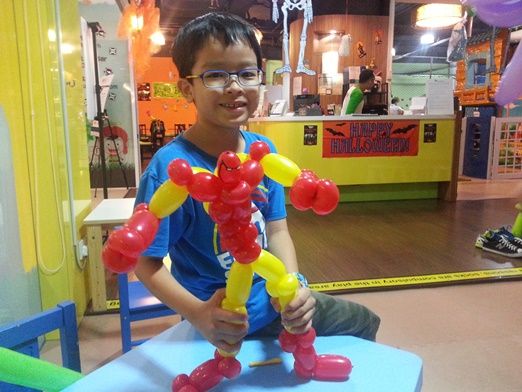 *Super Thumbs Up*
Most kids love balloons and Shingo would probably be the star in every birthday party.
Oh yes!
Playful Elves have party packages too if you are thinking of having a birthday party for your child.
Intimate Party Package is catered for a group of 10 to 16 kids (Though the website said "10", I had confirmed with the staff that this package is for 10 to 16 kids).
Special invitation cards (picture above) will be provided for you to give to your guests.
During the 2 hours party time, there will be professional party hosts attached to the party to oversee the event that comprises of exciting games with prizes to be won.
Colourful Balloons will also be given to each child.
Not forgetting having access to the play area mentioned in the beginning of this post.
Special party food will also be provided for all children. Parents get to decide on the menu when they go down to Playful Elves to make a 30% deposit payment.
If you have a birthday theme in mind, eg. a Princess theme or Soccer theme, just bring down your own decorations an hour before the party and the staff can decorate the party room for your child's birthday party.
The Birthday Child will also get special souvenir pack from Playful Elves, as well as a family photo as souvenir.
On top of that, your child becomes a 1 year friend of Elves membership! Whoo-hoo!
The Intimate Party Package is priced at $426.95, inclusive of GST.
Do note that if your group exceeds 16 kids, the 17th kid to 19th kid will have to pay an additional $30 each.
However, if you have a group of 20 kids, then go for the Amazing Elves Party Package, whereby its very similar to the Intimate Party Package mentioned above. The only difference is EVERY kid who came for the party will leave with souvenir pack, instead of just the Birthday child alone.
The Amazing Elves Party Package is priced at $640.95, inclusive of GST.
For the two packages above, your child and his/her little guests will be using the indoor playground with other Playful Elves' young customers.
If you choose to have a 'close-door' PRIVATE birthday party for your child, whereby there will be no other kids inside Playful Elves except your child and your invited guests, then opt for the Ultimate Elves Party Package, priced at $1603.95, inclusive of GST.
For the Ultimate Elves Party, it is advised to be held on Weekends or School Holidays between 11am-1pm OR 6pm-8pm.
For the Intimate Party Package and the Amazing Elves Party Package, you can choose any 2-hour time slot within the operating hours on Weekends or School Holidays, that is IF it has not been reserved by an 'earlier bird'.
When I checked out the date for Kitkit's birthday, I was pleasantly surprised to see that for the month of November, Playful Elves has several bookings for their weekend parties already!
Nonetheless, if you intend to hold a party in other venues and want to make sure that every young guest, whom you invited, had a great time, Playful Elves also provide the following Party Services:-
Rental of inflatables
Rental of cool electric vehicles
Rental of Little Tikes ride-ons
Balloon sculpting
Onsite magician
Play crew assistants
Party favours (value for money gifts to stuff into goody bags)
For more information, you can always contact them at administrator@playful-elves.com or check them out on their website www.playful-elves.com.sg or visit them personally at their fun-filled place catered for kids from 18 months old to 12 years old  :-
Playful Elves Pte Ltd
154 West Coast Road
West Coast Plaza
#02-02/03/04
Singapore 127371
IMPORTANT: REMEMBER to bring SOCKS if you want to enter the play area!!! Its a great hygiene-practice!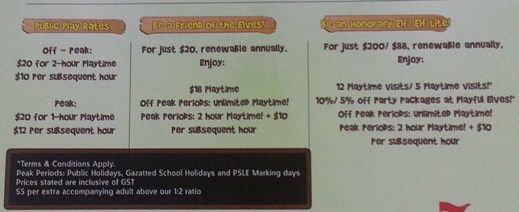 Before we left, Kitkit and Binbin each received a goody bag as a Children's Day present!
Thank you!
Among all things inside, the one which EXCITEs them was the 'Dinosaur Eggs'!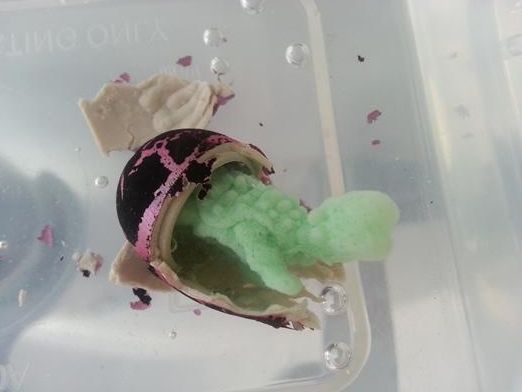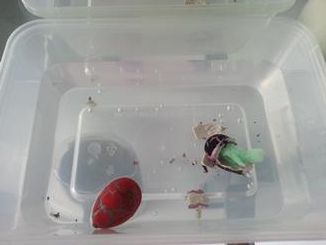 We felt very honoured to be invited for this sponsored visit to Playful Elves. Thank you very much for making my boys so happy for those 2 hours!
View more photos in the slideshow below:
***If your mobile device does not support slideshow, I'm afraid you will have to view it on your PC or laptop.***
***Details given in this post are correct as of this date.
Playful Elves at West Coast Plaza
Leave a Reply