Preschool, School-study
April 3rd, 2009
Something is definitely wrong with my boys' school but I have no clue and errrmmmm….so long as my boys are happy, I don't intend to make a big hoo-haa like the other parents.
Since the beginning of this year, Keatkeat's English teacher was replaced 3 times and Mandarin teacher twice!
So for the 3rd time this year, I had to write this message in their teacher-parent-communication-booklet:-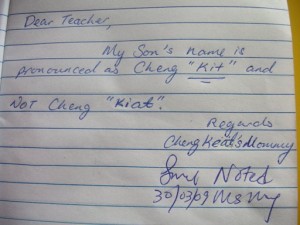 *Sigh* When you stay in a multi-lingual country, you've got to face such teeny weeny problems too….
Updated on 8 April 4.48pm: Oh Dear! Majority of you think that I'm complaining about the wrong pronunciation. But the real message I wanted to put across in this post was THE SCHOOL HAS BEEN CHANGING TEACHERS as if they were changing their clothes!!!
15 Responses to "For the 3rd time"
Leave a Reply