Games
Ever since Keatkeat learned about Gogo's Crazy Bones from his classmates, he has been going really crazy over them; which also explains why he chose to have Gogo's Crazy Bones as his main present on his birthday this year, see "Happy 8th Birthday Keatkeat!"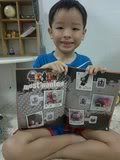 This Album introduces the family of 60 different Gogo's Crazy Bones.
It gives detailed explanation of each Gogo's strength and weaknesses, provides several suggestions on how to play with the Gogos, a sticker album and much more.
My boy's favourite page has to be the Checklist, where he would keep track of the Gogos which he already have and yet to have.
Every pack consists of 3 Gogos and 3 stickers. You never know what you are going to get.
This was Keatkeat's first batch of Gogos Crazy Bones:

But this first batch is no longer the same.
Why?
Well, examination period is over, hence Keatkeat, like his other classmates, brought their Gogos to school to play the different games suggested by the Gogo's Crazy Bones Album.
Knock Out
Bowling
Battle
Scoring
On Line
In Flight
Basket
One of his classmates does not have "Pako" (Black Coloured Gogo, fourth from the left) and wanted to trade with Keatkeat using another Gogo. Pako has a perfect score for bounce, so Keatkeat refused.
The day before this… Keatkeat asked, "Mummy, teacher said we can bring toys to school, can I bring my Gogos?"
Me: "Yes, just 3. Not all 9 Gogos."
He tried to convince me to allow him to bring 9 and I asked, "Do you know why I said bring 3 only?"
Keatkeat: "Because it is easier to take care."
Me: "Yes."
Keatkeat: "But I promise you that I will make sure that I will bring back all 9 Gogos. I Promise! I Promise! Trust me!"
Me: "Fine. Its your Gogos. You decide."
So when he came back from school, Pako was gone.
Though Keatkeat felt that his friend would not steal his Gogo, he went ahead and asked his friend the next day, "Did you take my Pako yesterday?" His friend shook his head.
Another friend knew about this and told the teacher, but his friend shouted "NO!" when the teacher asked him.
On the other hand, Keatkeat insisted that he has kept all 9 Gogos in his special Gogo's Crazy Bones pouch before he put the pouch into his pocket.
So till now, its still a mystery. Who knows? Maybe like the movie Toy Story, Pako really came to life and bounced off! *eyes rolled*
Me: "Keatkeat, what happened to your promise?"
Silence.
Allan was furious! "As a punishment, Binbin will take one Gogo from you. He will choose which Gogo he wants." Allan snapped.
Keatkeat screamed: "WHY???!!!"
Allan: "Its a punishment for disobeying Mummy when she told you to bring 3 only, as well as for not taking good care of your own things."
Though fuming hot, Keatkeat could not do anything but let Binbin take one of his Gogos.
Binbin: "Yeah! I have my first Gogo! Don't need to wait till Christmas!"
========
So now we have spare packets at home and Gogo's Crazy Bones has become the 'Reward' as well as 'Penalty' from their Father. I am NOT a Toy-Mummy, so toys are not my style of rewarding the kids.
Up to date, Keatkeat has 8 and Binbin has 3.
The 3 below are the new additions to the batch above, excluding the Black Mysterious Pako.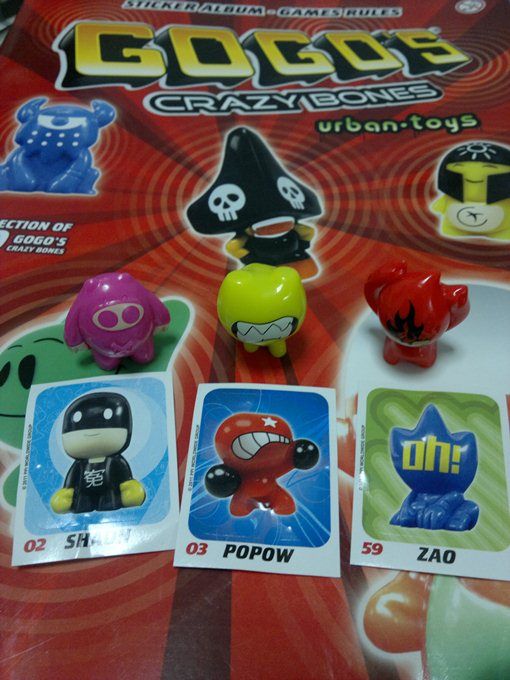 Though 7 different games were suggested, my boys' Papa invented a new game  and ever since then, they have been….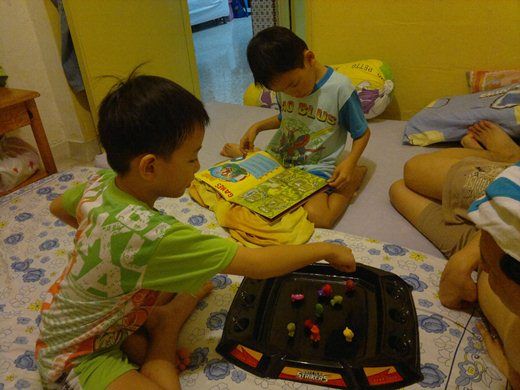 playing….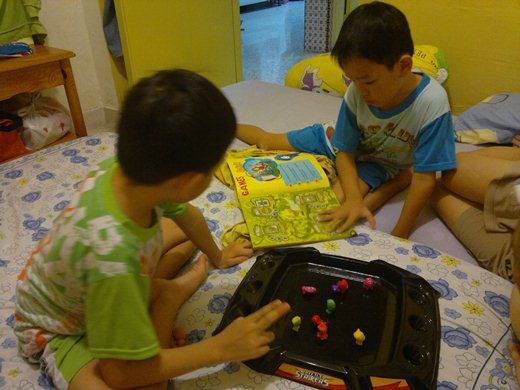 and playing…..
and playing….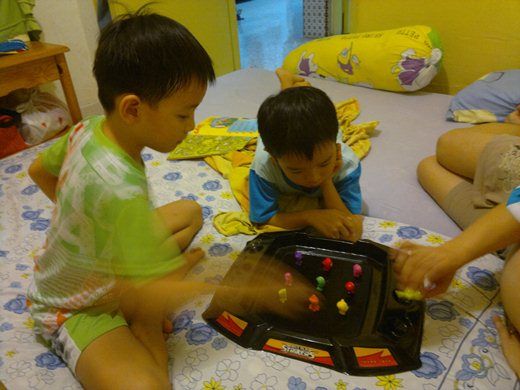 They have also informed their cousins, uncles and aunties to buy the S$3.90 packet of  Gogo's Crazy Bones for them this Christmas. Hhhmmm.. if each of them buy one packet for each of my boys, they would have a total of 16 packets this Christmas!!! *faint*
Is your child going crazy over Gogo's Crazy Bones too?
Gogo's Crazy Bones
Copyright © 2007-2016 All About Your Child. The contents on this blog are the sole property of the author, Angeline Foong, and may not be used or reproduced in any manner without consent. All Rights Reserved.
No Comments »