Child, Handicraft for kids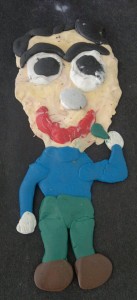 Keatkeat: "This is my portrait. It is made from plasticine. I did it in school during Art lesson. My shoes are brown because I like brown shoes, but my real shoes are not brown. Handicraft for kids
I am eating a lollipop not a leaf! My whole class said I was eating a leaf and I was unhappy. In the beginning I did not have the lollipop, but one of my leg was too fat, so I took some green plasticine from the fat leg and use it as a lollipop. So it became my green apple lollipop.
My nose is big. I think I have a big nose because I sneeze too much."
*laugh*
Copyright © 2007-2016 All About Your Child. The contents on this blog are the sole property of the author, Angeline Foong, and may not be used or reproduced in any manner without consent. All Rights Reserved.
2 Comments »