Handicraft for kids, Special Moments
July 8th, 2011
Yup! That is what my boys called my sis, "Ah Yee."
I am afraid that this would be the last time they would be celebrating her birthday at midnight. Their Ah Yee will be tying the knot with her beau in December this year. It is my family tradition to celebrate when the clock strikes 12. But after this year, I doubt she would be coming back to this house at 12 midnight just to cut the cake. *shrugged*
Ah Yee: "I am not so much of a 'cake person' and after eating so many different types of cakes over the years, I have no idea what to choose for this year." After much thoughts, she continued: "Ah! I want cupcakes!"
So we set off to search for her cupcakes with her, but the bakery failed to get her order out in time for the celebration and so she changed to muffins! Not any muffins, but the famous Delicious Muffins from Oven Marvel. How Special! *Grin*
*Check out the review of the muffins in my personal blog.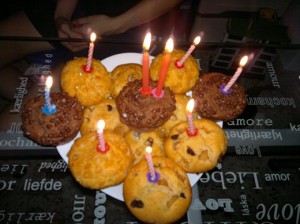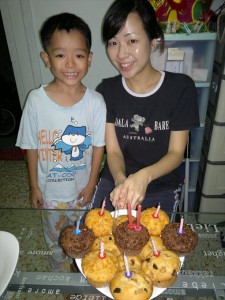 After a night sleep with a tummy full of muffins, we headed to Jumbo Seafood Restaurant, Singapore Indoor Stadium branch, which gave another round of commendable service, comparable to that of the Jumbo Seafood Restaurant branch at Demsey Hill.
The kids did something special for Ah Yee this year, with lots of help from their Mummy, to avoid getting pricked at the ends.
 Happy Birthday Ah Yee!
Leave a Reply