Health
It was time again for the half-yearly review of my child's flat foot and pronation. For those who have no idea what am I talking about, may refer to the related posts below:
Remedy for my Child's Flat Foot and Pronation
and
Remedy for my Child's Flat Foot and Pronation ~ Part 2
With the new pair of insoles, slightly longer than the first pair, Kitkit's flat foot, or should I say flat feet are totally rectified!
Whoo-hoo!
*clap clap clap*
Let's look at the progression……….
Scan taken on 27th February 2014: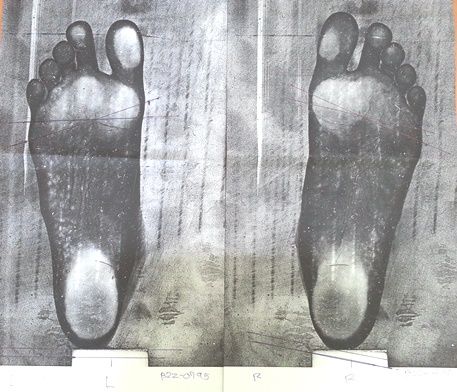 As seen in the last picture above, the CENTER part of Kitkit's feet were totally lifted OFF the scanning box when he was doing the scan. When you compare the very first photo taken on September last year, whereby almost 95% of his feet were flat on the scanning box, the result is really pleasing as it was right on track!
I am EXTREMELY HAPPY because Kitkit did NOT follow the rule of wearing the insoles for 6 hours EVERY DAY.
He wears it whenever he is in his school shoes or sports shoes.
But there were days, especially during weekends and school holidays, when he wore slippers most of the time, thus his feet were not guided by the insoles during those days.
We were told that if we do not adhere to this rule of wearing the insoles 6 hours daily, the time needed to improve Kitkit's flat feet and pronation will be prolonged.
18th months to rectify Kitkit's flat feet (by applying that golden rule) was what we were told during our first visit to the counter. Yet, without following it, Kitkit's flat feet were still able to be corrected as scheduled! I am SOOOOOOOOOO HAPPY!!!
As his flat feet's condition improved over the past 1 and a half year, I also noticed that Kitkit does not lose his balance as often as last time, thus reducing the chances of injuries. *Super Grin*
Just in case you are wondering how were Kitkit's feet being scanned, well, I took a photo.
There is a handle bar infront of him and he is supposed to hold it to help himself to balance, while his knees were bent.
With knees bent and body straight up, the scan will begin.
One foot at a time.
The photo below shows Kitkit's right foot being scanned.
Now that Kitkit's flat feet had been corrected, the focus will be shifted towards fixing his pronation.
From the photo taken last month, the INNER PARTS, near the ankle area is still very black/dark.
That is the sign of pronation.
Once again, his insoles were left behind for the staff to do amendments, to target the right area.
Each time, after the cost-free amendments were done, I would ask Kitkit if he feels uncomfortable or differently.
The answer is always "No. Feels the same."
The changes made to the insoles were so subtle, yet, each review scan proves that something major was done to the feet. AMAZING!
*Thumbs Up*
The staff did prepare us mentally that pronation will take a longer time to rectify compared to flat foot.
*Deep Breath*
Let's see how it goes from here…..
Remedy for my Child's Flat Foot and Pronation ~ Part 3
Copyright © 2007-2016 All About Your Child. The contents on this blog are the sole property of the author, Angeline Foong, and may not be used or reproduced in any manner without consent. All Rights Reserved.
No Comments »