Handling Misbehaviour, kids talk, MoneyTalk for Kids, Parenting
AGAIN!
Yes!
He sat on his glasses again!
So this is his third pair of glasses.
*Aaarrggghhhh*

There are certain (few, I would say) things I am extremely particular about, one of them is myopia. I had written TOO MANY posts on this topic and mentioned in the past about how heartbroken I would be if my children have myopia. Some of my blog posts on myopia includes: ~
"Eye Sight"
"My Greatest Fear…"
"Numbers Which Broke My Heart"
And my always-keep-me-on-my-toes elder son had it when he was in Primary 1.     *Heart Sunk Deep Down*
When we were in the mist of moving to our current temporary home during April 2012, the kids slept without a bed frame. It was just a mattress separating them from the floor.
He took out his glasses, placed it on the floor, played on his mattress. While playing, he shifted the mattress in a way that it laid ONTO the glasses and he slept on it over night; only to be discovered the next day when he realised it was not in his school bag. Yes, he could 'not see' that day in school.
Scratches on the lens could easily be seen and it affected his vision.
I am a Mummy who makes my child 'pay' for their own mistakes. That is how they will remember and hopefully *fingers crossed* will NOT make the same mistake again.
So he paid $90 for his second pair of spectacles with his own money. Did paying for his own glasses helped him to remember his mistake? Oh yes! It sure did! He no longer puts it down beside his bed, he puts it beside his butt when he was in the car! *faint*
Yes, he sat on it and it CRACKED! So much so that the frame tilted in a way it affected his vision and gave him headaches. *shake head*
Once again, I brought him to the SAME optician, even he remembered us! "This was bought less than 3 months ago." He continued to say, "Kids are just so careless."
However, this time it hits Keatkeat harder, losing $50 and the colour frame that he loved.
The optician could not find the same frame in white, only red and blue are left. He wanted to choose white frame again, but it would cost him $40 more because the optician would need to make a totally new pair of lens to fit the new frame and Keatkeat did not want to pay the extra $40.
So it was between red and blue. Personally, I thought it would an easy choice for him because blue is his favourite colour, but he was VERY unhappy with his new blue glasses. Even after we had left the optical shop, he was still sulking.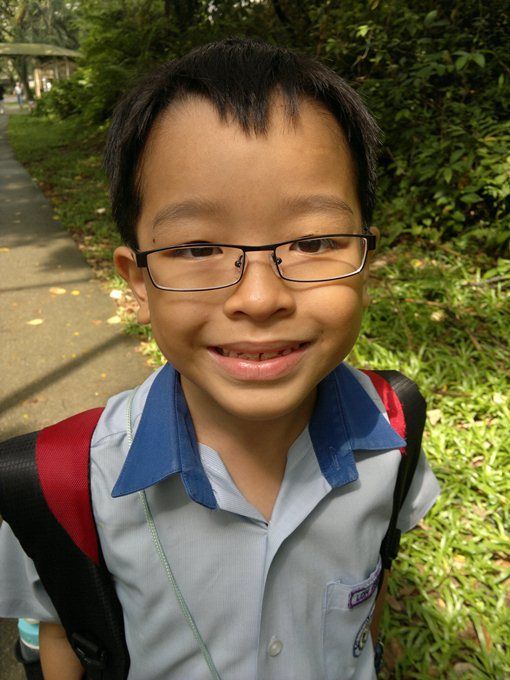 Me: "Keatkeat, I thought blue is your favourite colour? Why are you unhappy?"
KK: [He turned his back towards me and pointed at his heavily loaded school bag.] "Look at this, imagine the whole bag only has ONE COLOUR, blue colour. Do you think its nice? God made the world so colourful, if everything around us is just one colour, BLUE! Do you think it is boring? Its just like plain lame brain, RIGHT?!"
He was REALLY PISSED!!!
Me: "But your 2nd pair of glasses is completely white, isn't that plain lame brain too?"
KK: "NO!" he snapped! "There is a black line on the side! Its a design! Its nicer! Not like this one, ALL BLUE!" *humph*
He was REALLY UPSET!!!
Allan had an appointment to attend today, so we took a bus ride home. He was calm and composed by the time we alighted after the 30mins journey. So I thought he would be alright thereafter. But I was wrong!
When we reached home, he exclaimed in his room, "Oh no! I have to find more ways to earn more money already. After giving you this $50, I am left with $2 in my piggy bank!"
From young, I teach my boys about the value of money and this has been flowing in his blood.
Seeing him feeling the pinch, it was my time to anchor in the good values again…
Me: "Keatkeat, why do you need to pay $50?"
KK: "Because I broke my spectacles."
Me: "How did you break your spectacles?"
KK: "I sat on it."
Me: "How can you prevent yourself to sit on it?"
KK: "Keep it in the box every time I take off my spectacles."
Me: "So are you saying, if you KEEP your spectacles in the box right after you TAKE them off, you will NOT sit on it and so you will NOT break it and so you will NOT need to pay this $50?"
KK: "Yes, yes, yes! Left with $2 only! Shit lah!"
You may call me a sadist Mummy, but I am happy to see Keatkeat feeling so pissed. 'cos if he is NOT upset enough, this son of mine will never change. He is that sort of kid who needs to learn the hard way……
He Sat on His Glasses
Copyright © 2007-2016 All About Your Child. The contents on this blog are the sole property of the author, Angeline Foong, and may not be used or reproduced in any manner without consent. All Rights Reserved.
2 Comments »