Places Kids Love
March 27th, 2013
From the title, you can tell that we are definitely going back to Vietnam again! *laugh*
When? Probably next March school holidays.
We love to travel during the March School Holidays when the price is not at its peak, unlike June and December school holidays. As for September holiday? Nah, too many school work, as teachers try to catch up on unfinished syllabus.
So, for us, March school holidays will be the only time we will go traveling. *smile*
I do not believe in traveling by plane to a foreign country when my children are not capable of sitting still for long.
Going traveling should be enjoyable and a great time to bond as a family. If I had to worry if my baby's diapers are full or not, or to spend time guessing whether my toddler is crying because he does not like the smell of the plane or the air pressure on his ears; that would be no fun for me at all. I would rather stay at home.
I do not see how I could enjoy my overseas trip when I have so much to worry and my child could only use his cries and screams to communicate with me.
Now that Kitkit is 9 and Binbin is 7, whereby they are independent enough to bring themselves home from school; YES, its time for an overseas trip by plane.
======
I was pleasantly surprised when Allan told me that his secondary school friend owns a traveling agency in Vietnam. To me, it was perfect timing when he came back to Singapore earlier this year and we get to meet up.
He showed us so many photos of different places in Vietnam that looked so fun! We wanted to go to EVERY destination that he presented when he was at our new house. But Alas! We only have 5 days. Too many places, too little time.
It was so difficult to narrow down and a little hair pulling experience for me at first, as I do not know which to forgo. *sigh*
We do NOT like to go with tour groups, so this Vietnam trip is a customised trip just for my family. Private tour guide, personal drivers, tailored-made vacation. Totally awesome!
Waking the boys up at 4am+, when the sky is still glittering with stars, was no tug-of-war when they know they are going to have their VERY FIRST plane ride in less than 3 hours.
*Big Sigh*
This is the part when I feel like crying.
My memory card collapsed and some of the photos of our Vietnam trip are gone…..forever.
And that includes photos of their excited faces when they where pulling the luggage in the airport and queuing for check-in.
*cry*
Luckily, Allan took a couple of photos in the airport.
But the number of shots he and I took during the trip is in the ratio of 1 : 5
He took 100+ photos and I believe I took almost 500 photos; if my memory card survived the ordeal. Now, I'm just left with 430 photos in my camera memory.
*pout*
Alright, this is supposed to be a happy post, quit sulking! *slap in the face*
=====
Kitkit's first time going through the electronic gantry was chaotic. In fact, more or less like with any other 'NEW' things that we experience together as a family. He will have issues which none of us have.
Allan went through the thumb print scan without a problem.
Binbin went over next, like a breeze.
I decided to let Kitkit go over first before me…
Thank goodness I did.
He scanned his passport.
It got through.
The first gantry door opened.
He pressed his right thumb down on the scanning screen.
I could see the screen clearly from the place I stood.
But the image of his thumb print was NOT showing on the screen at all!

He tried again.
Allan, on the other end was starting to feel anxious and almost raising his voice giving all sort of advise to the nervous 9 year old.
"Press your thumb down!" Father snapped .
"I got press down." Son screamed back.
"Press harder!" Allan continued.
"I press VERY HARD Already!!!!" Kitkit was getting really scared now, as he was neither on my side nor on his dad and brother's side. He was sandwiched between the two plastic gantry gates; first gate separating him from me and the other gate separating him from his dad.
Then the screen rejected him and asked him to come back to my side and try all over again.
When the first gantry gate nearer to my side opened, the little frightened soul scrambled over quickly.
He tried again.
And again!
AND AGAIN!!!!!
He did EVERYTHING RIGHT!
But his thumb print image just refused to show up on the scanning screen!!!
He retried so many times!
Everyone was feeling really frustrated and helpless.
Then suddenly, a voice over the counter about 10 steps away called out, "Come over here."
I held my firstborn's sweaty palms (it must have been nerve racking for him) and walked over.
The officer did the clearance for both Kitkit and I.
We were so relieved to reunite with Allan and Binbin again.
*phew*
Kitkit's nerves were quickly calmed after 2 pieces of toasts, when we had our breakfast near the waiting area.
Look at that big grin on his face: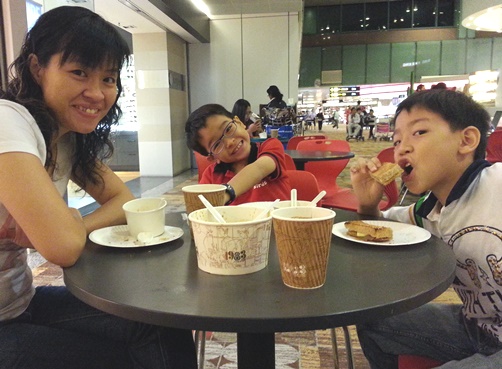 I took a number of shots as we approached the boarding gate, but as you know, they were gone with my 'dead' memory card. Even the shot on Kitkit sipping his FIRST BEVERAGE on his FIRST PLANE RIDE was gone too.
Really feel like crying!
Its a photo to be treasured!
But now its gone.
*heartpain*
He sat with me, while Binbin sat with Allan.
Here's a picture of Binbin in Jetstar from his father's phone (Allan did not take any photos of Kitkit, as I was the one responsible for that. So no photos of Kitkit when he was on the plane.):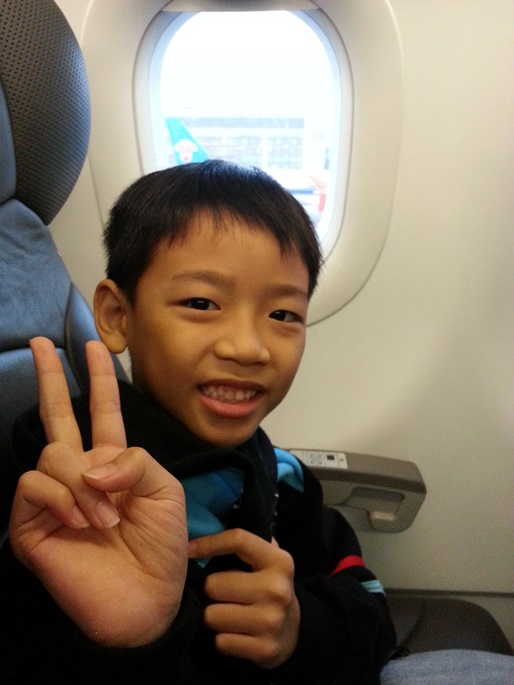 Allan wanted the kids to have a souvenir to bring home from their first experience of cruising in the sky and he bought the Jetstar keychain for them. It makes sound and lights up too. One each.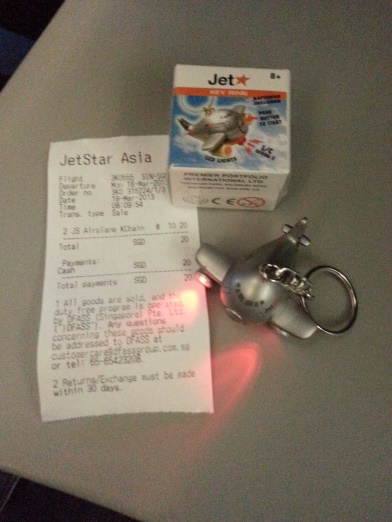 The ride was smooth and the kids were at their best behaviour. Kitkit chatted with me throughout the entire journey, while the other two, who were siting behind us, snored away.
Did they enjoy their first flight?
Not exactly.
When it was time to land, the pressure in their ears were so uncomfortable, they kept saying, "Ears very pain. I swallowed alot of saliva already. Ears still very pain."
The sensation disappeared only hours later….
===
Allan's friend could not be with us because he had some personal matters to attend to, but he had arranged an awesome tour guide for us. I can say so now because I have come back from the 5 days 4 nights trip already. In my future posts, I will share a little of what she did for my boys and us, as a family. Very moved by her many gestures of love.
After we collected our luggage from the belt and walked out of the glass doors of Tan Son Nhat Airport, we were warmly greeted by a petite lady who has a very charming smile. The type of smile whereby you just cannot help but smile back.
*grin*
She was afraid that we might be hungry from the 1.45hours of flight, so she brought us to savour the BEST (according to her) Vietnam Beef Noodles in Ho Chi Minh city.
Took a ride in the 7-seater car.
Happy kids in the air-conditioned vehicle.
Honking motorcyclists in the humid outdoor.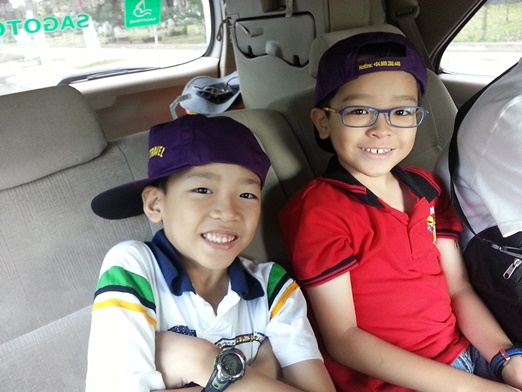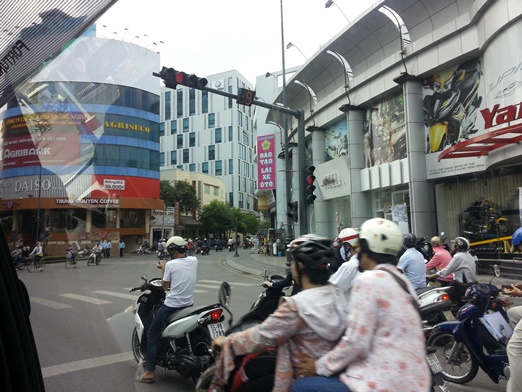 They will honk every other minute or as and when they are getting close to another vehicle nearby.
But with the crazy traffic of around 7 million motorcyclists in Ho Chi Minh City itself, its unlikely to have no vehicles within 2 meter range from your own vehicle.
Will the traffic in Singapore be like this in 2030?
7 million!!!
*shrugged*
Watching and being amazed at how a family of four, two adults and two kids, could ride on a small motorbike on the busy road; OR how big equipments like washing machines are transported using motorcycles helped us to pass time quickly.
It was not long before we realised that we were infront of the Beef Noodles restaurant. It looked very much like the coffeeshop here, the difference is its 2-storey, non-air-conditioned on the first and air-conditioned on second level.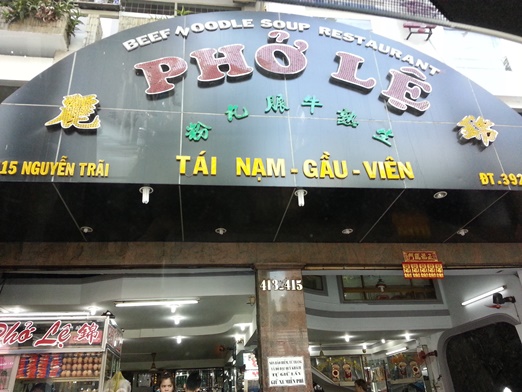 We followed the tour guide and went up to the second level, as the ground level was very packed with people.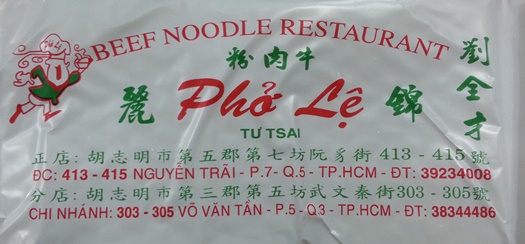 The kids had no mood to eat anything at all. So we only ordered two bowls of Beef Noodles Soup.
However, we insist that Kitkit and Binbin should at least have a bite on the beef and the noodle, plus a sip of the soup.
In the end, after the tasting was over, they loved it. So much so that we had to scoop some of everything from our bowls of Beef Noodles Soup onto 2 empty bowls for them.
I love the diet of Vietnamese. There is always a basket or plate full of vegetables for the patrons to add into whatever that they have ordered. Its Free Flow! It does not only happen in this restaurant. But its a very common sight in many eateries in Vietnam.
*Thumbs Up*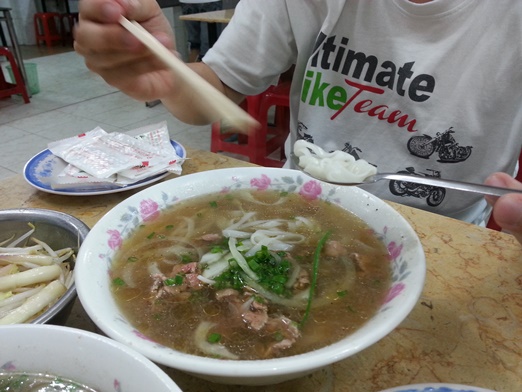 The four of us loved it so much, we told the tour guide to try to slot in a time for us to come back here again before we fly back on Friday, 22nd March 2013.
She agreed.
Yeah!
*clap clap clap*
After a full tummy, it was still too early to check-in to our hotel in Saigon. So our smiley driver, Mr W., drove about 1 hour+ to bring us to Mekong River for our very first adventure in Vietnam!
Next post….Mekong Delta (Mekong River)…an adventure which made the kids go "Ooohhhh", "Ahhhhh", "Wahhhh" and "HUH??!!!"
*giggle*
 First Vietnam Trip ~ Day 1/5 : Part 1/3
One Response to "First Vietnam Trip ~ Day 1/5 : Part 1/3"
karmeleon Says:
June 7th, 2013 at 9:39 pm

LOL – is there so much to worry about? I simply just go with the flow. My 4yo is a seasoned traveller. I cannot imagine how we got through 17 to 19 hr flights, but we have. And he's the youngest of our brood. ;P Just enjoy lah.
karmeleon´s last blog post ..Music Festival
Leave a Reply