Places Kids Love
May 7th, 2013
Its Dinner Time!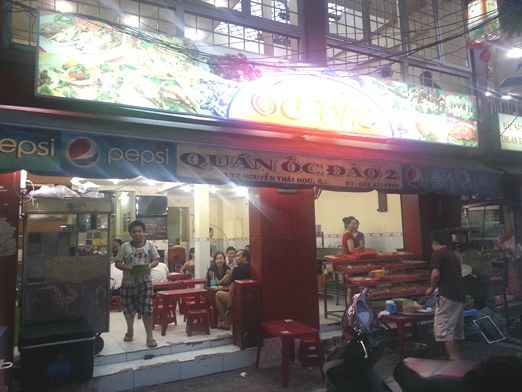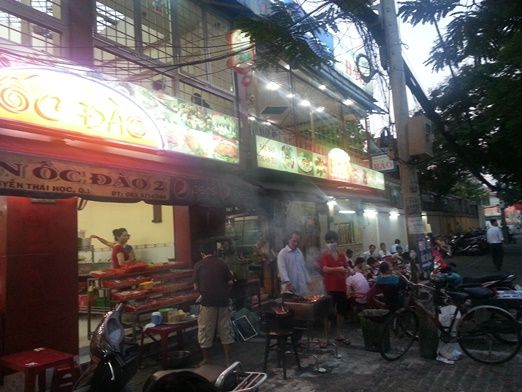 Though my favourite seafood, crabs, was not ordered, this IS THE MOST ENJOYABLE SEAFOOD dinner I had ever had….yet!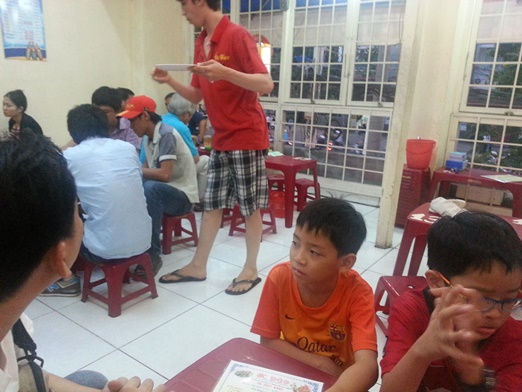 A place perfect for the short legged. So my kids felt EXTREMELY COMFORTABLE, as it reminded them of their days in Kindergarten as it was stools that we sat on in the Seafood Restaurant. *giggle*
Once again, I was disappointed to see that the menu was all written in Vietnamese. So we gave our tour guide, Lan, full control over what she thinks is delicious. Thank goodness she did not order everything on the menu! *laugh* Anyway, 99% of the meals/food we had throughout the 5 days had been paid for. The 1% which were not paid for were our impromptu decision to go for a bite.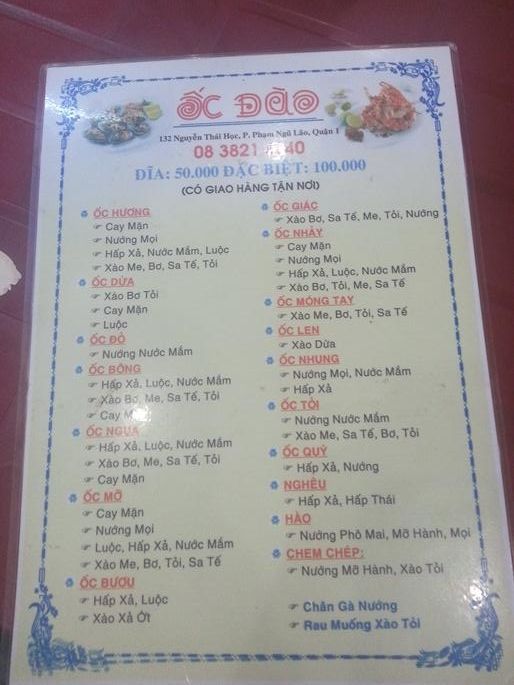 So without an English menu, I guess if I want to go back to try the same food again, I would need to show them these photos. Ever seen people ordering food using their OWN photos?!? I think I will be the first. *huge laugh*
Let's start with the basic: Bread and Sauces.
Do not underestimate that loaf of bread!
I am lousy at adjectives to describe food, so I will try my best to get this right….
It looked like a plain good old french loaf but the taste is sweet!
No, not the sugary type of sweet.
But there is a sweet fragrance that comes out with every bite.
Seriously, I could just eat that alone and not get sick of it.
In fact, I think I ate a lot of that bread!
*laugh*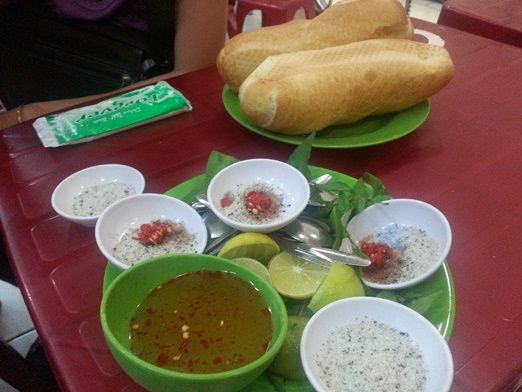 Allan and I fell in love with a particular sauce the very first time we tried it. Other sauces were nice too, but THIS SAUCE (watch video below) is SO GOOD, Allan could not resist but asked: "What's inside?"
Lan told him the ingredients, but Hhhmmm…there was just this one ingredient which we did not quite understand. So Lan told us that she is going to show us that ingredient in her mother's house when we go to another part of Vietnam later tonight.
Well, I will give a sneak preview on that wonderful place towards the end of this post.
That sauce can practically go with any food!
The taste was towards sourish and salt-ish.
I was dipping my bread in the sauce too!
Its so appetizing!
Every plate which Lan ordered, we loved!
I was a little apprehensive at first when we gave Lan 100% authority to do the ordering without consulting us, as different people's liking towards delicacies can vary tremendously.
But thank goodness, what she liked, we loved!
She was also thoughtful enough to order the porridge for my kids, just in case they find the seafood too raw for them.
*Thumbs Up*
Some savoury, some sourish, some spicy and some just taste wonderfully awesome! YUM!
Oyster Porridge
Savoury to the max!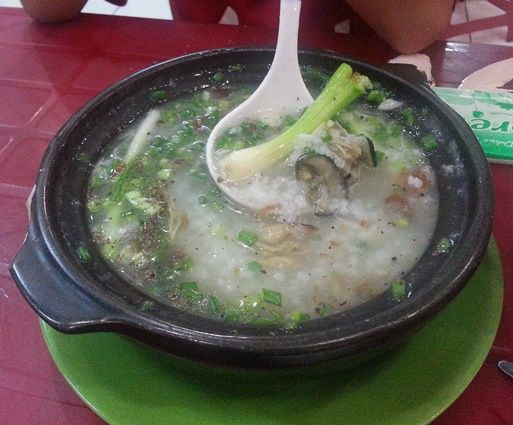 Snail
Spicy, Sweet and Sourish
That gravy was truly delightful and there I go again, dipping my bread in that gravy too.
The kids liked this dish too, but it was a little too tough for their baby teeth to bite through.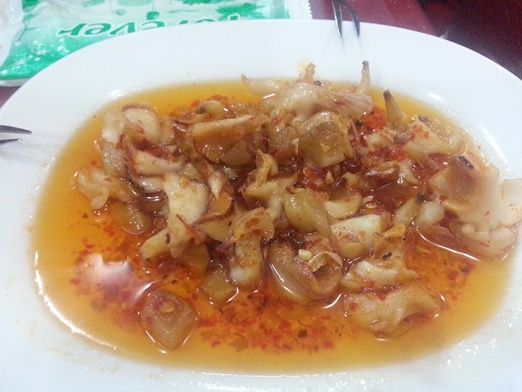 Cheese Oyster!!!
It was Heavenly!
Allan and I are Cheese Lovers, so this went straight to our hearts!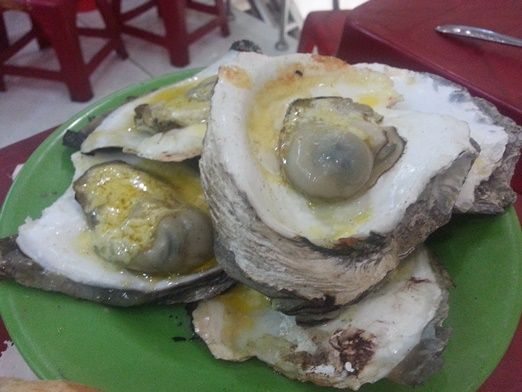 Scallop with LOTS of toppings!
Scallop was soft, but the toppings were so crunchy.
Our taste buds definitely took a journey to wonderland.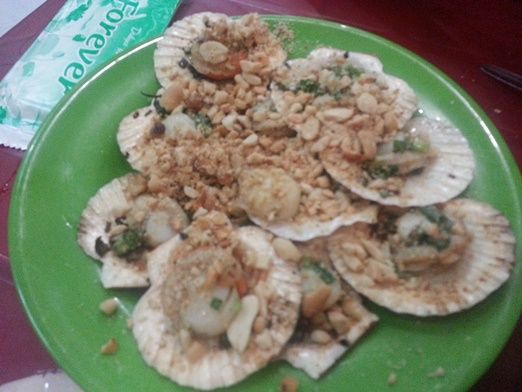 BBQ prawn.
The kids had this, especially Binbin, a prawn lover.
Simple BBQ prawn, not too dry.
So its nice.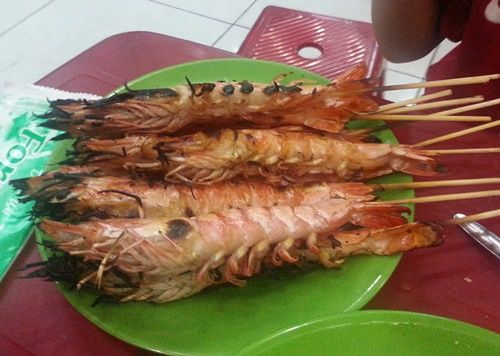 Then we saw something that we had not touched for decades!!!!
Bottled Pepsi!
Allan and I could not control ourselves and ordered 2 bottles. As we slurped it up, we started telling our children how bottled Pepsi played a part in our childhood.
Brought back good memories!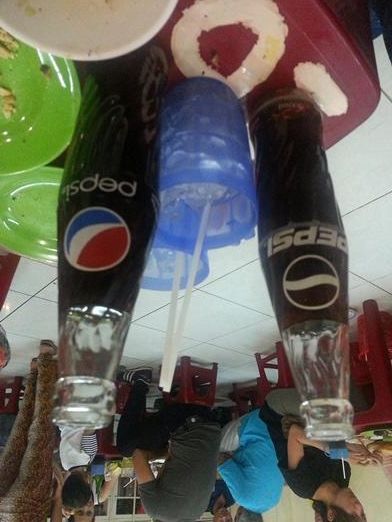 I apologise for some blurry photos as the food did not come at the same time, so for some of the photos, my hands were already oily, yet I was still snapping away with just 2 to 4 fingers holding my big camera phone.
The actual food looks better than my photos for sure! *wink*
Then Surprise Surprise!
Lan saw her colleague!
Another staff of my friend at the restaurant.
He just arrived with another group of Singaporeans.
A small family just like ours.
They ordered different food from ours but theirs looked just as delicious!
To me, this is a MUST GO restaurant, if you are into Seafood.
Nope, they are NOT giving me any commission for promoting them.
I am just sharing my views.
I WILL want to go to this restaurant again, the next time I visit Ho Chi Minh City.
======
Nice Mr. W. came and fetch us back to our hotel as we get ready for our first checkout.
Yes, there is no typo error.
It was our first checkout and we would be coming back to this beautiful hotel again after our 1 night trip in Da Lat.
In case you missed my post on the hotel, you can click here "First Vietnam Trip ~ Day 1/5 : Part 3/3" to read.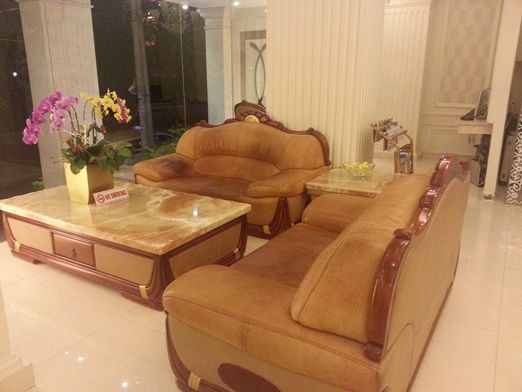 We left our BIG luggage in the hotel and took only a much smaller luggage plus backpack for our Da Lat trip.
Lan needed to go back to get her bag too, so while we waited for her, my friend booked a spa room for us to relax before we head down to the bus station to board our sleeping bus to go Da Lat.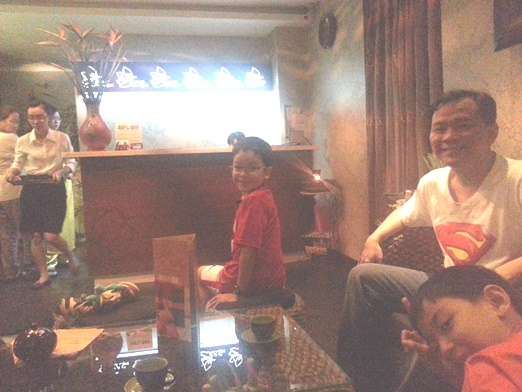 We had the whole place to ourselves! So cool!
There were 2 shower cubicles and a sauna too.
We did not use the sauna, just the shower cubicles and the jacuzzi.
Its a good thing (even though 90% of the people around me think its not) that since young, I bathe WITH my kids together. It was only over the past few years, whereby I stopped because they needed more space in the toilet.
So seeing our naked bodies are NOT new to one another.
No awkwardness.
No shyness.
No blushed-faces.
Just good fun relaxing in the Jacuzzi, big enough for the 4 of us.
We bid farewell to nice old Mr W., who could speak Cantonese, our language, as his job ended after he sent us to the Sleeping Bus Station. It will be another chauffeur driving us around for the rest of the trip.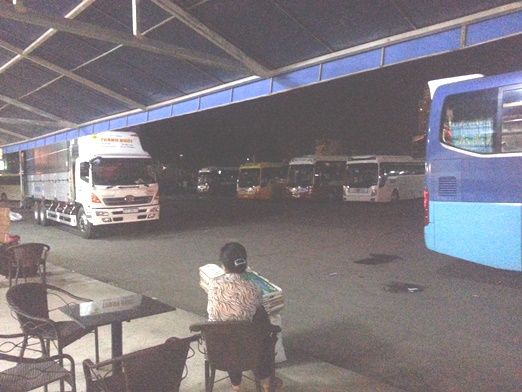 My friend, who planned this whole trip for us, kept reminding us to eat the Vietnamese Bread, which he thinks is really yummy. But we were so full after every meal and could not even finish whatever that was served most of the time, thus there was no chance for us to try the Vietnamese Bread which has fillings in them. Fillings of your choice.
Finally, this was our chance as we were afraid that the kids might feel hungry during the 8 hours night bus ride to Da Lat.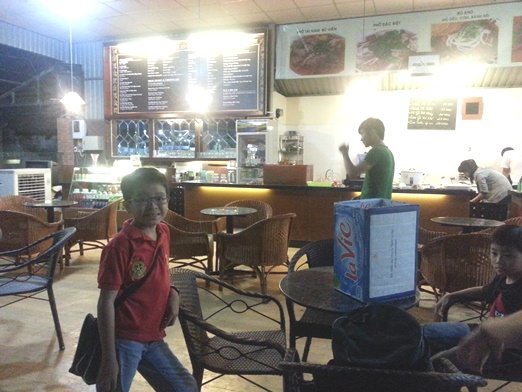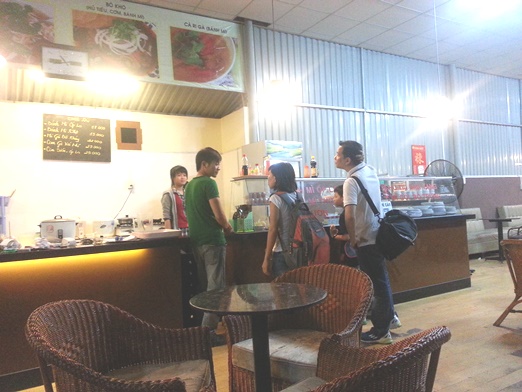 Lan helped us ordered a loaf and we divided it into 4 parts, one for each of us. Yes, it is nice. But I think for this, one would need more time to explore as there are too many choices for the fillings. Therefore time is needed to try different combinations before one can really find his or her favourite combination.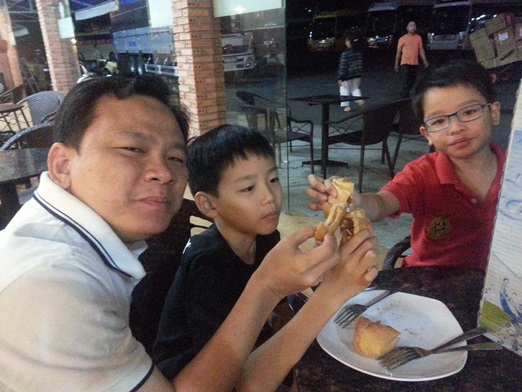 The sleeping bus would be leaving in 10mins time and we were still biting our bread and had yet to go toilet! A little panicky at that moment. I think it was because we exceeded the shopping time allocated for us (read previous post), thus everything was delayed after that.
Shoes MUST BE TAKEN OUT and put in a plastic bag before climbing up the sleeping bus. Wearing socks in the bus is fine. The plastic bags were provided at the entrance of the bus.  Some of the passengers use those plastic bags to wrap up their feet and became their footwear in the bus. Pretty cool!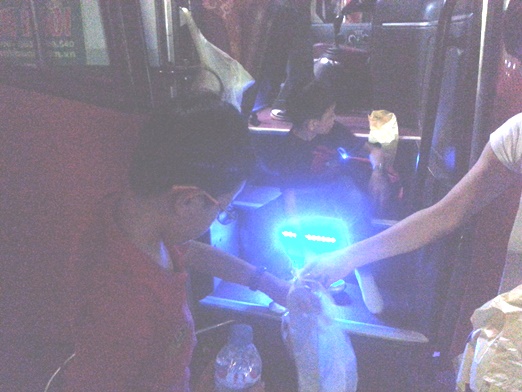 Each of us had to take our shoes to our recliner and put it in the compartment below our head rest. Then a bottle of mineral water, disposable napkins and a puke-bag (in case we need to vomit) were given to each of us by the bus crew.
I was afraid that there will be the smell of vomit in the bus, as I know many people have motion sickness and to SLEEP on a MOVING VEHICLE might be too difficult for this group of people to bear.
But no foul smell!
Yeah!
*clap clap clap*
Nice smell in the sleeping bus?
Errrr….also no.
*laugh*
Just NORMAL bus-smell.
*giggle*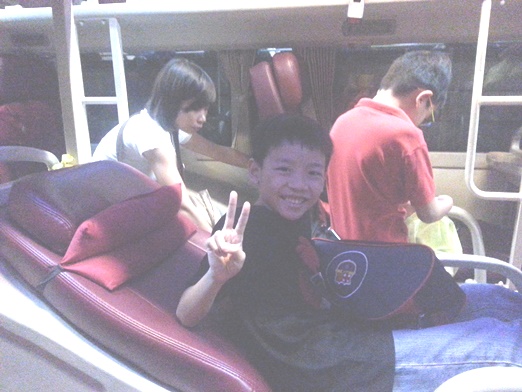 Its good that Lan was seated behind my elder son. Kitkit was having trouble with his recliner and Lan was right there to assist him.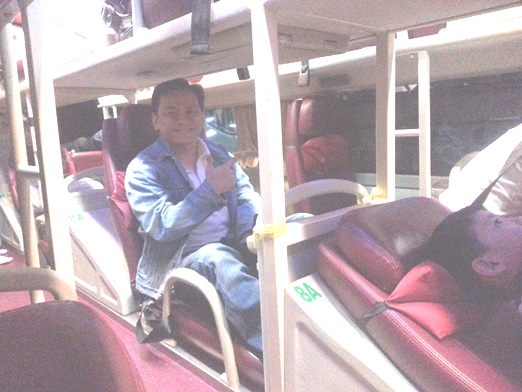 Allan took the slot behind Binbin and I was on my younger son's right side. The seats were chosen by the boys, so it was not intentional that Kitkit was seated so far from me.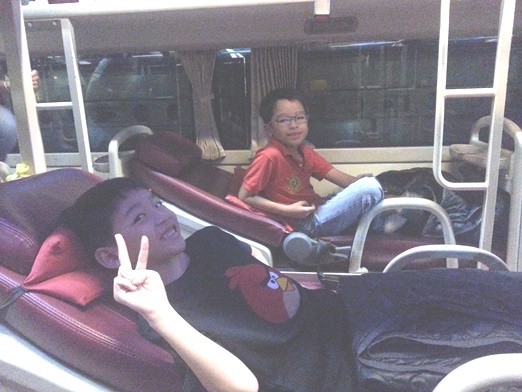 After the bus started to move, lights were dimmed for several minutes before it was totally switched off. The vehicle had to stop every now and then at other stations to allow new passengers board the sleeping bus.
Binbin loved how the sleeping bus looked on the inside as he feels that it was quite cool to see so many 'beds' on a bus and had no problem sleeping throughout the 8 hours.
Kitkit THINKS that its cool but he was feeling insecure and felt homesick. He was unable to sleep until many hours after the bus had moved off.
Allan, the light sleeper finds it difficult to sleep because of the motion. My hubby also felt insecure to fall asleep after witnessing the skill of the bus driver for the first hour or so. It was fast and 'furious' especially when the bus needs to make a turn.
I am a Sound Sleeper. Many times during the night when we were at home, if there is a sudden downpour, I will continue to sleep like a log, while Allan will leap out of bed and closes all the windows. So I thought I would have no problem sleeping on the sleeping bus.
I was wrong.
There were times whereby the driver was driving so fast, Allan and I were literally sleeping on a rocking bed. Maybe babies will sleep well on this bus, as the song goes, "Rock-a-bye baby…." *giggle*
When the sleeping bus pulled over at the toilet-break-cum-snack-break station, I did not bother to wake the kids and so none of us went down.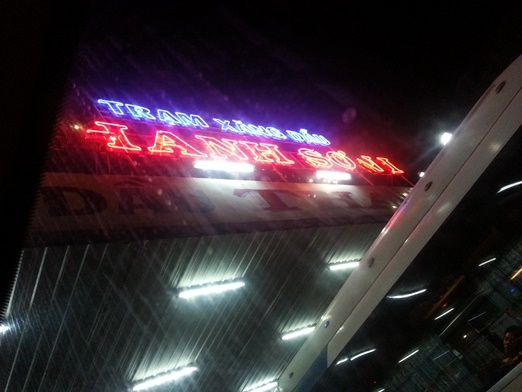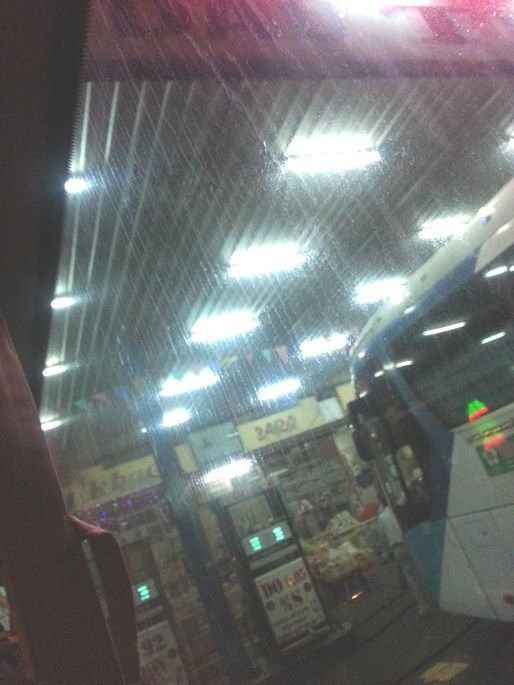 The 2 photos above were taken from my window.
It was our decision to take the sleeping bus as our focus was to try as many different transportation as possible in Vietnam. We like to experience different things. Thus be it a good or bad experience, at least we have one new file of knowledge about something to add into our big library in our brain.
*Super Grin*
When we reached Da Lat, the sky was still dark and we met our new chauffeur. Mr Ting.
Oh dear!
I failed again!
I thought this post will be shorter than all my previous post but it turned out to be longer! *faint*
It hit above the 1700 words mark! *double faint*
Am I a long-winded person by nature?
I think so!
*eyes rolled*
Next post : All On Beautiful Da Lat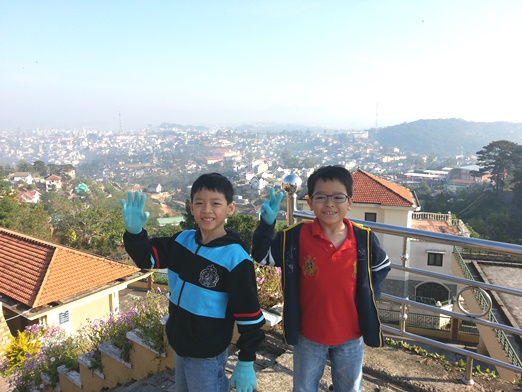 2 Responses to "First Vietnam Trip ~ Day 2/5 : Part 3/3"
Ann Says:
May 10th, 2013 at 2:31 pm

Your dinner was fantasbulous! fantastic and fabulous all in one.

Sleeping bus huh….my son would love that too much!
Ann´s last blog post ..Renovation 1.02

karmeleon Says:
June 10th, 2013 at 10:18 pm

I think I would not take that bus though. haha. A normal bus with seats that can recline a little would do. Remembering all our bus trips to KL and even all the way up to Hatyai and Phuket as teenagers (30hrs!!!).
karmeleon´s last blog post ..Preliminaries
Leave a Reply