Places Kids Love
May 8th, 2013
20th March 2013:
We have reached Da Lat!
The weather is so welcoming when we reached there.
So different from Ho Chi Minh City.
The weather is much cooler, or should I say COLDER!
One can feel the heat only between 12noon to about 4pm or so.
Before and after which, the weather reminded me of Cameron Highlands.
I can describe Da Lat in 3 ways:
City of Flowers as flowers can be seen EVERYWHERE!!!
City of Love because it has the name of "The Little Paris"
City of Slopes. Be prepared to get some leg exercise.
It is also because it is high above sea level, that's why there are slopes.
It is because of its height, one can feel the cool breeze brushing across your face in the morning and the evening.
When we reached our hotel lobby, it was dawn.
The sun has just risen.
But we could not check-in, 'cos its not check-in time yet and our room was not ready.
Lan, our tour guide is all excited because THIS IS HER HOMETOWN!
We agreed that she should go to her Mother's house first to put down her stuff, freshen up, then come back to meet us again at the hotel lobby and bring us out for breatkfast.
She must have missed her parents much….having to work so far away from home….
It was also a great time for Allan and I to rest on the comfortable sofa at the lobby. Allan and I chatted, while the kids played internet games, as we waited for Lan to return.
When we reached, the lobby was dimmed. Warm lights were switched on only at certain corners. Minutes after Lan left, the sun started to shine INTO the lobby and we could see the lobby with better view. Clean and Bright. Nice!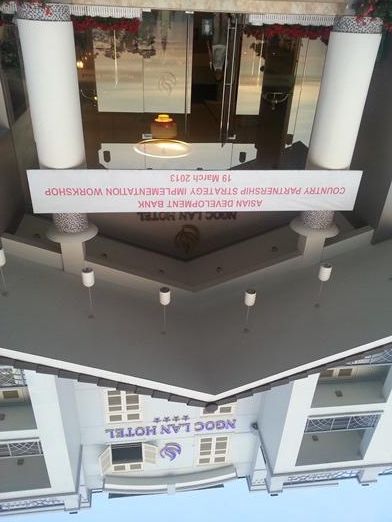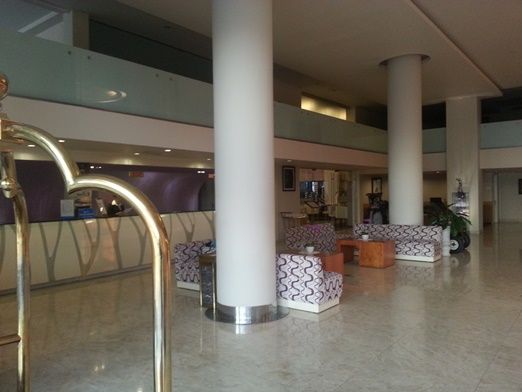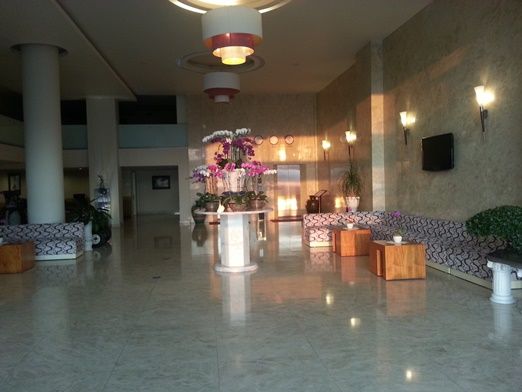 Somehow, I was expecting more of their room, after seeing the way they maintain their lobby. Actually my jaws dropped when I saw our room when we finally checked-in during the afternoon!!!! *laugh*
Not going to jump to how our room looked like. Let me complete what we did in Da Lat during the morning first. I think you will also like our room as much as we did when I show you the photos in the next post. *wink*
Lan came back with our chauffeur, Mr. Ting.
Yeah!
We can set off now….
Before we had breakfast, a high/secondary school just started their morning assembly. The inquisitive us went to check it out. See the stairs? Told you its a land of slopes…. *giggle*
Its breakfast time and Lan told us that Da Lat has beef noodles too, but a different kind. We were soooooooo looking forward to it, especially after tasting the beef noodles in Ho Chi Minh City. Read post here "First Vietnam Trip ~ Day 1/5 : Part 1/3"
The beef noodles in two different cities were VERY different.
My first response was "The meat is so big!"
Instead of sliced beef, we get the whole chunk, including the bone!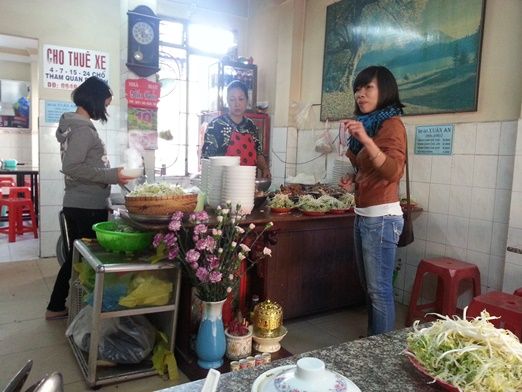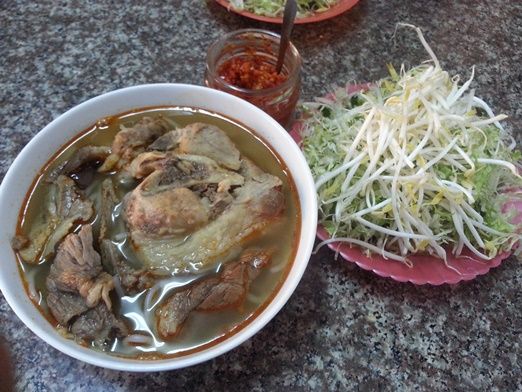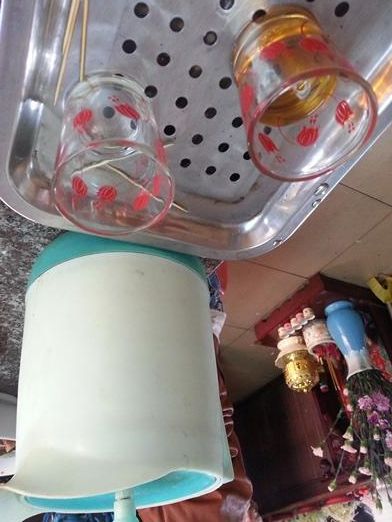 We, especially the kids, had problem finishing the meat as we were not used to biting into such a big piece of meat.
So after finishing our noodles only, Allan and I told Lan that we still prefer the beef noodles we had in Ho Chi Minh City and reminded her once again that we want to go back and eat before we leave Vietnam on Friday. The thought of it now, as I type this down, is already making me drool. *Super Grin*
With a full tummy, its time for exercise!
*laugh*
More stairs to climb as nice Mr. Ting drove us to the top of a hill where we could ride on the cable car.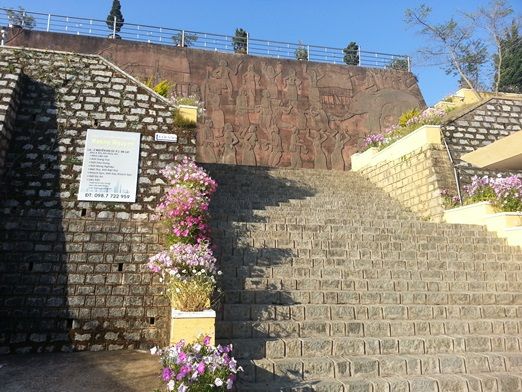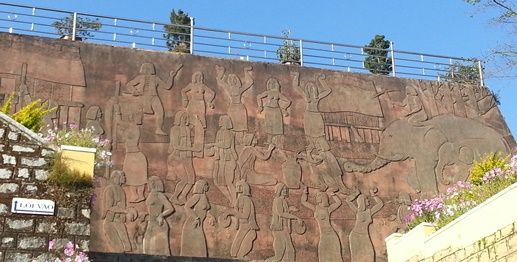 From the top, we had a bird's eye view of the city.
BEAUTIFUL!!!!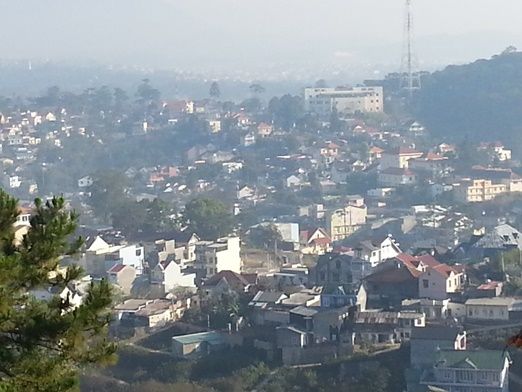 Lan took several photos for us, but I shall post only one here.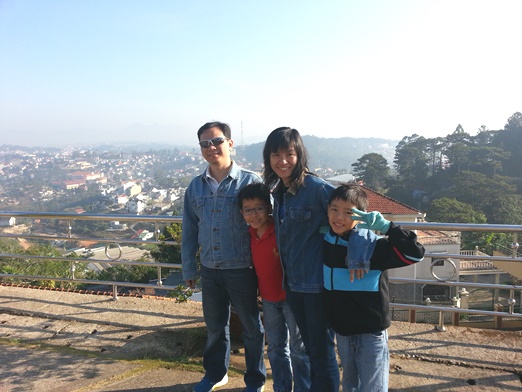 Alas!
We were too early!
The cable car station is not ready for operation yet!
*faint*
But this turned out to be something that made the kids cheered more!
'Cos they were going to have MORE FUN in another place!
Lan told us that we will come back here again for the cable car ride later…..
So where did we go? Look at those excited faces below!!!!
Mr. Ting drove us here: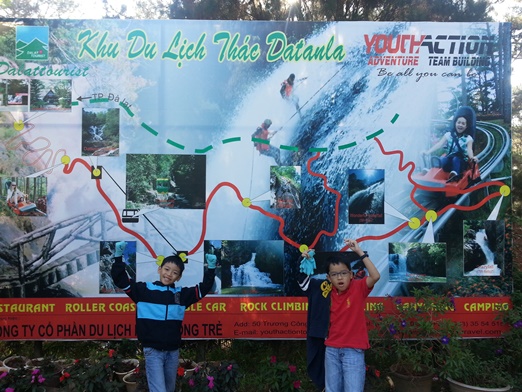 We took the Alpine-Coaster (some may know it as Toboggan Rail Ride) down the curvy wavy slope!
It was sooooooooooooooo fun!!!!!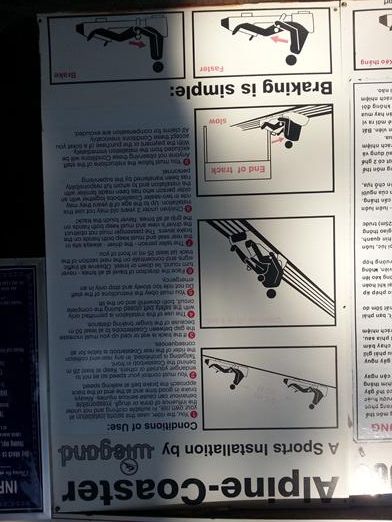 It looked pretty dangerous, but as a thrill-ride-lover me, I sped when the sign said "SLOW" and the 'security guard' beeped at me! Ooops!  So after that, I went slooooooow. *laugh*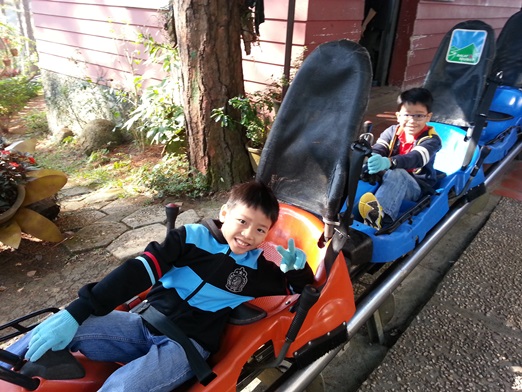 All of us agreed to go AGAIN!!!!!!
Too fun to go just once!
*laugh*
Now that we are at the bottom, the kids cheered EVEN LOUDER because we agreed to let them play THESE: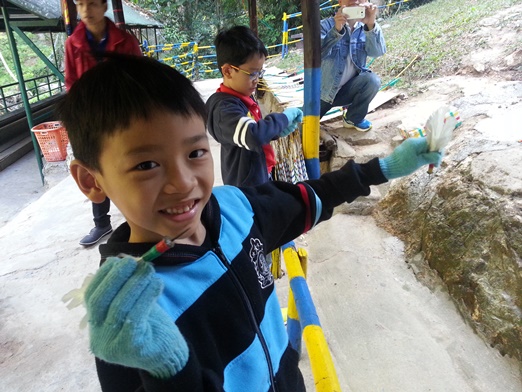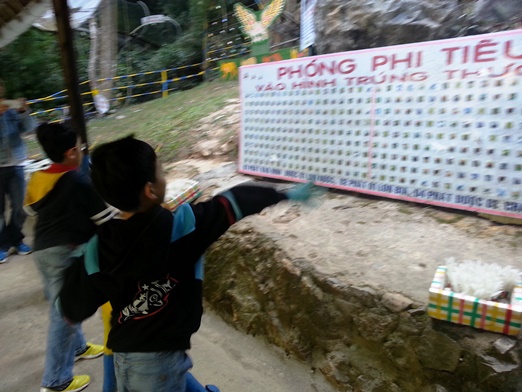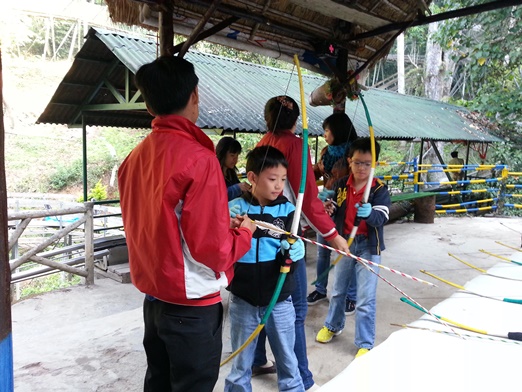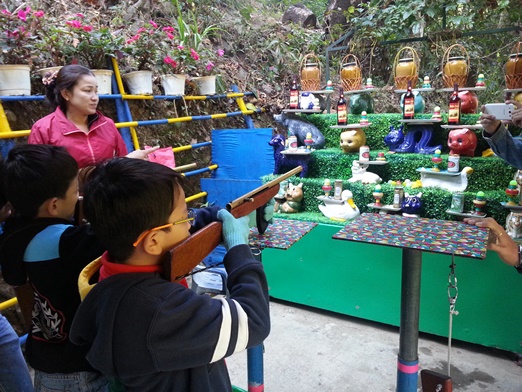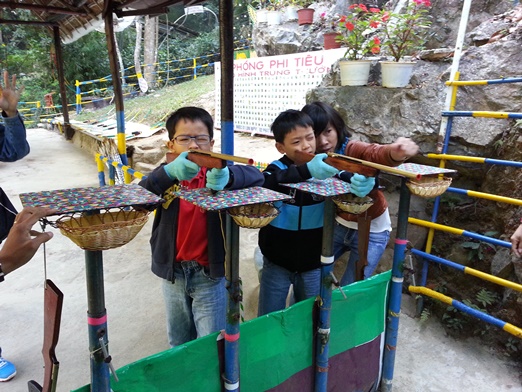 and KITKIT ACTUALLY HIT a TARGET!!!!
Future Sniper in the making man!
*laugh*
As a result, he won a bottle of wine!
Cool!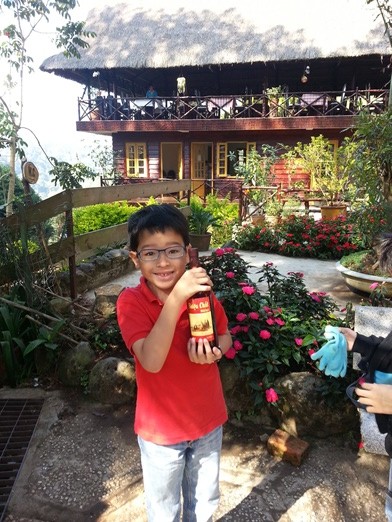 As we had already planned to meet Lan's parents at their house this evening, we decided to give this wine to them as a gift. *smile*
The kids wanted to play more, but time was not in our favour, so we had to move on and we came here:
GORGEOUS!!!!

Once again Lan took alot of photos for us here at Beautiful Datanla Waterfall, its too pretty to take just one shot, but I will just post one. Feeling stingy today. *laugh*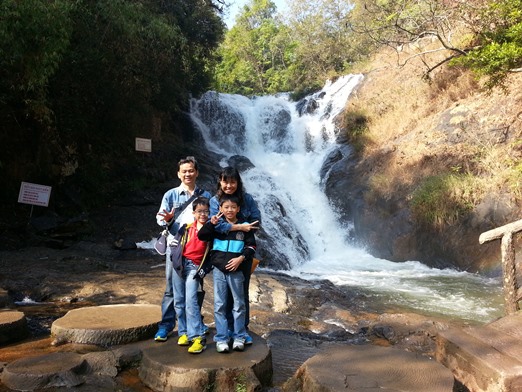 The kids wanted to sit on the horse too, which was just beside this lovely waterfall, but it was still getting its bath and did not look ready anytime soon. So we moved on and took our Alpine-Coaster back up to the top for our second ride down.
I was very tempted to take a video of the whole journey but was too afraid that I may drop my camera phone, so I dropped the idea instead. Luckily Allan took. Yeah! But he video-ed it the wrong way. So after editing on YouTube, the viewing screen become smaller. In the video below, you can see that I went REALLY SLOOOOOOWWWW this time in front of Allan. *laugh*
The Alpine-Coaster ride IS FUN! That's all I can say…..go try it!
Just before we left this fun-filled place, I tasted Artichoke Tea for the very first time. I remember reading how good this is for our body before I came for this trip and so I bought a big packet home to nourish my body.
Then we went back to Mr. Ting's 7-seater car and back to the cable car station once again.
Its definitely in operation!
See the cable car right at the top, slightly blocked by the trees?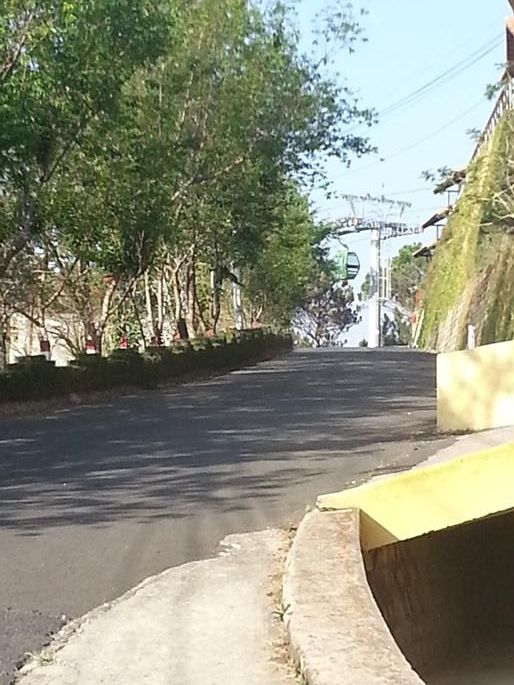 Believe it or not, this is my FIRST TIME on a cable car!
Even my boys had sat it more than once before this day.
Allan sat it once in the past in Singapore and he feels that the cable car ride here in Da Lat is so much more stable.
*phew*
My first ride and it was a good one!
*thumbs Up*
Saw LOTS of plantation of flowers and vegetation from above.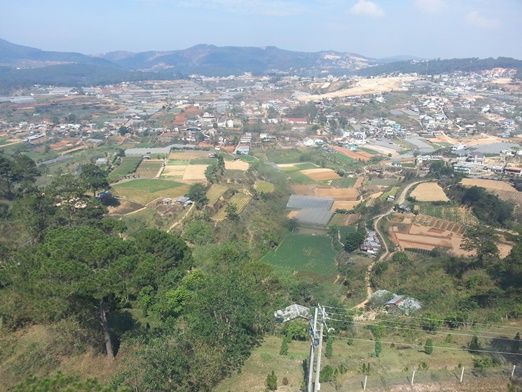 Have you lost count how many TYPES of transport/vehicle we have had so far?
*giggle*
More to come in the next post!
First Vietnam Trip ~ Day 3/5 : Part 1/3
One Response to "First Vietnam Trip ~ Day 3/5 : Part 1/3"
Flanneva Says:
May 21st, 2013 at 11:08 pm

Thanks for sharing.
Leave a Reply