Places Kids Love
August 11th, 2012
Seriously, I think Allan and I are getting more and more daring adventurous. We had NO GUIDE, NO 'real' INSTRUCTIONS, NO GPS, and with just a piece of vague map from Google, we drove ourselves up to Desaru for the very first time right after we fetched the boys from their school's National Day Celebration. *heart pounded with excitement*
It was about an hour drive from Woodlands causeway, if you are constantly driving at about 100km/hr. Now that we are safely back in Singapore, I really think that it is quite difficult to get lost. *laugh*
But because along the way, all you can see is Oil Palm plantations after plantations, there is a tendency of you asking yourself every now and then, "Are we there yet?" *laugh*
But the moment we saw the iconic BRIDGE, we knew we were NEAR!!!
I apologise if the video made you feel like vomiting. *pout*
I have so much to say about our 3 days 2 nights adventure. Why did I say it was an adventure? Well, because we have LITTLE / NO IDEA where the places of interest, which we planned to go, are actually located. We just know that they are located in Desaru! *laugh*
So for every drive, we simply held our breath and wished for the best! *laugh*
Well, it PAID OFF!!! The sense of achievement was so incredible when we finally reached EACH of the farms in one piece. *clap clap clap*
We went to :~
Yup! Those were Awesome Places outside the apartment 'Lotus Desaru Beach Resort' which we stayed in. I will do a separate post for each of these places for the next few days. Over 300 photos and 20 videos to sort out, you can imagine how much the long-winded-me have to say about each venue! *laugh*
Today, let's talk about the apartment itself. We checked-in on 8th August 2012 at 2pm.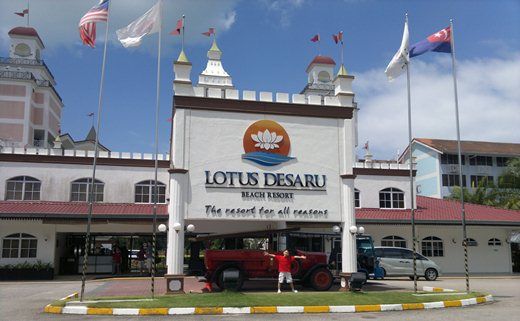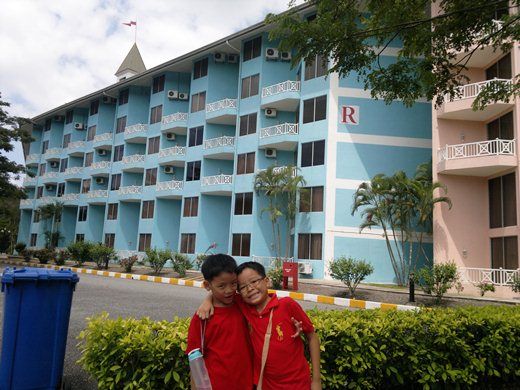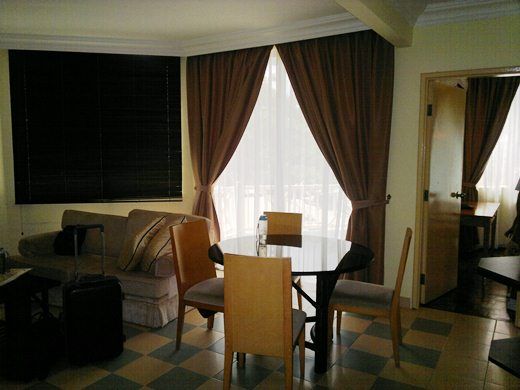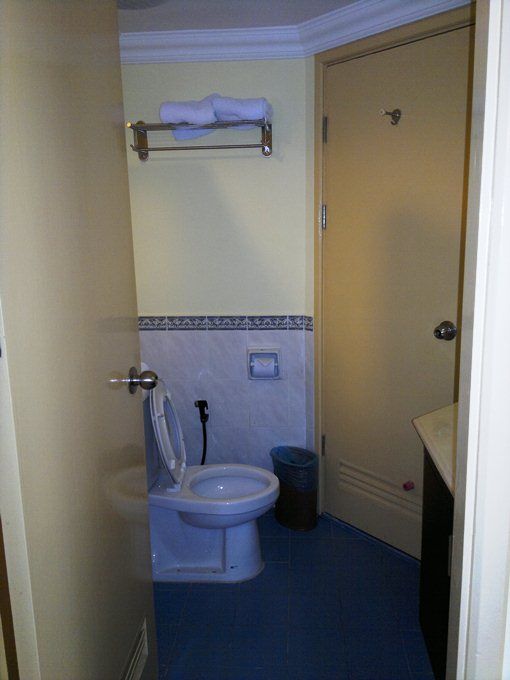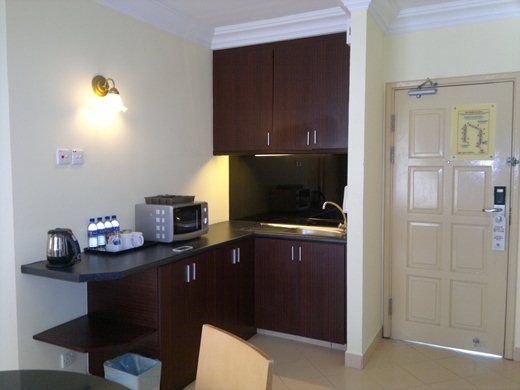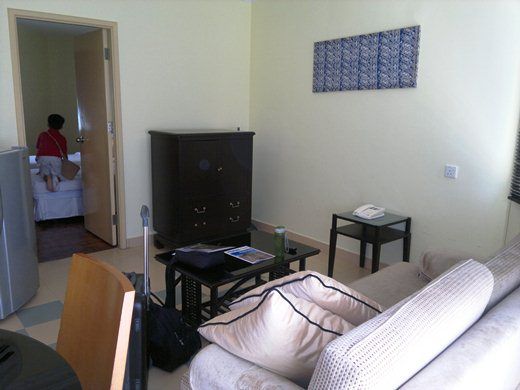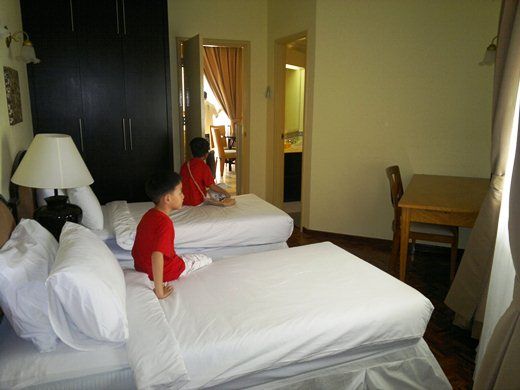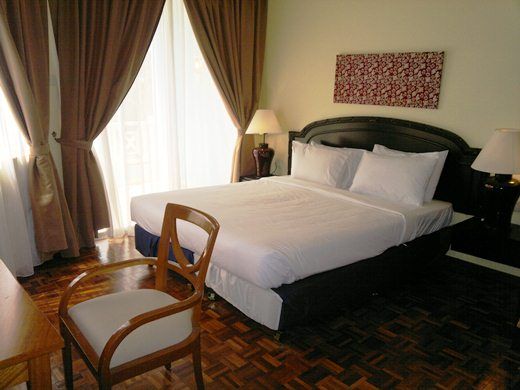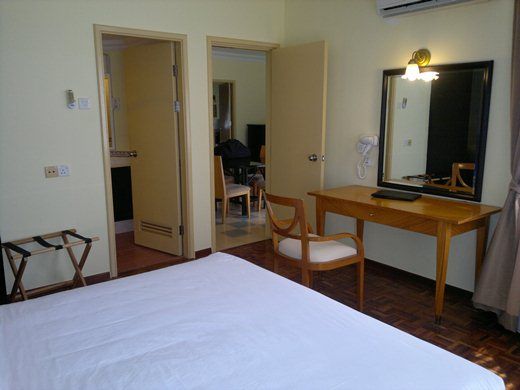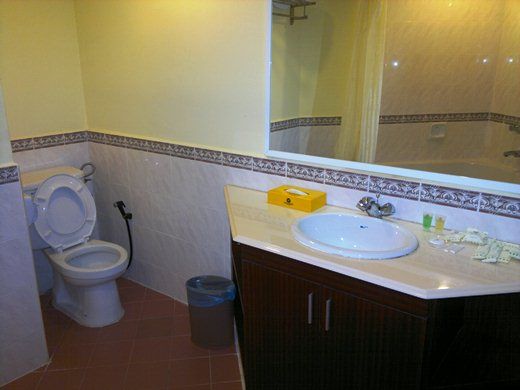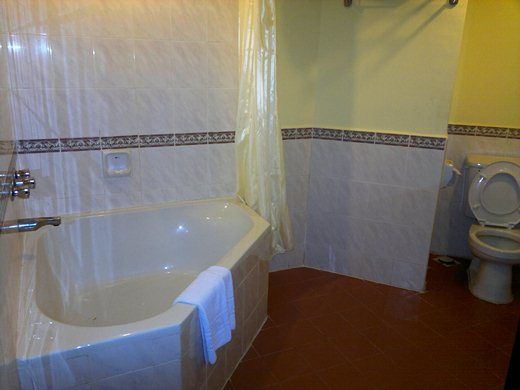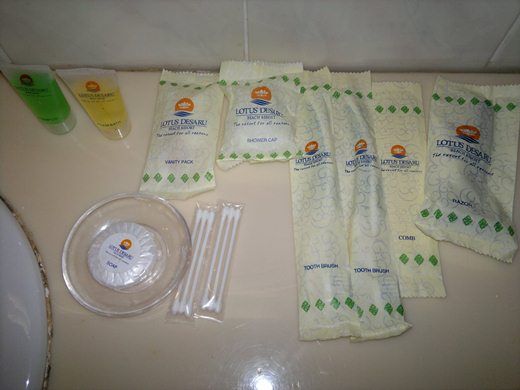 Most people would check out the beach the moment they arrive at resorts in general right? We did not, because something else was MUCH MORE APPEALING and attracted us, especially the kids, like a magnet! This 'fun place', I will talk about in the next blog post.
So we only checked out the beach the next day: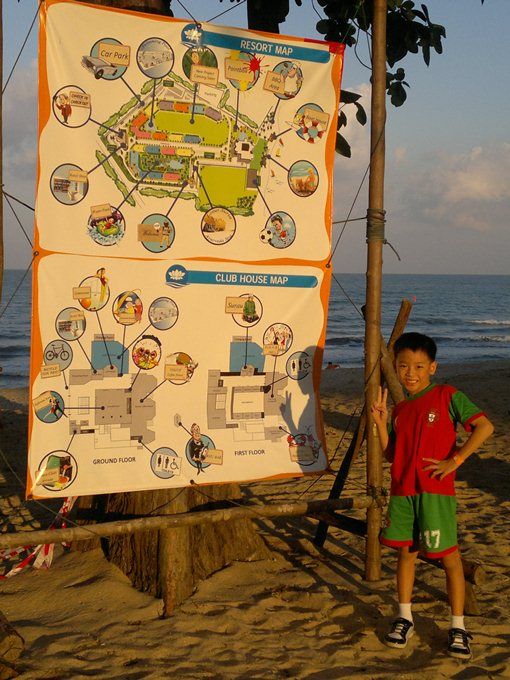 We were so disappointed to see THIS on the sandy beach…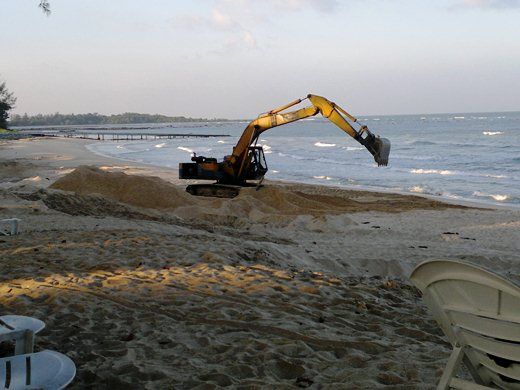 Keatkeat went over to check out the previous holes that were dug earlier….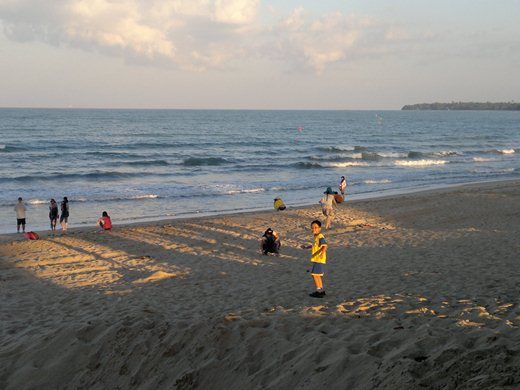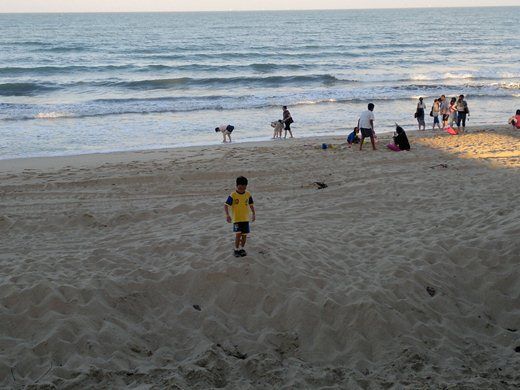 What an ugly 'add-on' to the beautiful beach! And there was MORE construction going on right beside the place where we have our complimentary breakfast….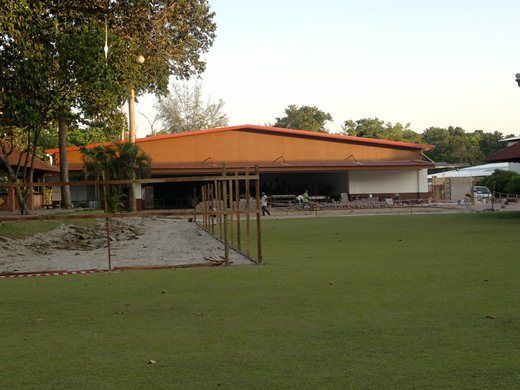 The Places where you can find food in Lotus Desaru Beach Resort…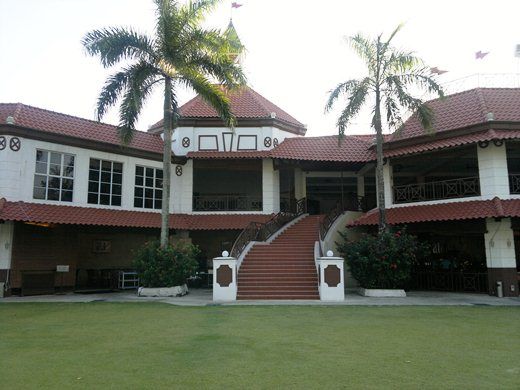 Pool and Gym were also beside the eateries….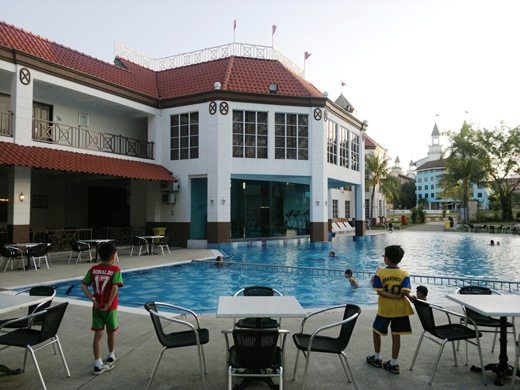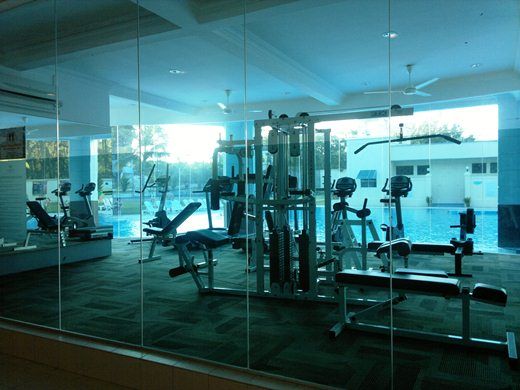 There was also a mini-shuttle which lights up at night in blue and white neon lights that brings guests from the lobby to their apartments. Yup, the place is THAT big! *giggle*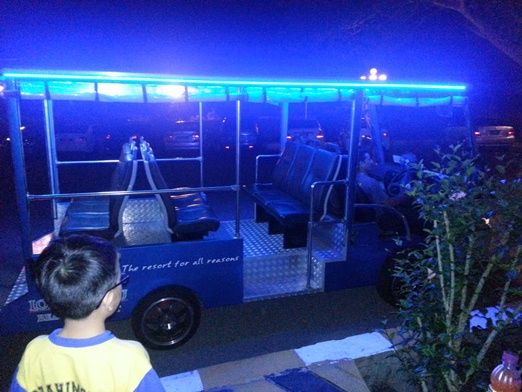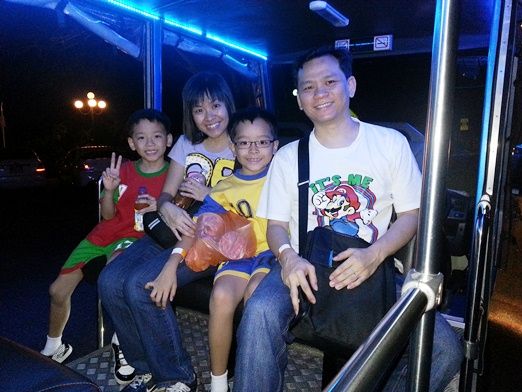 It is a beautiful sight after night falls. With all the blue and white lights flashing, it is difficult not to go "Wowww…".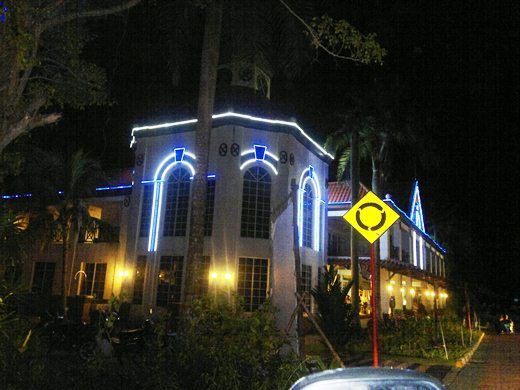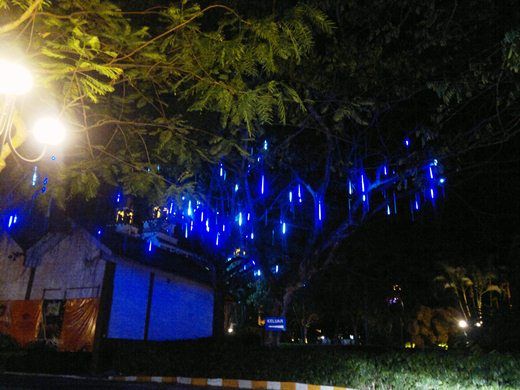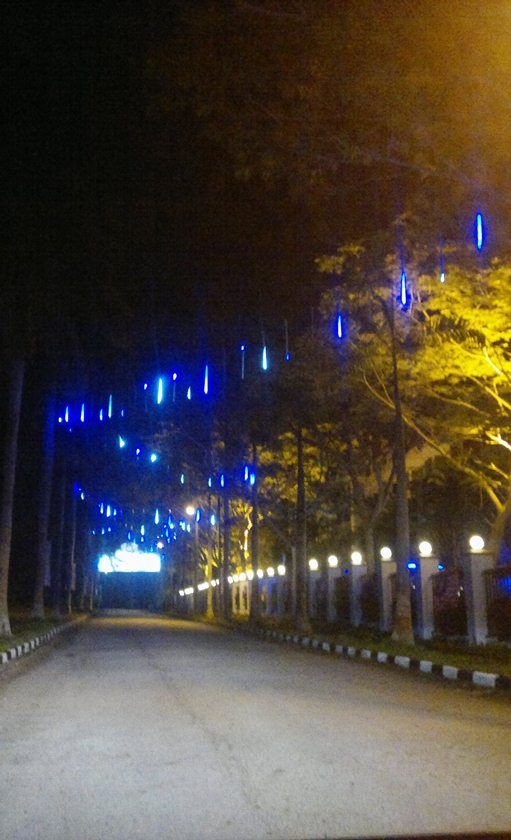 We loved the outlook of Lotus Desaru Beach Resort, the clean castle-liked concept, but we were disappointed with our stay there, after spending SGD $329.23 on our 3 Days 2 nights. Keatkeat disliked the loose parquet, which cut his feet. Binbin hated the sight of the lizard shit at the perimeters of the room. Allan and I are upset with the following:
they are not capable of handling high occupancy. When we reach there on Wednesday,

EVERYTHING was fine

, but when the crowd came in on Thursday (95% SINGAPOREANs), everything went chaotic, the following happened :-
With the hot water in the shower turned on ONLY, the water is still cold!
There was ZERO internet access
There was no answer from the housekeeping department and our toilet rolls were running out! Only after calling the front desk 3 times, we finally replenished our toilet rolls.
The breakfast spread was insufficient for the mass, the tables were not cleared/cleaned, there was a time they ran out of utensils!!!!! *faint*
So you may think, Lotus Desaru Beach Resort is only good for low peak period. Well, yes and no, because all the Fun activities provided by the resort were only available on every weekend, that is Friday to Sunday. So if you are just there to take a swim and relax in your room, then yes, Lotus Desaru Beach Resort is for you; otherwise you would be so bored!
BEFORE I talk about the Farms, I must share with you what the kids loved MOST about Lotus Desaru Beach Resort in my next post! Wait for it……*wink*
Self Drive To Desaru
2 Responses to "Self Drive To Desaru"
kkf Says:
August 12th, 2012 at 1:03 pm

went desaru before without kids and we found it boring…but glad you still managed to enjoy yourselves by going to so many places!
kkf´s last blog post ..Self decorated crowns

Rachel aka haifang Says:
August 14th, 2012 at 1:58 pm

indeed very brave of u guys to just go without gps…for the first time…and u know what…i haven't been to desaru myself :(
Leave a Reply