Places Kids Love, Videos
September 11th, 2012
Backdated Post : 17th August 2012
After our first self-drive further down Johor to reach Desaru, our confidence increased and this time we head down to Kukup Fishing Village.
This is my 2nd Kukup Trip as the first was made during my secondary school days with my Teacher and classmates.
However, its a BIG FIRST TIME for the 3 men in my house.
Allan was apprehensive when I suggested Kukup Fishing Village for our next self-drive adventure. "What's there? What can we do there?" he questioned.
I remembered I had an awesome time during my school excursion where I held different 'strange' water life in my hand for photo-taking. "Kids would be able to walk on Kelongs and see how people rear different types of fishes on kelongs. We can have fresh seafood for lunch there too. If we are lucky, we may even be able to hold some rare fish in our hands….." I went on selling my idea.
In the end, a nod was received.
Yeah!
Yet, after the trip, I wished I had not gone to Kukup Fishing Village in Malaysia. There were too many things that happened that day, which made me upset and disappointed.
Drizzle accompanied us throughout the day.
First Boo!
Driving to Kukup Fishing Village is more challenging than our self-drive up to Desaru.
Finding a parking lot NEAR the jetty was tough! Second Boo! And more "Boo"s to come as you read on….I would not continue my count from here, it just makes it worse.
Alright, though we were not hungry when we reached Kukup Fishing Village after about an hour drive, the only 'nice guy' who offered us a place to park was inside his restaurant. Madly waving at us without any umbrella, soaking wet, and using hand gesture to say "Come, eat here, can park here…"
Everything has changed so much compared to my last visit, 20 years ago. Feeling lost, we agreed to drive in to seek shelter first before we ask for directions.
It was only right that we thank our 'saviour', for providing an 'umbrella' for our car, by patronising his restaurant. Thus we had an early lunch.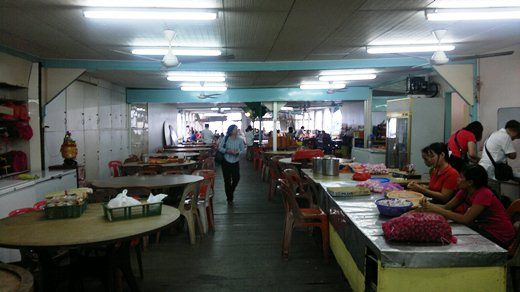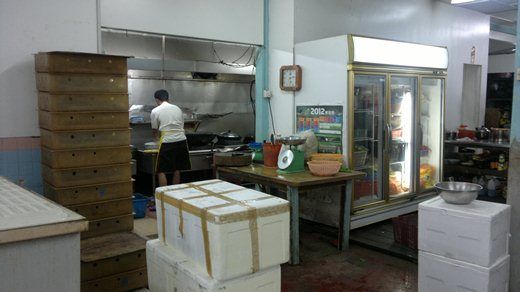 When I compared the dishes sold here with the ones we had in other parts of Johor Bahru, I would NOT come back again.
The food are NOT tasteless, its just inferior to the ones we had in Restoran Todak and Tian Lai Seafood Restaurant, which we had discovered so long ago and yet we still go back to patronise them every now and then.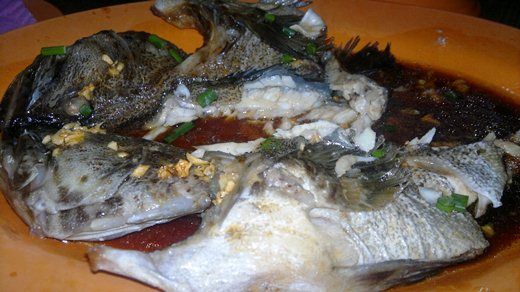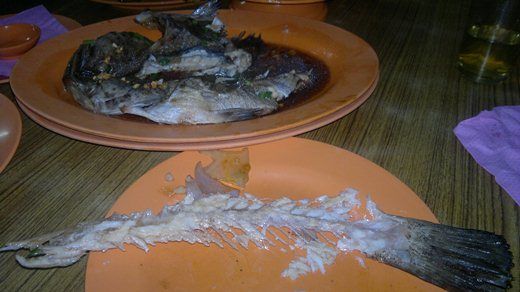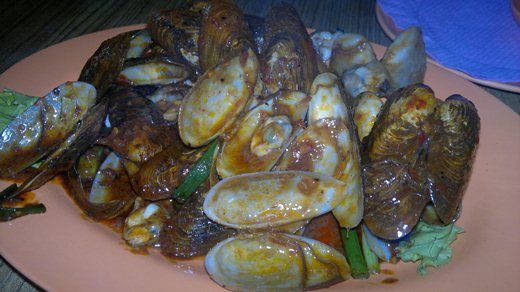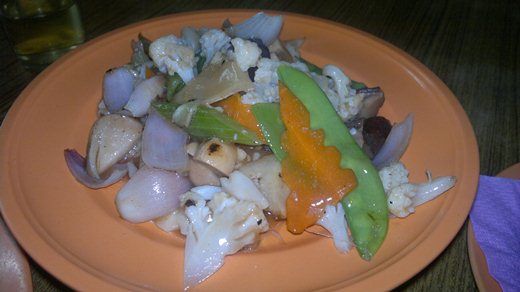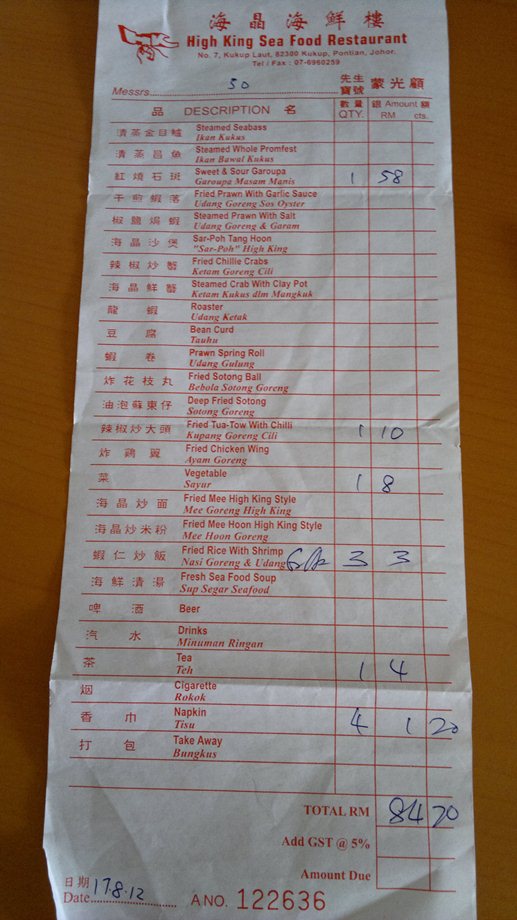 My taste buds were not fully satisfied but my heart continued to jump with excitement while we wait for the ferry to arrive to bring us to the Kelongs. The restaurant owner told us to wait for the ferry at the back of his restaurant.
While waiting, we immersed ourselves into the hustle and bustle of boats coming to the jetty to collect their fish baits : small fishes of all sorts and some prawns too!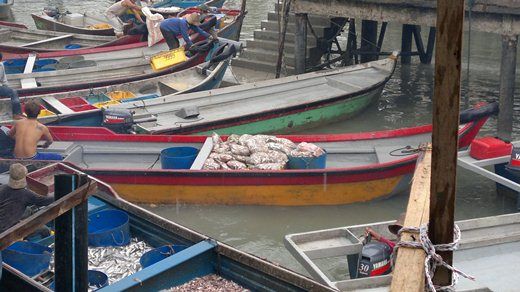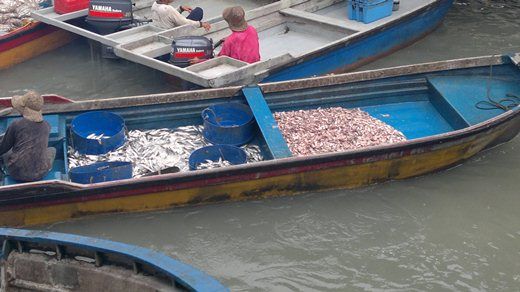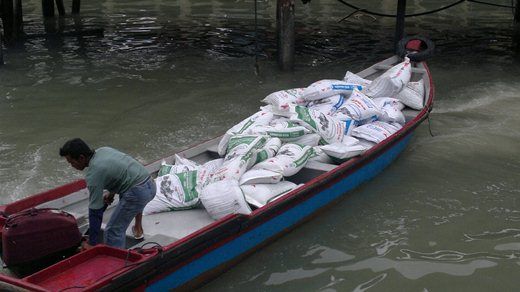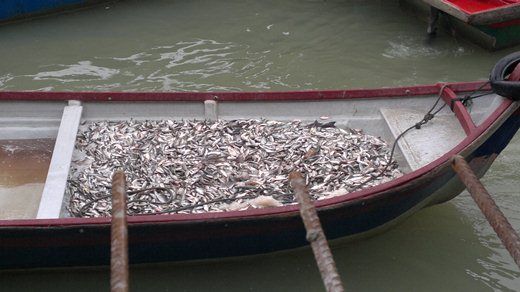 We captured all these actions with UNBLOCKED VIEW from the back of the restaurant. Cool!
However, if you are one who cannot stand the smell of raw fish or have Trimethylaminuria (TMAU) :~ fish odor syndrome or fish malodor syndrome, then this would be a horrible place for you.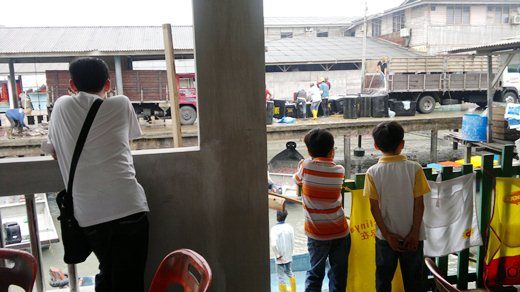 After waiting for 20 mins, our ferry finally arrived. However, to our surprise, the uncle REFUSED TO FERRY US to the kelongs! *faint*
He kept pointing to another jetty. His reason was: it was safer to board the ferry from the other jetty.
I was a little upset by then 'cos we wasted precious 20mins waiting for a ferry that was not ready to fetch us at all and at a place which was directed by the restaurant owner. *Humph*
Anyhow, with our umbrellas
(yes, its STILL drizzling, sometimes heavier and other times not)
we trotted to the other jetty. A short 1-minute walk.
Another ferry was already picking up passengers when we reached, so we just
hopped into it and paid RM10 for the 4 of us, two adults and two kids.
We were pleasantly surprised that our ferry guide was this young boy standing behind Allan.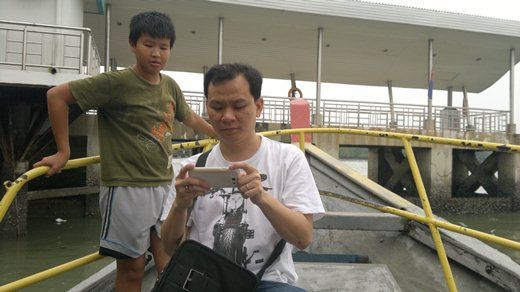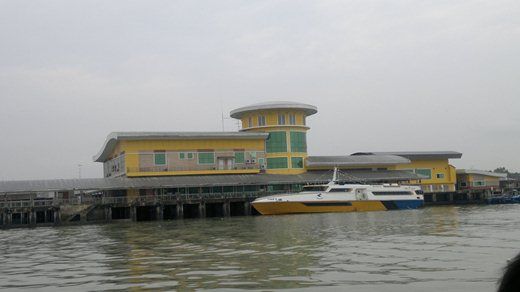 [Photo Above] The Jetty which we board the ferry from. By the way, you should NOT enter by the main entrance of that building, the ferry there will bring you to Indonesia!

You should go by the right side of the building, OUTSIDE THE BUILDING to reach a flight of stairs made of cement to board the ferry to visit the kelongs in Kukup Fishing Village.
Well, I thought we were going to visit a few kelongs, but no, it was just ONE kelong! *pout*
I was even more surprised that the GUIDE AT THE KELONG was even YOUNGER THAN MY BOYS!!! He looked like he was only 6 years old! I was excited to see what and how this little chap could make our kelong visit a wonderful one.
The cute boy kept saying "Come quick! Walk over here! Come here!"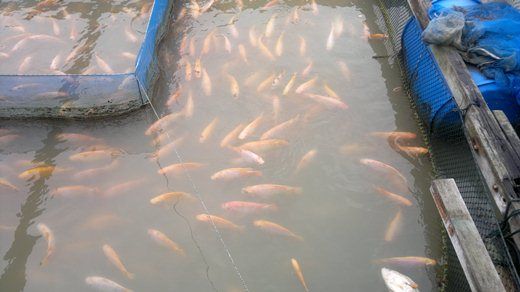 Well, not everyone could move as fast as the dog at the Kelong. One tourist even had phobia taking the first step on the shaking wooden planks. She refused to leave the concrete landing after she stepped out of the ferry! Only when one of her friends agreed to hold her by the hand, she was able to move on.
As we were on the same ferry with this tour group, which made up of young and old folks with hearing disability, our young ferry guide highlighted this fact to the 6 year old kelong guide.
However, the kelong guide assumed EVERYONE ON BOARD were dumb and deaf and he started to go "Mm! Mm! Mm!" He went dumb too! Not only that, he started to create his OWN SIGN LANGUAGES in order to 'better explain' what his "Mm! Mm! Mm"! meant!
I am sorry to say this, but I am disgusted by his sudden change of action and attitude! *Super Eyes Rolled*
Even our young ferry guide was feeling a little awkward, you can hear him 'warning' the small kid to stop doing weird gestures with his arms and hands in the background of the video below, while ANOTHER BOY was showing us how ArcherFish get their food by shooting water out, and above the water level, from their special mouth.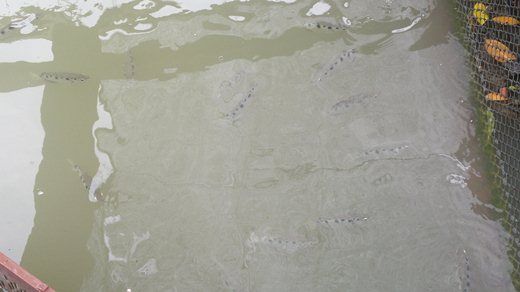 [The boy in this video is NOT the rude kid]
By the way, there were ADULTS in the kelong, but they did not do anything to show us around or do any sort of explanation. They were only interested in sitting inside the shop, on the kelong, waiting for the tourists to come in to purchase local goods and souvenirs.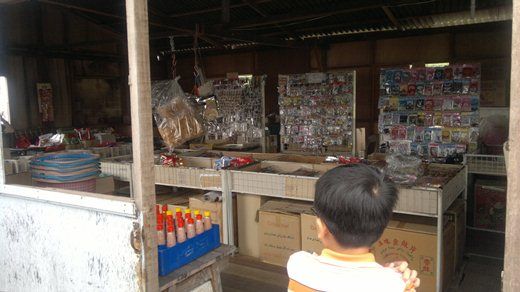 Not only was our young ferry guide unhappy with the small kelong guide, the tour guide of the tour group was also upset too because he is NOT DUMB NOR DEAF!
He tried to TALK to the small kelong guide and the kid still goes "Mm! Mm! Mm!" and gesturing like mad with his hands. *eyes rolled*
The man was so pissed, its written all over his face, that he said, "I can talk and hear perfectly. Please talk to me!"
Only then! The small kelong guide opened up his mouth to talk to the tour guide. *double eyes rolled*
The tour guide asked to see PufferFish and the small kelong guide went to get it for him. At this moment, it made me feel like this tour guide who led the tour group with hearing disability behaved MORE like a proper kelong guide than the rude small kelong guide.
Are you curious to know how the small kelong guide looks like? *wink*
Yup! That is him talking and passing the PufferFish to the tour guide in the video.
Look at the CUTE-TO-THE-MAX PufferFish!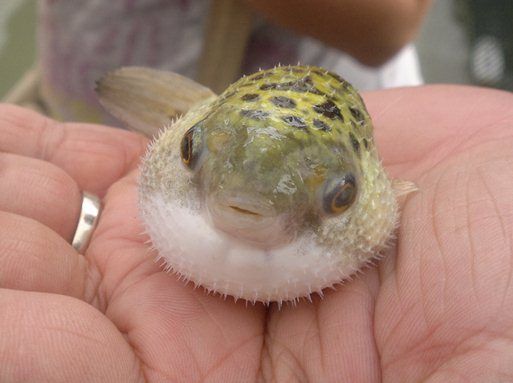 You can see the small kelong guide walked away after handing the PufferFish in the video, right? Thereafter he REFUSED to do anything already! *faint*
I think our young ferry guide also could not stand his attitude and took matters to his hands. No, he did not scold the rude kid. He just silently scoop up a HorseShoe Crab and wanted to show us how it could flip itself over.
However, I wished his patience was better than all the tourists onboard. Everyone was waiting and cheering for the HorseShoe Crab silently "Flip Over! Flip Over!". But the young ferry guide's patience ran out fast and did NOT wait for the HorseShoe Crab to turn over successfully and pushed it back into the water. *double pout*
Just then, ANOTHER ferry came with ANOTHER tour group and the small kelong guide did the 'ArcherFish demonstration'.
Right after that you would not believe what he said, "Ok done! That's it! Nothing else to see! All of you can go inside the shop and buy things already!" You can see many jaws dropped!!!
Sigh…. *Shake Head*
With that, we and the tour group that came with us on the same ferry left the kelong.
They were sent back to their Kukup Fishing Village chalet first before the captain of the ferry brought us back to the jetty.
During the ferry ride back to their chalet, our young ferry guide said, "He (small kelong guide) is not like that normally. Its just that the dumb and deaf people dampens his mood because he does not know how to communicate with them."
Immediately the upset tour guide rebutted, "We spoke to him (small kelong guide). We told him that we could speak and hear normally but his actions and attitude did not change. He can explain to us and we can use sign language to explain to the tour group; if not what are we here for?!"
Awkward Silence… *Sigh*
Only the sound of the waves hitting the bottom of the ferry could be heard…
And the group alighted at the chalet,
leaving the four of us with the ferry crews on board.
Allan knew that I was upset over the entire trip and wanted to end the day at the cinema in Bukit Indah. Sad to say, it was REALLY NOT 'OUR-DAY', the movie which we wanted to watch : Expendables, the kids were not allowed in. *thumbs down* We had watched the other kids-friendly movies already. Thus, we head back home.
Yup!
That ends our adventure to Kukup Fishing Village on 17th August 2012. Unfortunately, it did not turn out the way I wanted it to…
Self-Drive : Kukup Fishing Village
Leave a Reply