others
I had totally forgotten to blog about how thoughtful my two elder nieces were on Mother's Day this year. Actually, I received gifts from them on every Mother's Day, so much so that I feel so blessed to have 2 daughters without going through the labour pain. *giggle*
My eldest niece, C.H., who shares secrets with me, MADE this for me.
I was extremely moved by her gift because this is something which needs patience, effort and lots of love, to get it done. She knew that 'Little Twin Stars' is my favourite Sanrio character and thus chose this picture for the sand art.*smile*
Thank you dear, I really love it. *hugs* One more item in my Little Twin Stars collection box. Yeah!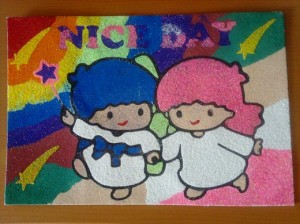 My 2nd niece Z.Y.,who also had been giving me 'Little Twin Stars' items every now and then, whether there is an ocassion or not, gave me a handphone pouch this Mother's day.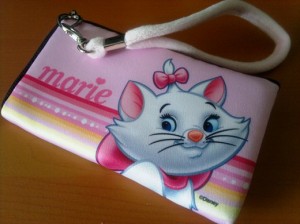 She said, "I give you this because you are the ONLY ONE (among the females in the family) who has a handphone but does not have a pouch." Aaawww… that is how observant this little girl is. *smile*
Thank you girl, I love it and it came in handy for my new phone. *hugs*
Copyright © 2007-2016 All About Your Child. The contents on this blog are the sole property of the author, Angeline Foong, and may not be used or reproduced in any manner without consent. All Rights Reserved.
No Comments »